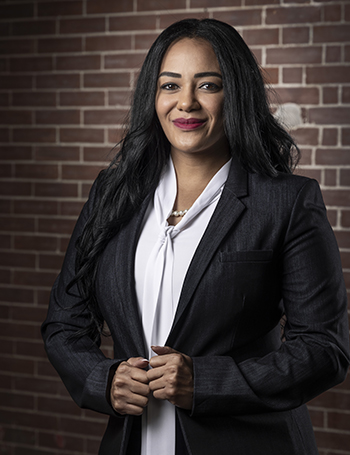 The road to success has been a roller coaster ride for Southfield's Crysta Tyus. That ride also carried her to more than $1 million in revenue in 2020.
Tyus, 33, operates Crysta Tyus & Associates, which provides marketing consulting services to tax and accounting professionals, and SkilledPro, which offers online training and other software services. Both businesses are located in Southfield.
"There's been a few different times when I've been broke and was staying with family or living in my office," Tyus recalls.
Tyus says she started her career in 2012 and did well during tax season, but she struggled to make ends meet during the rest of the year. That led the entrepreneur and her two young children to find shelter with family.
She dabbled in real estate in 2017 but that only led to more hardship, including a three-month stint living in an office building at Nine Mile Road and Greenfield in Southfield.
From there, Tyus decided to become a consultant to other independent tax and accounting professionals, and that's when her fortunes started an upswing. "We accountants aren't typically very extroverted people, so I taught a lot of them how to get clients via social media," Tyus explains. "That became very profitable."
In the span of a couple of years, Tyus' home-based business has amassed more than 4,000 clients in 13 countries.
While advising her clients about marketing on social media, she learned that some areas of the accounting business had become very specialized and the software people were using wasn't meeting their needs.
"Accountants now need to specialize in particular industries," Tyus explains. "In the cannabis industry, for example, it's very heavily regulated and you have to know very specific tax law. One mistake could lead to a fine or federal prison for the operator."
In August 2020 she created SkilledPro and recruited experts in areas that require specific training, put them online, and offered the training in what she calls Certifyible.
In January 2021, Tyus launched Onboardible, a seamless virtual onboarding and client management system for independent tax and accounting pros.
"In order to run virtually, an independent accountant may need to use as many as 10 different programs to serve their clients," Tyus says. "We put a lot of those components into one software application. Everything is integrated and seamless."
Prolendly, which Tyus launched in January 2021, is a capital management platform that helps small businesses obtain funding and establish business credit.
"During COVID-19, tax and accounting professionals played a pivotal role helping businesses navigate how to get PPP and apply for other emergency loan applications," Tyus says. "It wasn't a service they would normally offer. I created a platform where they can continue to offer that service."
Facebook Comments