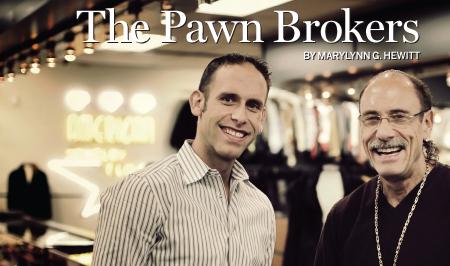 Ilene Blaz of the Legacy Jewelry store in downtown Birmingham — with its fine carpets, crystal chandeliers, and glass cases brimming with gemstones — says her business "used to be more fun when everybody left here with a gift." Then, two years ago, as General Motors and Chrysler received emergency bailouts and the economy spiraled downward, Blaz, who runs the store with her son, Neal, did something that was never part of her original business plan. She hired someone to teach her to be a pawnbroker, renovated her store to include a private meeting room for transactions, and added "& Loan" to the name of her company.
So far, the changes are working and adding to the bottom line, says Blaz, who became a licensed pawnbroker after a number of customers requested loans on jewelry they'd bought at her store. These days, she says pawning accounts for 60 percent of her business.
The modification has expanded her client base and her profits. "I consider us a full-service jewelry store because we do everything," she says. "We buy gold. We buy diamonds. We'll do whatever we can to get you through this period, which is difficult for everybody."
Blaz isn't alone. Pawnshops, once considered less-than-reputable businesses that catered mostly to those down on their luck and in need of quick cash, charged high interest rates, and were often located in less-desirable locations, are now regarded as acceptable places for middle-class and upper-class folks to seek one-time small loans — and business is booming.
"It's crazy how the image of the pawnshop has changed completely," Mike Bernacchi, professor of marketing at the University of Detroit Mercy, says. "At one time, it would be appropriate to say, pawnshops were the doormats of the business world.
"I'm not sure they are the kings now," Bernacchi continues, "but the transformation has been substantial. There is no doubt in my mind that if the economy had not jumped off the face of the earth, pawnshops would not have this new status."
Part of the reason for the new acceptability is that diverse clientele are discovering pawnshops. Once mainstays of urban cores, these businesses are branching out to the suburbs, and setting up shops in strip malls and shopping centers.
"Pawnshop owners have done a lot to clean up their image," says Emmett Murphy, spokesperson for the National Pawnbrokers Association (NPA). "And with the success of reality TV shows Pawn Stars and Hardcore Pawn, more people have become interested. Pawnshops are a financial service and are becoming more of a mainstream financial service."
Although pawning an item may end up costing more than getting a loan from a bank, pawnshops make it possible for even those with no bank account, no credit card, or no credit history to get a short-term loan. Additionally, if a person defaults on the loan, their credit record won't be damaged.
Pawnshops make money by providing loans, based on deeply discounting the items brought in as collateral such as jewelry, musical instruments, tools, electronics, vehicles, and fur coats. Many shops specialize in particular types of items.
Michigan law states pawnshops can charge a maximum of 3 percent interest a month and a $1 monthly storage fee. A $100 loan, for the standard 90 days, will cost $9 in interest and $3 in storage fees — a total of $12. Of course, larger loans are more typical, ensuring a larger profit if the loan defaults for the dealer.
Shops can agree to renew a loan as long as the customer continues paying the monthly interest and storage fee. The item is returned if the original loan amount is repaid in time. If the loan is not paid in the agreed-upon time, the collateral item becomes the property of the pawnshop, which can then sell it. In the past few years, more people have been discovering that great deals can be found in pawnshop showrooms.
Whether the economic crisis has contributed to the rise or fall of pawnshops in Michigan is difficult to track. The state doesn't specifically categorize pawnshops, which are licensed by municipalities. The National Pawnbrokers Association reports there are more than 13,500 pawnshops across the country, bringing in more than 30 million customers per year.
Worth its Weight in Gold
NPA spokesman Murphy says the typical loan amount of $80 in 2008 grew to $150 in 2010. "Pawnshops deal with a lot of gold, and gold used as collateral jumped," he reasons. "Gold was $800 an ounce a few years ago and it has gone up (to more than $1,400 an ounce), so people can borrow more."
Gold prices have also brought about the national rise of buy-and-sell services at businesses, such as jewelry shops, which buy gold but do not offer loan services, Murphy says.
Birmingham Police Chief Donald A. Studt sees that trend in his city, where there are just a few pawnshops but a number of local jewelry stores — like Blaz's — with window signs advertising that they buy gold. "You wouldn't have expected to see that 10 years ago," he says. Most of the jewelers he talks to say they "are buying more than they are selling. And they are buying items they sold years ago — and buying them for a lot less than they sold them for."
Several pawnbrokers from around metro Detroit are saying the down economy is a boon for their business.
"People use us as a bank," says Les Gold, who started working at his grandfather's pawnshop in Detroit on Michigan Avenue, called Sam's Loans, back in the late 1950s, when he was 7 years old.
In 1978, Gold became the first local pawnbroker to branch out into the suburbs when he opened a shop in Oak Park. He returned to Detroit in 1993, and notes that in the past two years more of his clientele has come from the suburbs.
Now Les and his son, Seth Gold, who operate American Jewelry and Loan — the largest pawnshop in Detroit, with a 10,000-square-foot showroom — say they began to see a spike in business three years ago, just before the auto bailouts.
"When the credit crunch started happening, that's when we saw an increase in business," Seth says.
Anything Goes
Now the shop handles 700 loans per day, a 20-percent increase from 2008, and typically makes 20 to 30 buys a day from people who want to sell an item outright.
"People are worried about what they'll eat for dinner, and where they are going to put their head down at night," Seth says, referring to those who are desperate for money and willing to pawn anything they can.
Professor Bernacchi says the ability to get a quick loan and the strong trust people have in pawnshops are "keeping goods and money flowing in an economy that has been dictated by slowness."
But while past recessions often stoked the fortunes of pawnshops, the most recent conflagration has spurred a new phenomenon: reality TV. The truTV show Hardcore Pawn showcases Seth and Les Gold, along with Les' daughter, Ashley Broad; his wife, Lili; and many of the store's 45-plus employees. The show debuted last August with 2 million viewers, and Seth is looking to ride the wave and create affiliates across the country.
While jewelry has long been the mainstay of the pawn industry, Les says, "Anything and everything that has a resale value, I'll take. Even if it doesn't have a retail value and it's really cool, I'll take it." That includes a prosthetic leg, which he found has a market on eBay, but he has yet to list. There's also a diamond-encrusted SpongeBob SquarePants medallion. It's yours for $10,000. And you'll have to ask in person about the price of the 3-karat diamond earring Les wears (remember, everything is negotiable).
Pawnshops determine a loan amount based on what they can sell an item for — and still make money on — in the event of a default. Sentimental value is not part of the equation. Fully 80 percent of the people who have extended personal items return with cash in hand to reacquire their goods, Les says. That compares favorably with transactions made by members of the National Pawnbrokers Association.
For some, American Jewelry and Loan has become a storage facility. A recent addition is a pawned 1961 Bentley. The same client brought in a 1965 Bentley, "and it's been here seven years," Les says. He's willing to continue the loan as long as the monthly interest and storage fee are paid. "I have people who have pawns in here for 15 years," he confides.
Alan Harris of Federal Collateral Society in Detroit, across the street from the Westin Book Cadillac Detroit, is also well-versed in repeat business. One noteworthy item is a diamond pendant of the Tasmanian devil. "The owner has pawned it for years," says Harris, a third-generation pawnbroker who deals solely in jewelry. "Maybe three of four times a year he'll get it out and, shortly thereafter, he'll bring it back."
Then there are the "absolutely un-wearable, beat-up gold chains" customers pawn but refuse to sell. "The next time they need it, they come back," Harris says.
In recent years, gold — no matter how poor the item — has been well worth its weight.
Harris has been in the pawnbroker business for 33 years. He and his father operated Woodward Loan in the Detroit Medical Center area in 1977, and bought Federal Collateral in 1990 from the Dollman family, who got their start in 1914.
He says he's long known that gold "will never be worth nothing. Gold is, by its very nature, scarce. It has been a store of value and means of exchange for thousands of years." While he would never suggest he's a financial adviser, he does think buying gold bullion is "a wise idea."
"We do a little more buying now, since gold is so high and people realize they can get a lot for their gold that they no longer wear. Easily, 95 percent of our transactions are loans," he says, adding that the pattern hasn't changed in recent times. And, he notes, 90 percent of the items are paid off and returned. "Most [people] think a lot of [pawnshop clients] don't come back. That is absolutely not true," he says.
That's just one of the misconceptions about his business, Harris says, and the reason he enjoys the Detroit-based Hardcore Pawn as well as the History Channel's Pawn Stars, another popular reality show that portrays a more positive, honest view of pawnshops.
"For years, the pawnbroking business was looked upon negatively by the media and the general public. We were viewed as fences for stolen goods and as disreputable, and that is an unfair characterization," he says. While the TV shows have "very little relationship to what it's like here," they do accurately portray the process involved. "If they chose to do a reality show in our store, nobody would watch it. It would be absolutely boring," he says.
One of the biggest changes Harris has seen since the decline in the economy is the price of Rolex watches. "Their value has fallen 25 percent or so," he says. "If you have a Rolex we would have loaned $5,000 on, now we would loan $3,500. The demand for luxury items has fallen and this is perfectly understandable. Nobody needs one of these," the watch aficionado says, fingering a $28,000 Rolex. "Nobody."
Harris says his five-person business has been helped by the fact that it has been in continuous operation at the same site for 96 years. "When a person pawns an item of jewelry, there are two important factors," he says. "They want to get as much as they can, and they need to trust the business that is holding the jewelry for them. The trust factor is enormous. Although somebody may choose to not come here for another purpose, when they pawn their jewelry, they will come here even though it's a bit of a drive."
CSI: Pontiac
There are few occupied storefronts surrounding Ron Berger's Main Street Pawn Shop in downtown Pontiac, where the front display window overflows with scenes created from vintage toy store finds. Each piece comes with its own story. Berger says he's seen better days in Pontiac, but notes his store is surrounded by relative wealth. "We have people from all over — White Lake Township, Lake Orion, and Southfield."
A pawnbroker for 26 years, Berger started out in Detroit before his Prestige Loan took over the Reliable Music store in Pontiac in 1966, along with its inventory. The move explains all the drums, amps, cellos, horns, violins, keyboards, and guitars — much of it new, and many of the pieces orchestra-quality.
A few years later, he moved across the street and took over McCort's Music, and eventually changed the name of the business to Main Street Pawn Shop. Bands playing in the area often stop by; most recently, a member of the American punk rock band Green Day came in "when they needed strings, something broke, or they wanted something to tear up on stage," Berger says.
There have been times, though rare, he says, when a pawned item ends up being wanted by the authorities. Pulling out an April 29, 1989, letter from the Pontiac Police Department, Berger recounts his assistance in a years-old murder case. Responding to the inquiry of a police detective, Berger looked in his books, went to his safe, and returned with a 16-gauge double-barrel shotgun — which turned out to be the murder weapon.
"The (detective) about passed out on the floor," Berger recalls. He'd kept the pawned gun "because I didn't need to sell it at the time." A few months after the suspect was convicted, Berger received a check from the court for the amount of the pawn.
These days, he says, the business is tied to the cyclical nature of the auto industry. "A lot of people with 35 years in GM no longer work there, so they need to sell their goods. I buy antiques, art, a little of everything," he says, except for car audio equipment, furniture, or clothing. "Unless it's really, really cool," adds Ron's son, Shelby, who works in the store. Another son, Joey, owns Joey's Jewelry, a Hazel Park pawnshop.
Like father, like son? For the most part, yes. But it's Ron's store that attracts unusual goods, like a wild Russian boar head that is listed at $600 (a nearby American wild boar head is priced at $400). There's also a 1968 Gibson Byrdland guitar that will set you back $12,000. Or how about a Steve Yzerman-signed Red Wings game-worn jersey for $125? It's clothing, but it qualifies as "really, really cool," Ron says.
For Maria Helen Anderson of Pontiac, a longtime customer, it's all about the jewelry. Her husband, John, just bought her a bigger diamond for their 10th anniversary.
Jon Krause of Bloomfield Hills is another repeat customer. He recently brought in a GPS unit and a Blu-Ray player he hopes to sell for $30 "to put gas in the car." He worked with a few movie productions in town, has helped with the Comerica Park grounds crew, and is now laid off. He says he thought about selling the items on Craigslist, "but this is quicker and easier."
Whatever the circumstances, the creed of pawnshops hasn't changed much, save for the television cameras. "When times are bad, business is good," Ron Berger maintains. "When times are good, business is good."
Blaz, of Birmingham's Legacy Jewelry, and her son, Neal, say they've helped people through any number of circumstances, from the business owner who was $30,000 short of meeting payroll to a man in a tuxedo who rushed in just before closing, saying he didn't realize he needed to pay the caterer in cash for his daughter's wedding. "He said, 'I can't go to the bank and withdraw $15,000 in cash,' " Neal says. "He's got a bag (of jewelry) with him. I said, 'Don't worry about it. I'll work it out.' "
Before the economic crunch, 85 percent of Berger's customers would come back to pay off their loan and retrieve their pawned items. "Nowadays, it's 65 percent to 70 percent, just for jewelry," he says, adding that people think hard goods — stereos, TVs, and the like — can be replaced later.
Berger's been able to keep his seven employees, but, he says, "I don't think we've hit the bottom yet." He points to the poor housing market and the fact that "no one is building anything." As evidence, he notes, "Tool sales have slowed down. There are no tradesmen."
Gregory Christopher Phillips, who works for Sam Barbat at the No. 1 Pawn Shop in Hamtramck, says much the same thing. "The contractors are coming in here and selling their tools, and ain't that something that a working man has to give up his tools? Musicians are working. We go through a lot of studio equipment, mics, and amps."
Barbat, a newcomer to the pawn business, saw sales decline at his video rental business with the ascent of the DVD, so he transformed the store into a pawnshop. He sticks with it because "I got no choice. I own the building."
Phillips says the switch wasn't a big change for Barbat. "He was already loaning out money before all this happened," he says. "He's good for the city. And he's not going to let you leave without a smile." db
Facebook Comments