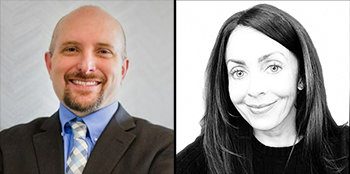 Cornerstone Community Financial (CCF), a community-focused credit union with seven branch locations in Michigan and Ohio based in Auburn Hills, has announced changes to its executive leadership team.
Mark Evenson has been named CCF's chief financial officer, and Jennifer Dickey has been appointed the credit union's first-ever chief experience officer (CXO). Both Evenson and Dickey are being promoted to the C-Suite from vice president-level positions.
"Both Mark and Jennifer joined the CCF team in 2020 — which we now know would become one of the most difficult times in our country's history — and throughout these many challenging days, both have proven themselves to be competent, capable, and caring leaders," says Heidi Kassab, president and CEO of CCF. "They are both richly deserving of these new opportunities, and I know they will continue to help lead our organization forward with passion and purpose."
Evenson, who joined as vice president of retail services, replaces Beth Wielgat as CFO. In his role, he is responsible for supervision and control of CCF's general accounting functions, establishing and enforcing CCF's accounting policies and procedures, and focusing on the current and future financial markets serving the credit union's different demographic areas.
Prior to joining CCF in 2020, he served as manager of finance, administration, and compliance for AMDG Financial in Plymouth.  He is a Michigan native with a bachelor's degree from Eastern Michigan University and a master's degree from Walsh College of Accountancy.
Dickey joined CCF as vice president of talent and culture. She will now serve as the credit union's first-ever CXO. In this role, Dickey will work to ensure the delivery of exceptional and consistent member experiences across all of the credit union's products, services, channels and branches.
Prior to joining CCF in 2020, she served as director of compensation solutions for MCUL & Affiliates/CU Solutions Group in Livonia.  Dickey has a bachelor's degree from Davenport University. She has been an active member of the Society of Human Resources since 2015.
Facebook Comments