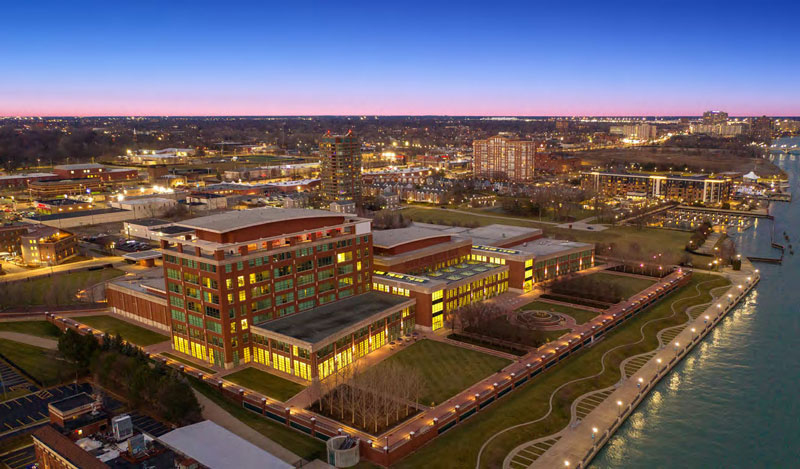 Signature Associates in Southfield today announced it has been selected as the exclusive sale and leasing representative of The ICON riverfront office/tech campus in Detroit.
The 420,00-square-foot ICON campus, located on 18.2 acres at 200 Walker St., is set along the Detroit River. Originally the UAW-GM Center for Human Resources, the facility opened in late 2000 and was acquired by Moceri Cos. in Auburn Hills and 400 Monroe Associates in Detroit last October for an undisclosed price.
The campus, comprised of an eight-story office tower, a three-story conference center, and a three-story atrium lobby, can accommodate multiple uses, including corporate, institutional, government, health care, innovation, and R&D operations.
"Signature Associates is thrilled to be awarded the exclusive sale and leasing of The ICON," says John Boyd, executive vice president of Signature Associates. "The location is one-of-a-kind with amazing views of Detroit and Canada. We are very much looking forward to the future of this campus."
Major amenities include a fitness center, a full-service café/dining room, a two-story, 375-seat auditorium, and state-of-the-art high-bay tech/lab space. The ICON also includes 24/7 gated security and 1,100 covered parking spaces.
"It truly is a unique space," says David Miller, senior vice president of Signature Associates. "The campus includes office/research components and is perfect for anyone looking for a property with first-class amenities you won't find anywhere else in the area."
For more information about The ICON, visit here, or contact John Boyd at 248-948-0102 or jboyd@signatureassociates.com.
---