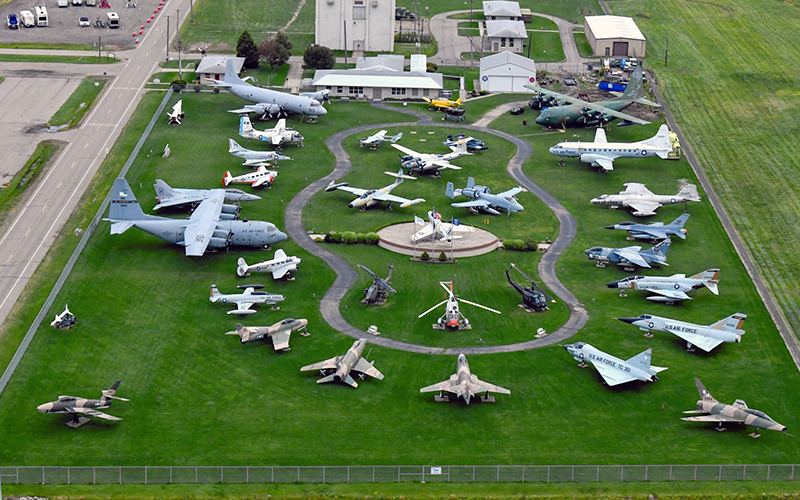 The Selfridge Military Air Museum, located at Selfridge Air National Guard Base in Harrison Township, is seeking partners to fund a $3.5-million project, that when completed, will allow public access to the museum directly off Rosso Highway.
The museum, currently located at 27333 C St., can only be accessed by entering the base, which is a secure military installation. Anyone without the proper government identification is required to have a mandatory security background check performed, as well as providing a current and valid U.S. driver's license, a current vehicle registration, and proof of insurance before being allowed access to the museum.
The Selfridge Military Air Museum is a private organization and is not a part of the Department of Defense or any of its components and it has no governmental status.
The construction plan includes a new turn off and entrance gate from Rosso Highway, a bridge that spans the Irwin Drain that runs between the highway, a new and modified base perimeter road, and new airfield and base fences.
"We are excited to announce this initiative to unlock the rich history of Michigan aviation and the Michiganders who have served their state and nation here for more than a century," says retired Brig. Gen. Doug "Odie" Slocum, a board member of the museum.
"This will open the doors to everyone and showcase our legacy, promote STEM education, and provide a community destination for social gatherings and events right in the very shadows of Michigan's hometown air base."
With thousands of exhibits, interactive learning demonstrations, and a large collection of aircraft and historical displays, public access will help create a new tourist destination and event center that can drive economic development in the region.
"The project is approved, and we are working with base, county, state, and federal officials to make this a reality," says Slocum. "We're ready to move out as soon as resources are available."
With 105 years in service as one of the nation's oldest continually operating military airfields, Selfridge is steeped in history that chronicles not only Michigan's legacy of flight, but also the country's history. With roots beginning in 1917 on land leased to the government by auto innovator Henry B. Joy, who was president of Packard Motor Car Co. in Detroit.
Known as "The Land of The Generals," Selfridge is a prominent landmark in the story of the nation's aviation pioneers. Famous people who have visited or flown at Selfridge include Billy Mitchell, Charles Lindbergh, Jimmy Doolittle, Carl A. Spaatz, Curtis LeMay, and many more.
The base is named after 1st Lt. Thomas E. Selfridge, an aircraft designer and pilot who was the first U.S. military officer to fly an airplane unaccompanied. Selfridge was killed while flying as a passenger in a plane known as the Wright Flyer with Orville Wright in September 1908 in Fort Myer, Virg.
In 1975, the Michigan Air Guard Historical Association and the Selfridge Military Air Museum were formed by a group of Air National Guard officers and enlisted personnel. The museum's mission is to help preserve the heritage and traditions of the Michigan Air National Guard, Selfridge Air National Guard Base, and the units that are, or have been, stationed there.
To learn more about the museum and the project, watch a video narrated by Mort Crim here.
To assist with the project, visit here.
---