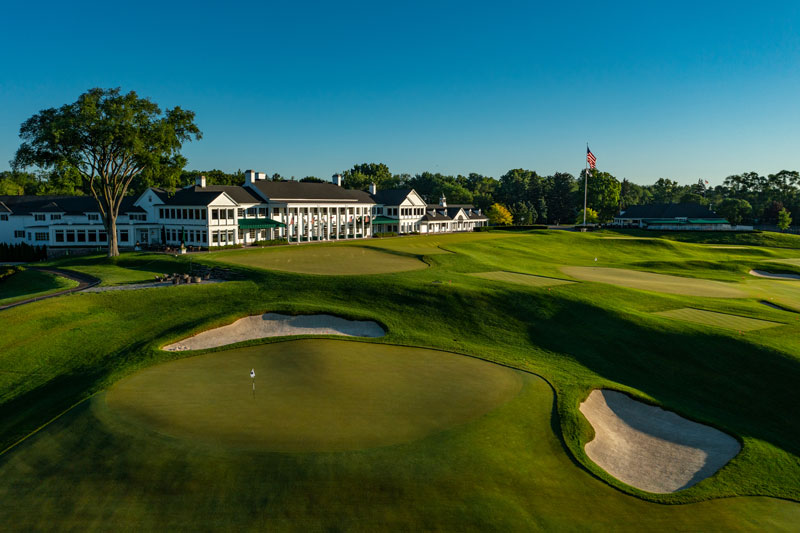 Legendary golf champion Ben Hogan dubbed the South Course at Oakland Hills Country Club in Bloomfield Hills "The Monster" in 1951. Seventy years later, the course is re-opening after a nearly two-year, $12 million restoration by golf course architect Gil Hanse. Play is slated to resume in early July.
The restoration plan included rebuilding all 18 greens to USGA specifications with expansions and shape modifications to the original Donald Ross design as well as the addition of 19 Precision Air sub-surface units to control moisture and temperature.
Throughout the course, original bunkering was restored with state-of-the-art drainage along with original course widths and angles. Irrigation systems were upgraded, and strategic tree removal opened the original vistas of the course and the white-pillared clubhouse.
In addition, the restoration brought back the original location of the putting green on No. 7 as well as the original size of the creek, which bisects the par 4 hole.
"Restoring the South Course at Oakland Hills was a master class in scale from architect Donald Ross," says Hanse. "By returning the proportions of the features to the large scale of the property, we learned so much about how to create interest, strategy, and beauty. This was a truly thrilling project for us to be involved in and we are excited about the transformation that has occurred."
Hanse, along with partner Jim Wagner and on-site coordinator Kye Goalby, reviewed original plans and photographs as well as a printed program from the 1929 U.S. Women's Amateur to guide their planning for the scope of the project, which began in October 2019.
"Oakland Hills is proud to re-open the South Course after a masterful restoration by Gil Hanse," says Michael Dietz, president of Oakland Hills. "Our Donald Ross classic has been transformed into a contemporary course that will challenge and delight our membership while hopefully continuing our rich tradition of hosting championship golf at Oakland Hills."
The club's South Course has been the site of 17 championships since 1922, including six U.S. Opens, three PGA Championships, the 2004 Ryder Cup, the 1922 Western Open, and the 1964 Carling World Open.
The South Course originally opened in 1918. Designer Ross also laid out the club's North Course, which opened in 1924.
Oakland Hills is planning a month-long series of activities in July for the membership to honor the re-opening of the South Course.
Facebook Comments