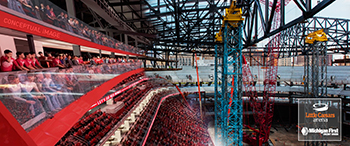 Lathrup Village-based Michigan First Credit Union today announced its sponsorship of Detroit Red Wings' Little Caesars Arena, which includes the title sponsorship for gondola seating — seats that are suspended above the ice.
"The gondola seating is such a unique way to experience an event or a game, and it's just captivating," says Tom Wilson, president and CEO of Olympia Entertainment, a division of Ilitch Holdings Inc., which owns the Detroit Red Wings.
Wilson says for Red Wings games, a second set of gondola seats will serve as the headquarters for the media. The gondola seats will also be available for concerts, family shows, and other events.
In addition, Michigan First Credit Union will sponsor the 50/50 raffle at Red Wings home games and will be the presenting sponsor of the Red Wings College Nights.
Other sponsors of the new arena include Little Caesars, Comerica Bank, Saint Joseph Mercy Health System, and Meijer Inc. The 20,000-seat-arena is set to open for the 2017-18 season. The Little Caesars Arena is one component of the $1.2 billion District Detroit, a mix of six theaters and three sports venues. The District Detroit will also feature residential, office, and retail developments.
An article detailing the plans and investment opportunities in and around the new $627 million arena and the District Detroit is in the new May-June 2016 issue of DBusiness magazine.
Facebook Comments