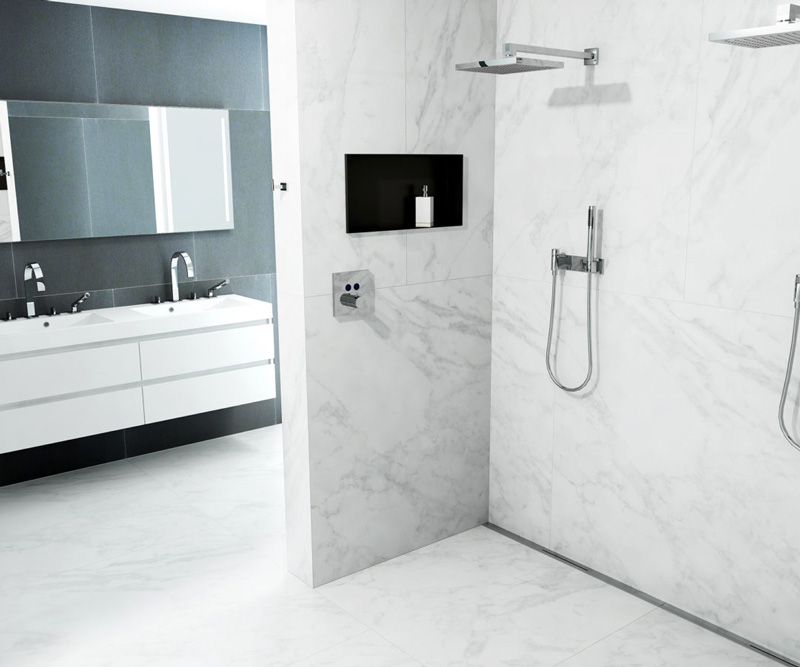 Livonia-based Masco Corp., one of the world's leading manufacturers of home improvement and building products, has announced its majority-owned subsidiary, Hansgrohe SE, entered into an agreement to purchase a majority stake in Easy Sanitary Solutions, or ESS. Terms of the deal were not disclosed.
Headquartered in Oldenzaal, The Netherlands, ESS has invented, developed, and is the official supplier of Easy Drain linear shower drains. The shower drains include a water protection system, a tile adjustable frame, and come in a variety of finishes.
What makes a linear drain different from a traditional shower drain is that it can be placed against a wall and only needs a one-sided slope (in the floor). It's also compatible with large format tiles rather than only small tiles.
Additionally, it provides a sleek and slim appearance, offers easy maintenance and efficient water drainage, and can be placed almost anywhere in a barrier-free bathroom. In doing so, it gives users flexibility in creating their perfect bathroom layout.
"Our aim is to create a stylish and barrier-free bathroom that is suitable for every age, and we will continue to do so," according to the ESS website.
The company also offers a variety of bathroom accessories, including a toilet brush holder, toilet paper storage, and in-wall storage niches to create space-saving opportunities. The company manufactures out of The Netherlands, Germany, and New York and distributes products in more than 40 countries.
ESS also offers insights on bathroom trends, tips on installation, and a "how-to" section on their website. Its pool line also offers a drainage solution for pools and spas. Viewers can also read about success stories and ask questions to a company project manager. More information can be found here.
Masco Corp. states the closing of the ESS sale is expected to occur during the first quarter of 2021. It is subject to customary closing conditions and regulatory review.
Facebook Comments