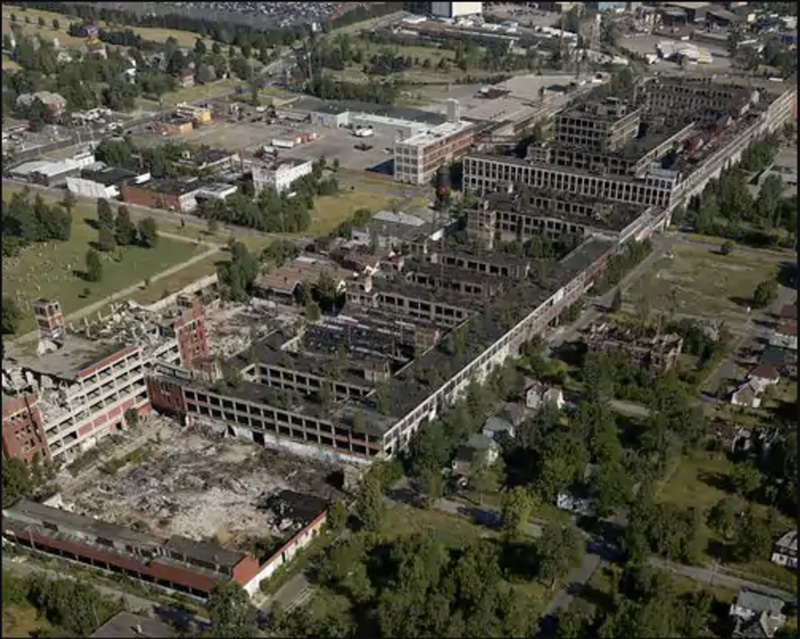 After several years of minimal progress, the owner of the historic Packard Plant on Detroit's eastside has announced it is listing the 3.2-million-square-foot property with Newmark Group Inc., a large commercial real estate firm which has local offices in Farmington Hills and Southfield.
The plant, designed by renowned architect Albert Kahn with the first structure completed in 1903, is owned by Arte-Express Detroit. The company, owned by Spanish investor Fernando Palazuelo, acquired the property in late 2013 for $405,000. He envisioned investing some $350 million to transform the multi-building campus into numerous uses, but the grand plans failed to materialize.
Newmark officials state they will offer tenants build-to-suit opportunities, and space is divisible to 250,000 square feet. They add renovations will begin in the third quarter of 2021, with occupancy estimated for the start of 2022. The former Administrative Building and the Water Tower will both be restored.
Newmark Senior Managing Director Larry Emmons and Executive Managing Director Dan Labes are representing Arte-Express Detroit. The 40-acre property is listed for sale or lease.
"We are thrilled to be a part of helping reposition the Packard Plant, an incredibly recognizable symbol of Detroit's once defining auto industry. The redevelopment of the plant–formerly that of Packard Motor Company–is so important as we continue to see innovative developments attract industrial users to Detroit," says Emmons.
The property, located at 1580 East Grand Boulevard, is near the I-94 and Mount Elliott St. interchange, which offers quick access to I-75, downtown Detroit, Coleman A. Young International Airport, multiple industrial parks and manufacturing businesses, as well as GM's Detroit-Hamtramck Assembly (now Factory ZERO – home of GM's electric vehicle fleet production) and FCA's Jefferson North Assembly Plant, which is nearing completion of a $2.5-billion renovation and expansion.
According to the book, "Detroit: Engine of America," Packard Motor Car Co. was founded in Warren, Ohio (near Cleveland) in 1899 by James Ward and William Dowd Packard, along with a partner, George Lewis Weiss. Detroiter Henry B. Joy, who was the son of James F. Joy, president of Michigan Central Railroad and a confidant of President Abraham Lincoln, convinced a handful of prominent families in Detroit including Truman Handy Newberry and Russell A. Alger Jr. to invest in moving the automaker to Detroit in 1902.
Packard was one of the premier automakers up until World War II. After switching to war production, the company successfully produced thousands of aircraft engines and other armaments. Following the war, the company was unable to capture consumer interest. It 1953, Packard acquired Studebaker in a bid to lower costs and spark sales, but the effort failed. Packard closed in 1956, while Studebaker shut its doors in 1966.
Together with London-based partner Knight Frank and independently owned offices, Newmark has 18,800 professionals who operate from approximately 500 offices around the world. In 2019, Newmark reported it generated more than $2.2 billion in revenue.
Facebook Comments