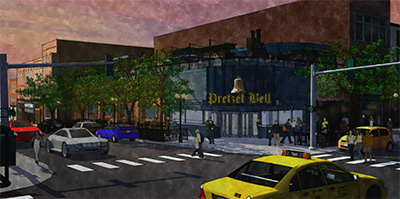 Pretzel Bell, the once popular restaurant in Ann Arbor that closed 30 years ago, is being revived by Jon Carlson and Greg Lobdell, founders of Dexter-based Northern United Brewing Co., who were approached by University of Michigan athletes and alumni to revive the legendary restaurant. The Latin-inspired Lena and Habana that now occupy the space will close Jan. 17.
Pretzel Bell, also know as P-Bell, was a popular restaurant among members of The Michigan Daily, the University of Michigan's student newspaper, and the Men's Glee Club, along with athletes, professors, and many campus groups. The restaurant opened in 1934 after Prohibition was repealed, and closed in 1985.
"We couldn't pass up this opportunity to bring back an Ann Arbor legend," Carlson says. "The location on Liberty Street just happened to be ideal for this project."
Carlson, Lobdell, along with University of Michigan athletes and alumni including Fritz Seyferth (a former U-M football player), Bruce Zenkel (a U-M alum), Bruce Elliott (a former U-M football player), Dugan Fife (a former U-M basketball player), and Andy Mignery (a former U-M football player) are involved with the project.
Carlson says he plans to transform the 8,000-square-foot space, located at 226 S. Main St. at the corner of East Liberty Street, into a new dining and drinking destination inspired by the original Pretzel Bell. The restaurant is scheduled to open in the spring.
Pretzel Bell was known for its live entertainment on most weekend nights. The restaurant's walls were decorated with memorabilia from U-M athletes and names and initials were carved into the wood tables. Pretzel Bell was known for its clam chowder, apple pie, and steaks. The restaurant offered a free pitcher of beer to anyone celebrating their 21st birthday, as long as they could drink it all at once while standing on a table. If completed, they would ring a bell.
Carlson and Lobdell are involved with numerous restaurants in Ann Arbor and Traverse City, including The Blue Tractor Brewery and BBQ, Mash, and Jolly Pumpkin Café and Brewery, among others.