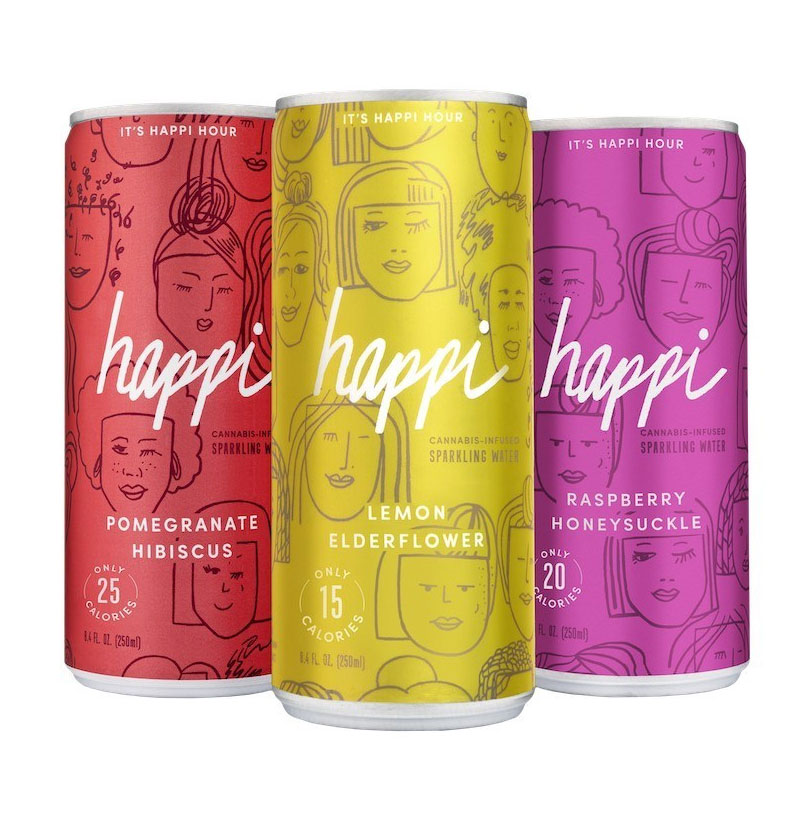 Our roundup of the latest news from metro Detroit and Michigan businesses as well as announcements from government agencies, including updates about the COVID-19 pandemic. To share a business or nonprofit story, please send us a message.
Birmingham-based Happi Introduces Cannabis-infused Sparkling Water
Birmingham-based Happi has launched Michigan's first-to-market cannabis-infused sparkling water.
With all-natural, vegan ingredients and a microdose of 2.5mg of THC per can, Happi says it offers a "better-for-you" alcohol alternative.
Available in three flavors — Lemon Elderflower, Raspberry Honeysuckle, and Pomegranate Hibiscus — Happi retails as a single flavor four-pack carton of 8.4-ounce slim cans. It is made with simple ingredients and organic fruit, with just 25 calories or less per can, offering the same light buzz as alcohol, with no hangover effect.
Happi is brought to market by founder Joe Reynolds, who says he understood that women are seeking an easy way to enjoy just the right dose of cannabis, and president Lisa Hurwitz, a veteran of both the CPG and cannabis industries with a career-long focus on women's brands and products.
"We're proud to give Michiganders something to celebrate this fall with the launch of Happi in our home-state," says Hurwitz. "Happi offers a sophisticated sparkling water with just a hint of cannabis for those looking to redefine their personal happy hour. With our production partner, Redbud Roots, and distribution partners, 3Fifteen, Lantern, Sunset Coast Provisions, and Redbud, we look forward to making our happiest memories with a Happi in hand. While we may not be able to change the world, we do our best to make it a happier place."
Happi is produced by Redbud Roots, one of Michigan's premier manufacturers of cannabis products.
"Redbud is thrilled to be Happi's manufacturing partner, bringing this first-of-its-kind cannabis-infused sparkling water to the Michigan market," says Hunter Mishler, director of product development at Redbud. "Our fused nano THC technology and unique formulation differs from most cannabis beverages on the market. We ensure that every can of Happi delivers an extremely precise microdose of 2.5mg of THC and a consistent sipping experience."
To further its investment in the Michigan community, Happi is announcing its partnership with the Black and Brown Cannabis Guild (BBCG), a female-founded community of cannabis business owners, patients, enthusiasts, and activists of color where advocacy for social equity and justice, a network providing support and community, and guidance to build and scale viable companies all converge. Net proceeds from the sale of Happi merchandise will be donated to the organization to further their good works.
For more information, visit here.
Cleary University Partners with Detroit Police Department in Degree Completion Pathway
Cleary University in Howell has launched a new degree completion pathway program exclusively for the Detroit Police Department.
Driven by DPD's goal of retaining and attracting talent, Cleary created the program to include university classes in a hybrid format combining online and face-to-face sessions on-site at DPD facilities. The partnership includes dedicated admissions, advising, and tutoring services, as well as lifelong career support.
"I have always been a strong advocate for not only the pursuit of higher education, but also its accessibility," says James E. White, chief of the DPD. "It is so important that anyone with the desire to go back to school is able to do so with as few barriers as possible. We hope that presenting a more affordable and attainable option encourages everyone to take this opportunity to continue to grow as officers and further their education."
Cleary University President Alan Drimmer participated in the announcement press conference.
"We are honored to support the men and women of the Detroit Police Department, who bravely support and protect our community," Drimmer says. "It is a dedicated vision of ours to create programs that specifically meet the needs of workplaces and civic organizations, and we are thrilled to partner with DPD in this way."
The partnership features a custom prior learning assessment process that provides the opportunity to earn college credits via prior college coursework, industry certifications and training, and life and work experience.
DPD employees may apply up to 75 percent of an undergraduate degree or 90 college credits when they begin their degree completion, a process developed by Cleary Provost and Chief Academic Officer Emily Barnes. This process enables customized degree pathways for officers that honor their work experience and service in the field in a way that respects their positions in the community and making a Cleary degree program efficient, fast, and affordable.
Cleary University notes that it specializes in creating custom partnerships with corporate and civic organizations to provide efficient educational experiences for employees, helping more adults complete degrees at the bachelor and master level easily and effectively, which leads to career advancement and increases employee retention.
More than 100 Detroit police officers already have inquired about the program, and 50 enrolled in the inaugural semester earlier this month. The program will benefit experienced DPD officers as well as recruits. Through this partnership, Cleary offers pathways for earning a bachelor's degree in business administration (BBA) with a concentration in diversity, leadership, and public safety.
Working directly with DPD leadership these pathways fulfill leadership, inclusivity, and diversity training requirements to assist officers at all levels of their careers. Soon, a master's degree option and certificate programs will be included in the DPD partnership to support the department's growing education and training initiatives.
The program welcomed its current officer class Oct. 4 and will offer a similar program for mid-level career officers in January 2022. Additional cohorts will launch throughout 2022.
Wayne County Behavioral Health Agencies Plan Merger
Nonprofit behavioral health care providers Hegira Health Inc. (HHI) in Livonia and Community Care Services in Lincoln Park have announced plans to merge creating a more integrated behavioral health system.
Both entities are designated as certified community behavioral health clinics treating mental health and substance use disorders. The merger will make HHI one of the largest behavioral health providers offering the most comprehensive network of services in Wayne County. It will expand its number of treatment locations in western Wayne County and downriver to 11 and bring the combined number of staff to more than 500.
Final approval of the merger will come from the State of Michigan Attorney General's Office and should be finalized by second quarter 2022.
"As Michigan continues to navigate the effects of a pandemic and the ongoing workforce shortages in the behavioral health field, the need for access to quality healthcare has never been greater," says Carol Zuniga, CEO of Hegira Health. "Community Care Services' mission is directly aligned with Hegira Health's and we look forward to working with our strong and complementary agencies to further our shared vision to offer a full continuum of care to more individuals across Wayne County."
As part of the merger current CCS  employees will be offered positions which will afford more career opportunities within the merged organizations. When the merger is complete, Zuniga will continue as CEO and Susan Kozak, executive director for CCS, will become COO for HHI.
Fluresh Launches New Plant-focused Brand of Cannabis Products
Grand Rapids-based cannabis cultivator, processor and retailer Fluresh is introducing a new brand, Carbon by Fluresh, which celebrates the cannabis plant from seed to smoke.
This premium, plant-forward brand, according to Fluresh, utilizes high-touch propagation techniques to grow "exceptional cultivars with heavy terpene profiles."
"Carbon by Fluresh is grown, harvested, and extracted with special care, and we combine established cultivation and extraction techniques with state-of-the-art grow facilities," says Bob Schwartz, vice president of cultivation at Fluresh. "Carbon by Fluresh respects the plant at every step of the process and we want to emphasize to consumers that there is more to quality cannabis than just THC. For example, our process allows us to focus on terpenes, which are a vital part of your experience, but often overlooked."
Each product in the Carbon by Fluresh portfolio displays terpene content (total terpene percentages and top three terpenes) on its packaging to bring to light this element that gives each cannabis strain its unique aroma, flavor, and effects.
Carbon by Fluresh is available in pre-packed 1/8-ounce jars of flower that come in a double-sealed, recyclable glass jar wrapped in a sleek black label to lock in freshness. The brand also will be releasing three textures of concentrates, made from fresh frozen flower: Live Sugar, Live Badder, Diamond & Sauce. Both product lines will be available in a variety of strains including Apple Tartz, Orange Creamsicle, and Rainbow Zlz.
"Most consumers are hyper-focused on THC potency and while THC is important, terpenes, as well as cultivation methods, play an even more vital role in the total sensory experience," says Nic Hernandez, general manager of the Fluresh Provisioning Center in Grand Rapids. "Helping consumers understand their preferred terpene profiles will help them find the strains that they enjoy most and that best fit their needs."
For more information, visit here.
Roach Enters Michigan Market with Pocket-size Vape
Six Labs, a cannabis cultivator in Chesaning (south of Saginaw), has announced a licensing deal with Los Angeles-based Roach to produce and provide Roach products — specifically pocket-sized vaporizers — in Michigan.
The products are available now in Michigan, with the vaporizers being produced at Six Labs' 45,000-square-foot cultivation lab.
Six Labs has launched three such collaborations in the past month and is growing by producing and distributing marijuana products that might not otherwise be able to navigate the federal and interstate regulations.
"Our commitment continues to be producing and distributing superior marijuana products throughout Michigan," says Adam Duke, director of sales for Six Labs. "Working with Roach as our partner in this most recent launch is evidence of that. Their pocket vape is truly one of the best in the market. We're happy to join our name and mission with Roach's."
Based in Los Angeles, Roach live-resin disposable vaporizers come in dozens of flavors, including Strawberry Fields, Purple Banjo, and High Rise Pink Lemon$.  A true live resin, extracted from live flower with nothing else added. Each variety contains broad spectrum oil and yields and unmetered dose, delivering a superior and user-controlled experience.
"We're thrilled to be partnering with Six Labs to bring our products to Michigan," says Art Kushkyan, co-founder of Roach. "Michigan's marijuana consumers have shown themselves to be discerning and well-informed, so our unique vaporizers are a great addition to the market here. We're right in line with the strict quality standards of Six Labs."
Washtenaw Community College Partners with HBCUs
Washtenaw Community College in Ann Arbor has partnered with three historically Black colleges and universities (HBCUs) to create a pathway to success for students transferring associate degrees.
The MBCUs involved in the partnership are Jackson State University and Mississippi Valley State University in Mississippi and Southern University at New Orleans in Louisiana.
The news marks the first comprehensive agreement – with benefits such as guaranteed admission and access to in-state tuition – between a Michigan two-year school and an HBCU.
The Washtenaw Community College HBCU Pathway program creates opportunities for student success and transfer equity by providing a clear, direct, affordable and supportive pathway for community college students to attend HBCUs.
In addition to guaranteeing admission to JSU, MVSU, and SUNO for WCC students who successfully complete requirements, the partnership opens access to in-state tuition and scholarships and waives application fees. The new initiative also provides student support and mentoring from staff, faculty and HBCU alumni, arranges college tours at HBCUs, and hosts community-building activities, monthly career workshops and a student leadership summit.
"Creating a pipeline for student success is essential to our mission, and it starts with access, nurturing students with big dreams, and helping them realize the opportunities to further their education," says Rose B. Bellanca, president of WCC. "Our new HBCU pathway is designed to support students from high school through community college and then through completion of their bachelor's degree."
Representatives from JSU, MVSU, and SUNO will discuss the partnership and transfer information during a panel session hosted by WCC from 6-7:30 p.m., Oct. 20.
For more information, please visit here.
Troy Firefighter Featured in Lung Association's 2022 Firefighter Calendar
For four consecutive years, David Basile from the Troy Fire Department, has raced up hundreds of stairs in his heavy firefighter gear during the American Lung Association in Michigan's Fight For Air Climb, and fundraised almost $15,000 along the way.
Now, Basile is being honored as a top supporter nationwide for his enduring efforts to help eliminate lung disease and will be featured in the Lung Association's 2022 Fight For Air Climb Firefighter Calendar, on sale now.
The calendar honors local heroes who support the association's vision of a world free of lung disease. This is the second annual calendar recognizing the Climbs' top supporters who participate in an annual event held in more than 40 cities across the country.
"Firefighters like David are not only out there saving lives every day, they fundraise and participate in events like our Fight For Air Climb in their free time," says Maureen Rovas, executive director of the Lung Association. "We are amazed by their daily sacrifice and are honored that David, as well as so many other local heroes, participate in our event."
The 2022 calendar features photos of the organization's top fundraising firefighters and firefighter teams at their local Fight For Air Climbs. It also includes fire safety tips, statistics on how fires affect lung health and tips for ones Fight For Air Climb. All proceeds will support the Lung Association's mission to save lives by improving lung health and preventing lung disease through education, advocacy, and research.
The calendar can be purchased here.
Facebook Comments