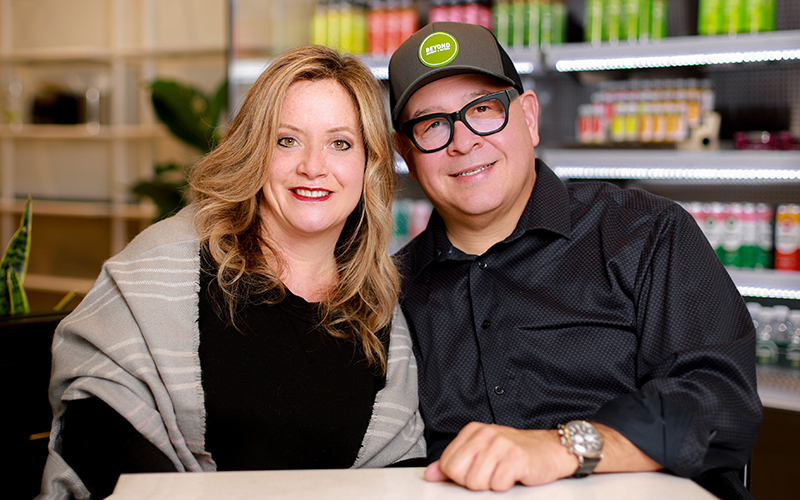 Our roundup of the latest news from metro Detroit and Michigan businesses as well as announcements from government agencies. To share a business or nonprofit story, please send us a message.
Beyond Juicery + Eatery Planning New Commerce Township Restaurant
Beyond Juicery + Eatery is planning to open a new location in Commerce Township in early 2023.
The new restaurant will be owned and operated by existing franchisees, Bobby Kasgorgis and Jason Najor, who are currently multi-unit operators for Beyond Juicery + Eatery with existing locations in West Bloomfield Township, Troy, Novi, and Northville.
"We are thrilled to continue growing with the Beyond brand as we begin developing our fifth location. It's a rewarding feeling to know that we have an opportunity to serve another community high-quality, fresh food and a top-notch experience each time they visit," Kasgorgis says. "(Jason and I) have tapped into our background in customer service and hospitality to ensure that our current locations are always performing to the Beyond standard, and we are looking forward dedicating that same energy for our new location."
Beyond Juicery + Eatery offers a wide variety of made-to-order juices, smoothies, wraps, sorbet bowls, and salads. Its commitment to fresh ingredients, officials say, are what set it apart from other restaurant concepts in the industry.
The brand now has 39 locations open and is growing with restaurants in development in Michigan, Ohio, and Florida.
"It's amazing seeing our brand continue growing across metro Detroit and doing so with dedicated operators like Bobby and Jason who are equally as committed to our mission is an added bonus," says Mijo Alanis, co-founder of Beyond Juicery + Eatery. "Beyond has become a well-known name in countless communities across the state, and this new location will further assist in strengthening that along with allowing for more guests to enjoy our health-focused products. We know that Bobby and Jason's newest location will no doubt be a welcomed addition to Commerce, and we look forward to their continued success as Beyond franchisees."
For franchising information, visit here.
To read the DBusiness feature on Beyond Juicery + Eatery from the May-June 2022 issue, visit here.
Infusion Associates Opens 11th Michigan Location in Novi
The Grand Rapids-based series of outpatient infusion and injection clinics, Infusion Associates (IA), has opened its 11th Michigan location in Novi (39475 Lewis Drive, Suite 140).
The new 2,350-square-foot infusion center is staffed by experienced registered nurses with oversight by physicians and nurse practitioners. The clinic is equipped with 11 infusion chairs, private rooms, and accepts patients immediately.
Infusion Associates has pharmacists that can process more than 100 IV and injectable medications and provides infusion therapy to treat chronic health conditions such as multiple sclerosis, Crohn's disease, rheumatoid arthritis, and many others. Treatments are provided in a comfortable, accessible, and friendly environment for patients that are unable to take medications orally.
"Many patients don't realize they have choices when it comes to the management and delivery of their infusion treatments," says John Crawford, director of operations for southeast Michigan at IA. "Managing any type of health issue is stressful; at IA, we aim to make things easier and more comfortable by providing a home away from home and offering patients an enjoyable treatment experience."
All IA facilities offer appointments 365 days a year, as well as accessible parking, private treatment rooms, TVs, Wi-Fi, heated blankets, and more amenities.
Visit here or call 833-394-0600 to make an appointment.
Detroit's Sift Launches Major Update for Microsoft Teams App
Detroit-based Sift has announced a major update to its Microsoft Teams app.
Sift for Teams V2.1 now integrates with Microsoft Teams meetings, allowing meeting attendees to learn more about the people they are meeting with, such as their skills, project teams, interests, work location, name pronunciation, and more.
"We are thrilled to collaborate with Microsoft to further humanize the workplace and accelerate both employee productivity and engagement in Microsoft Teams," says Ryan Bickham, vice president of product engineering at Sift. "This update incorporates Sift further into the flow of work for Teams users, complementing our long-standing focus on the employee experience."
Sift's integration within the Microsoft Teams environment offers capabilities that include:
View attendees' profiles in online meetings.
Perform people searches through the Teams search bar or compose message box.
Share profiles or searches via Teams Chat.
Visualize & navigate an entire enterprise org chart.
Integrate directly with multiple HR and IT data systems.
Sync directory information from Azure Active Directory with a standardized API.
For more information, visit here.
Citizens Launches Carbon Offset Deposit Accounts for Corporate Clients
Citizens today launched its Carbon Offset Deposit Account solution to provide corporate clients with another tool as they transition to a lower carbon economy.
The account provides clients a simple way to acquire carbon offsets using credit earned on their deposits and to integrate sustainability into their strategies and products. It joins Green Deposits as part of Citizens' portfolio of solutions to help clients achieve environmental, social, and governance (ESG) goals.
Quality carbon offsets allow companies to compensate for emissions that can't yet be reduced and to make an immediate positive environmental impact while they work on their longer-term emissions reduction strategy. All offsets under Citizens' Carbon Offset Deposit program are produced from high-quality projects registered with one of the four leading offset registries ensuring offsets are real, additional, permanent and third party verified.
For clients who have not measured their emissions, complimentary carbon emissions estimates will be available upon request to help clients understand the scale of their carbon impacts, identify reduction opportunities and to right-size offsetting options. Citizens works with the client to help identify emissions data sources and to facilitate measurement with their vendors.
"Citizens is committed to helping create a more sustainable and inclusive future, which includes meaningful action on climate change," says Michael Cummins, executive vice president and head of treasury solutions at Citizens. "This commitment is an important extension of our company's Credo, which has helped us serve our customers, colleagues, shareholders, and communities with integrity throughout our history."
For more information, visit here.
Gale and TSLAC Partner to Provide Texans Equitable Access to New Digital Resources
Farmington Hills-based Gale has partnered with the Texas State Library and Archives Commission (TSLAC) to provide participating K-12 schools, public libraries, and academic institutions across Texas with access to Gale digital resources through its TexShare and TexQuest e-resources sharing programs.
This partnership expands Gale resources within TexShare to support the recent growth of Texas families considering homeschooling for their children and students pursuing higher education in Texas community colleges and four-year academic institutions. These new resources provide Texas residents and students with reliable, high-quality content regardless of their location, age, education, and financial status that supports their educational, professional, and informational needs.
"Gale has had the honor of serving the Texas K-12 community for many years and now we are opening up that access to public libraries and academic institutions and the communities they serve to remove barriers and create a true online learning community," says Shawn Clark, senior vice president of Gale's domestic learning business. "We live in an information-based economy, and the continued success of all states depends on ensuring equal opportunities for all residents. This partnership ensures that all Texans have the resources they need to thrive no matter where they are in their education journey."
More than 800 public school libraries, over 400 public libraries, and nearly every public or not-for-profit institution of higher education in Texas now participate in the TexQuest or TexShare Databases programs. A consistent suite of electronic resources for all participants allows students, faculty, and library patrons to access information where and when they need it. Gale's Open Web Entry program allows these users to start their research with Google and other search engines, and integration with Google Drive, Google Docs and Microsoft 365 improves their ability to save, share, and collaborate with others.
UK's L Marks Acquires Ann Arbor Innovation Consulting Firm The Inovo Group
The Inovo Group, an innovation consulting firm in Ann Arbor has been acquired by L Marks, a similar company in the UK. Terms of the deal were not disclosed.
Inovo was founded in 2001 when the modern practice of corporate innovation was in its infancy. Over the past 20 years, it has been at the forefront of the innovation movement, developing innovation processes, methods, and tools used to drive innovation at many of the most successful companies in the U.S. including Dow Chemical, Nestle Purina, Blue Cross Blue Shield, and Honeywell.
The L Marks innovation portfolio leverages the global startup and innovation ecosystem to address business opportunities within their Innovation Labs and creates new market-validated and revenue-generating businesses through its Venture Studio. The acquisition of Inovo will expand L Marks' capabilities toward the "front-end" of innovation and embed 20 years of expertise in strategic innovation consulting.
"We are extremely pleased that the efforts we've made to advance the art and science of innovation through client collaboration will expand with our acquisition by L Marks," says Larry Schmidt, co-founder, The Inovo Group. "We are delighted to have found a strong partner to power the next phase of our innovation journey, a partner whose values and mission directly align with our own.  It has been a tremendous journey and we are incredibly grateful to everyone who has contributed and supported us along the way. The journey has only just begun."
The new Inovo Strategic Innovation unit at L Marks will guide corporate partners through the proven Inovo innovation process to identify and pursue opportunities, gain new competencies, apply new decision-making methodologies, transform business models, and push organizations beyond their core offerings, markets, and channels.
"We're delighted to welcome The Inovo Group into the L Marks family," says Daniel Saunders, CEO of L Marks. "Inovo's scientific expertise and twenty years of experience with our proven innovation capabilities will increase the value we can deliver to our corporate partners and cement our footprint in North America. As a company that highly values and champions the importance of collaboration, we have felt the benefit of working with Inovo over the past few years and we are excited to be a part of the future of innovation as our two companies come together."
The existing Inovo team will now join L Marks, and remain based in Ann Arbor. In addition, L Marks will be launching a recruitment drive to build the new Inovo Strategic Innovation team in the U.S. at its existing offices in New York and the Midwest. This team will lead the new business unit globally.
Heart Surgeons Collaborate to Launch Advanced Cardiovascular Care in West Michigan
A new era of advanced cardiovascular care has begun in west Michigan, as some of the nation's top heart surgeons gathered to perform open-heart procedures in a new state-of-the art operating room at University of Michigan Health-West.
For the first time, patients in the Grand Rapids market have an option for open-heart surgery. This is a major advancement for the Cardiovascular Network of West Michigan, a joint operating agreement that leverages the clinical expertise of three existing heart programs in the region — the open-heart surgery program at Trinity Health Muskegon, the cardiovascular programs at Trinity Health Saint Mary's in Grand Rapids, and UM Health-West, and U-M's Frankel Center in Ann Arbor.
The initial cardiac surgery operations are being performed by a team comprised of Dr. Gorav Ailawadi, Dr. Theodore Boeve, Dr. Jonathan Haft and Dr. Himanshu Patel, all part of the Department of Cardiac Surgery at University of Michigan Health. Patel also is executive director for the Cardiovascular Network of West Michigan.
"Above all, we are extremely pleased with the opportunity to connect with more patients through the network, and to provide them with increased quality of life," Patel says. "It could not be more gratifying to begin on such a positive note as we launch this era of collaboration, choice, access and excellence for the heart patients of West Michigan."
Drs. Ailawadi, Haft, and Patel are primarily based at the Frankel Cardiovascular Center (FCVC) in Ann Arbor. Along with Stefanie Peters, chief administrative officer at the FCVC, they have been integral partners with U-M Health-West and Trinity Health Michigan to develop this program.
The network was designed to give West Michigan patients close-to-home choice and access to top expertise. Wherever patients enter the network, they can expect seamless access to the best and most appropriate cardiovascular care, said Dr. Peter Hahn, CEO of UM Health-West.
"This is one network, one program, one team," Hahn says. "We have reached a major milestone with the beginning of open-heart surgery in Grand Rapids, but this is just the beginning of what becomes possible through our ongoing and strengthening collaboration."
In keeping with the collaborative design of the Cardiovascular Network of West Michigan, candidates for surgery are evaluated by the "heart team," a group of experts from all four programs who confer to determine the best course of treatment in each case.
The Cardiovascular Network's current expertise includes coronary artery bypass graft surgery (CABG), aortic valve surgery, mitral valve surgery, treatment of aortic aneurysm, and cardiac ablation procedures.
$5.5M MSU Federal Credit Union Donates $5.5M to Support Art at Michigan State
A $5.5 million gift commitment from MSU Federal Credit Union will advance three Michigan State University arts programs over five years and bolster the university's arts strategy.
The new arts strategy will connect the campus and communities with creativity and exploration through three pillars: integrating arts into the educational experience, research, and campus infrastructure and placemaking.
"Michigan State considers the arts to be key instruments of knowledge and understanding embedded across the university's educational, research and creative endeavors," says Dr. Samuel L. Stanley Jr., president of MSU. "Our arts strategy is an important component of the university's strategic objectives of student, staff and faculty success; impactful innovation; and diversity, equity and inclusion. I want to thank MSUFCU for sharing our vision and investing in this vital area."
The gift includes $2.5 million for the MSUFCU Arts Power Up Endowment, which will fund two pilot programs: the MSUFCU Arts Power Up Arts Residencies at the STEAMpower Project, and the MSUFCU Arts Power Up to Start-Up program. An additional $2 million will support the MSU Museum's new CoLab Studio, which evolved from the museum's partnership with Science Gallery International. Another $1 million will support the College of Music's MSUFCU DREAM Fund, or Detroit Regional Engagement and Access Music Endowment.
Birmingham Shopping District Plans Inaugural Art Walk Oct. 13
More than a dozen participating merchants will host an artist in their store and offer special shopping promotions, light refreshments, and more during the inaugural Birmingham Art Walk from 5-8 p.m. Oct. 13 throughout downtown Birmingham.
Birmingham Art Walk attendees are invited to stroll and visit all participating businesses at any time during this free event.
The Birmingham Bloomfield Art Center is partnering with several local artists and some of the participating businesses.  A strolling barbershop quartet is expected to add to the festivities.
Participating merchants include St. Croix, Viga USA, Urban Wick Candle Bar, Fab'rik, Gazelle Sports, Rotate Boutique, Supernatural, Lux Travel Girl, DiMaggio Exquisite Jewelry & Fine Art, Hastens, West Elm, Anthropologie, Daxton Hotel, Untied on Woodward, The Apap Realty Group, and Work/Co.
For more information, visit here.
'Nightline's' Juju Chang to Headline National Council of Jewish Women's Luncheon Oct. 26
National Council of Jewish Women, Michigan (NCJW|MI) will host its annual fundraising event "Women of Vision" Oct. 26 at Adat Shalom Synagogue in Farmington Hills (29901 Middlebelt Road) and will feature Juju Chang, the co-anchor of ABC News' "Nightline" and a regular contributor to ABC Television Network's Good Morning America and 20/20.
This year's "Women of Vision" benefit luncheon returns to an in-person event for the first time since the pandemic started and includes boutiques on site and a raffle.
Chang's reporting on Asian hate is the culmination of decades of covering everything from natural disasters to terrorism, mass shootings, immigration, violence against the LGBTQUIA+ community, and inequities of the COVID-19 pandemic.
"With the rise of hate crimes against the Asian-American and Pacific Islander communities, Ms. Chang will be discussing the historical parallels between Asian hate and antisemitism, having raised her children in a blended cultural environment, referring to them as 50 percent Korean and 100 percent Jewish," says Sallyjo Levine, president of the NCJW | MI.  "We are thrilled that Ms. Chang will be sharing her personal story that has so many underlying themes of civil rights and social justice."
The event also will honor three local women. Carolyn Krieger, the founder of CKC Agency, a public relations company in Farmington Hills, will be awarded The Woman of Vision Award. The Josephine S. Weiner Award for Community Service will be awarded to Carrie Kushner and Marilynn Sabin for their unstinting volunteer work, especially their dedication to providing Kosher Meals on Wheels for homebound seniors.
For more information on the program or to buy tickets, visit ncjwmi.org.
Great Lakes Shipwreck Historical Society Discovers 120-year-old Wreck
The Great Lakes Shipwreck Historical Society (GLSHS) has discovered the 292-foot Whaleback vessel, Barge 129, in Lake Superior, 35 miles off Vermilion Point in 650 feet of water.
Barge 129 was found along with eight other wrecks in 2021 by the GLSHS in partnership with Marine Sonic Technology using Side Scan Sonar.
"I've looked for this ship for so long because it was a Whaleback," says Darryl Ertel Jr., director of marine operations at GLSHA. "I was pretty excited. I couldn't wait to get the cameras on it."
When the Shipwreck Society put its ROV down on the wreck-site this past summer, researchers were surprised by the devastation of the ship.
"It's totally destroyed on the bottom," Ertel says. "It's nowhere near intact. It's at least four to five big pieces and thousands of little pieces. It's just disintegrated."
Barge 129 sank Oct. 13, 1902. It was in tow of the steamer Maunaloa, downbound with a load of iron ore, when it ran into a powerful October storm. The heavy seas strained, and eventually snapped the towline connecting the two ships. Barge 129 was then at the mercy of the storm.
Maunaloa turned around in an attempt to reconnect the towline, but the wind and waves slammed the two ships together, with Maunaloa's port side anchor ripping into Barge 129's starboard side. As the barge began to sink, Captain Josiah Bailey and his crew moved quickly and struggled to launch their lifeboat. The crew of Maunaloa stood by, and eventually helped the Barge 129 crew onto their ship just as the whaleback dove to the bottom of Lake Superior.
"The Whalebacks were pretty unusual ships," says Bruce Lynn, executive director of the GLSHS. "When we had the ROV on it, you could clearly see the distinctive bow with a part of the towline still in place. That was an incredible moment."
---