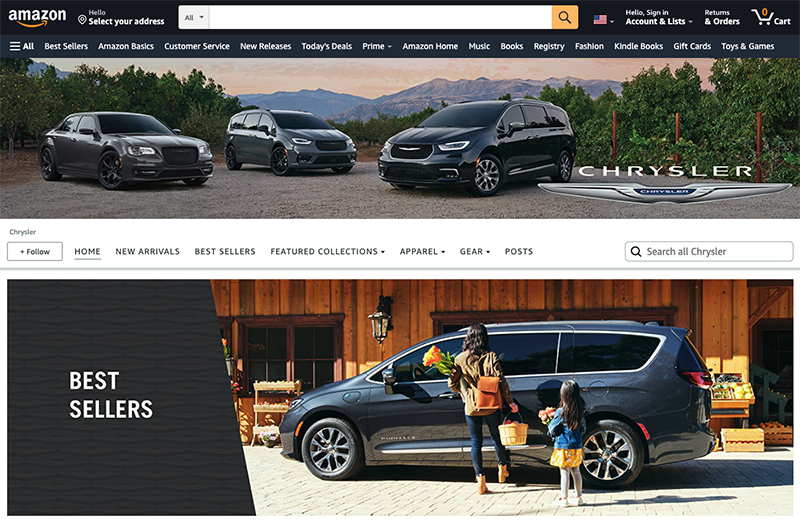 Stellantis, which has its North American headquarters in Auburn Hills, has launched the Chrysler Store by Amazon, bringing hundreds of options for authentic licensed gear and merchandise to Chrysler brand fans and followers.
"Opening our dedicated Chrysler brand store on Amazon provides an opportunity for our owners, fans, and followers in the U.S. to shop for their favorite products across multiple categories and with a seamless online experience," says Kim Adams House, head of all brands – licensing and merchandising, Stellantis – North America.
"The Chrysler brand featured collections will offer the chance to shop a variety of products from family apparel, van lifestyle merchandise, and vintage accessories."
The Chrysler Store by Amazon features apparel for men, women, and kids, home gear, drinkware, as well as accessories.
Categories include the following:
Overall, the Chrysler Amazon storefront features three distinct merchandise collections that include:
— The Van Life merchandise collection is dedicated to the van lifestyle that comes with the Chrysler Pacifica. The collection features bright and playful merchandise for van moms, dads, and kids alike, along with functional accessories for everyday commutes and long road trips. It has multiple graphic design approaches than can be seen through many product categories, such as drinkware, apparel, games, and phone accessories.
— The 300 Collection features the performance and detailed craftsmanship that comes with the Chrysler 300. The merchandise showcases the sleek, winged 300 grille and 300S badging on shirts, hoodies, sweatshirts, and phone accessories.
— The Heritage Collection curates unique merchandise and accessories for every Chrysler history buff to showcase their pride and appreciation for innovation. It combines original and authentic licensed products across multiple product categories, from signage and blankets to accessories, featuring brands from Chrysler's past.
Kim Adams House was a 2020 DBusiness Powered by Women honoree. To read her profile, visit here.
---