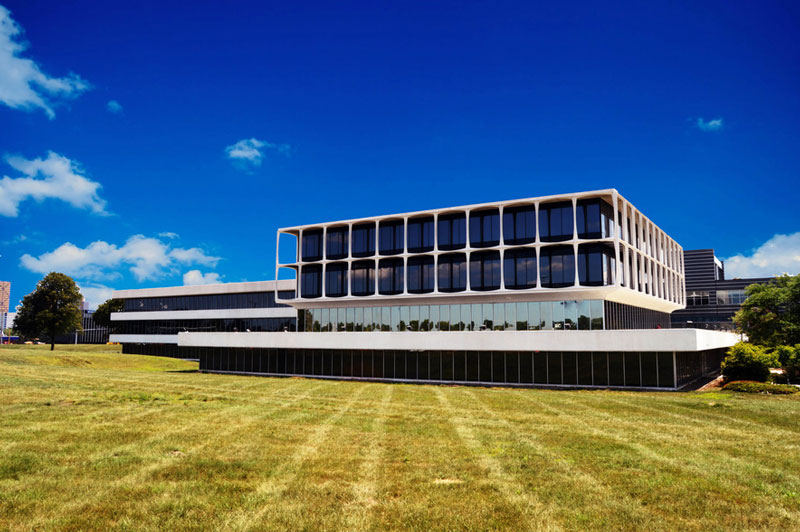 Italy- and Japan-based Marelli, a global tier-one auto supplier, has signed a multi-year lease to relocate its North American headquarters to Southfield from Auburn Hills. The company will occupy nearly 200,000 square feet of the brownfield site at 26555 Northwestern Highway (near Lahser Road).
The mid-century modern building has been unoccupied since 2015 and previously housed Federal-Mogul. It has three stories and is undergoing renovations.
"While it's important for us to be in close proximity to our automotive clients, it's just as important to ease the transition for our employees," says Gene Spektor, senior vice president of sales and business development, North America at Marelli. "Our new location will have minimal impact on the average commute and will provide employees with a modern, open, and collaborative work environment."
The move will bring local teams together under one roof, a step in Marelli's integration process. In May, Magneti Marelli and Calsonic Kansei came together as Marelli. The building will have workspaces for nearly 500 employees, 75 conference rooms, an auditorium, a cafeteria, a fitness room, and indoor and outdoor meeting spaces. About 100,000 square feet will be dedicated to testing and lab equipment to support research and development for the company's lighting, electronics, exhaust, interiors, powertrain, ride dynamics, and thermal solutions business units.
Marelli is leasing the property from Dembs Development, which purchased the building in 2017 from a New York investment company. Dembs has a 30-year history in construction, development, ownership, and management of retail property throughout the U.S.
Dembs hired Southfield-based HED, a national architecture, engineering, planning, and consulting firm, as project architect.
Marelli worked closely with the city of Southfield and the Michigan Economic Development Corp. on site selection.
"When an international company like Marelli chooses Michigan for its North American headquarters, that is a statement about our state's business attractiveness, talented workforce, and leadership in automotive manufacturing," says Jeff Mason, CEO of the Michigan Economic Development Corp. "This project will revitalize a long-vacant building in Southfield and will create a long-term positive impact on the local economy, and we thank Marelli for its continued commitment to Michigan."
Marelli has two locations in Auburn Hills and one in Farmington Hills. The company is planning a staggered move-in to begin late this year, with full occupancy expected by March 2021. Globally, Marelli has 170 facilities and research and development centers across Asia, the Americas, Europe, and Africa. It has about 62,000 employees.
Federal-Mogul was acquired by Tenneco in April 2018.
---