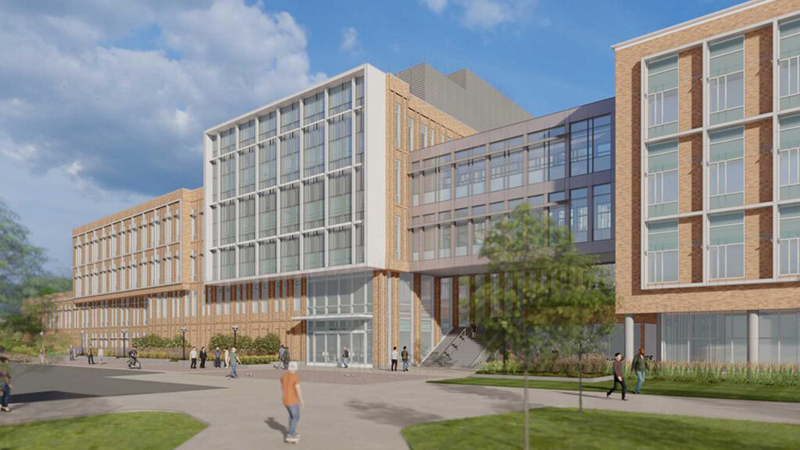 The University of Michigan in Ann Arbor announced that construction plans for the new 163,000-square-foot Leinweber Computer Science and Information Building on the school's North Campus has been approved by the Board of Regents.
The building will house the School of Information (UMSI) and also serve as an expansion space for the Computer Science and Engineering Division of the College of Engineering. Another goal for the space stated by the university is to strengthen collaboration and foster innovative research between multiple disciplines.
"When we combine our computing and information expertise, we can drive innovation and help solve some of humanity's greatest challenges in modern medicine, transportation, and smart infrastructure," says Alec D. Gallimore, the Robert J. Vlasic dean of engineering at U-M.
In October, the facility was given its name in recognition of a $25 million gift from the Leinweber Foundation, which aims support research, expand access to education for students from underserved and rural areas, and support the health of the community. Construction of the $145 million facility is scheduled to be complete in summer 2025.
Currently, Michigan Engineering and UMSI are located a few miles apart at different campuses. Once completed, the new facility will eliminate the need for top talent to choose between which work environment they prefer, removing barriers between colleagues. Areas that stand to benefit include artificial intelligence, human-computer interaction, and information privacy and security.
"The School of Information is broadly interdisciplinary, and co-location with one of our core disciplines — computer science — unlocks fresh opportunities for instruction and collaboration," says Thomas A. Finholt, dean of the School of Information at U-M. "Working together, we can more effectively create and share information, with technology, to build a better world."
Facebook Comments