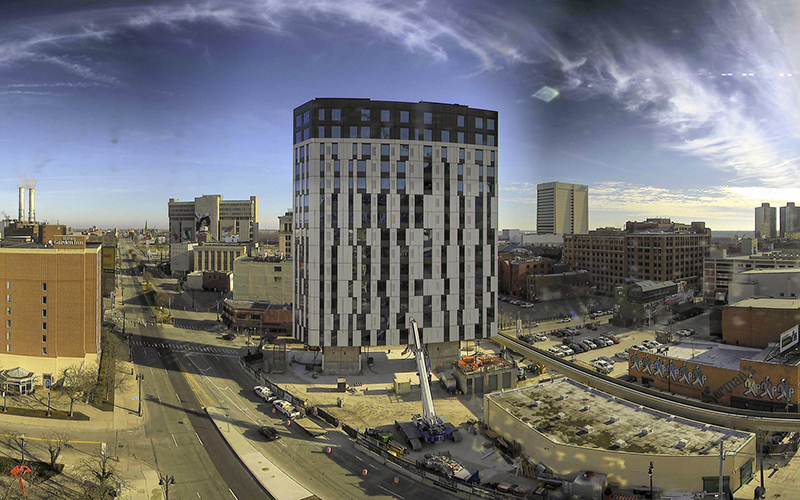 LiftBuild, a wholly owned subsidiary of Barton Malow, has lifted the final floorplate on the Exchange Building in downtown Detroit's Greektown neighborhood, capping 14 total floorplate lifts plus the roof plate.
The last two floors at the Exchange, located at 277 Gratiot Ave. (at Brush Street), will be built conventionally along with the prefabricated façade system.
LiftBuild works by utilizing structural, concrete spines and steel/concrete framed decks for floorplates. Each floor of a building is assembled at the ground level and lifted up the spines, or elevator shafts, where they're subsequently locked into place.
The fit-out is accomplished in a fully enclosed and conditioned space while the lower floors are built below. The assembly process is designed to maximize cost and schedule savings while providing a safe, efficient, and highly productive work environment.
"We're very pleased with the outcome of our first proof of concept for the LiftBuild technology," says Joe Benvenuto, COO of LiftBuild. "The implementation of our proprietary methods have now been proven to produce the advantages we were anticipating, and we are confident that the results achieved at the Exchange Building will set the stage for a broader commercialization …"
The Exchange is a 16-story residential tower that will include 153 residential rental units, 12 for-sale condominiums, and ground-level opportunities for office and retail concepts. The building offers 166,000 square feet of space.
Apartment homes are located on floors two through 14, with condominium residences on floors 15 and 16. The Exchange is the first residential development in Greektown in some 60 years. Tenant move-in at Exchange is slated for this summer, and will be preceded by a formal ribbon cutting.
For more information on the Exchange, visit exchangedetroit.com.
Founded by Barton Malow Enterprises in 2017, LiftBuild is part of the Barton Malow Family of Cos. in Southfield, which is comprised of four entities and five partner firms across North America. The overall company has more than 3,000 team members and 16 offices. For more information, visit  bartonmalow.com.
Facebook Comments