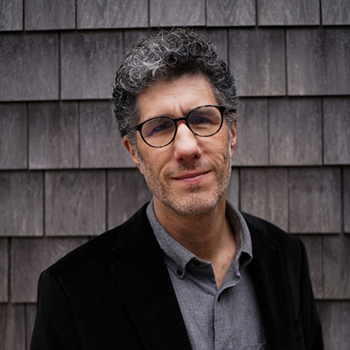 The Cranbrook Educational Community Board of Trustees today announced today that, following a comprehensive national search, Paul Sacaridiz has been named the next Maxine and Stuart Frankel Director of Cranbrook Academy of Art in Bloomfield Hills.
He will succeed Susan R. Ewing, who retired in May 2021. Current COO Rod Spearin has been serving as interim director of the academy. Sacaridiz will begin his tenure in May 2022.
The announcement was made today by President of Cranbrook Educational Community Aimeclaire Roche, chair of the Cranbrook Academy of Art and Art Museum Board of Governors Jennifer Gilbert, and Search Committee co-chairs Jim Berline and Nancy Tellem.
The Cranbrook Academy of Art and Art Museum Board of Governors and the Cranbrook Educational Community Board of Trustees voted unanimously in favor of Sacaridiz's appointment.
Sacaridiz brings 25 years of experience to Cranbrook, with a background that includes art making, teaching, administration, and leadership in higher education and the nonprofit sector. Most recently, he served as executive director of Haystack Mountain School of Crafts, a post he has held since 2015.
At Haystack, Sacaridiz played a key role in the development of a comprehensive strategic plan and launched a long-range campus planning process with a focus on accessibility, historic preservation, and sustainability. He also developed free online programs with more than 4,000 views from participants from 38 countries, created 50 new fellowships to support BIPOC students, and completed major studio and infrastructure upgrades to the historic campus.
During his tenure, he successfully led the organization through a period of historic fundraising. The endowment increased to more than $24 million from $9 million, with new funds supporting programming, scholarships, operations, and campus preservation. Haystack's annual fund also saw growth during this same period, setting record-breaking totals for five consecutive years.
"After a long search that introduced us to many exceptional candidates, Paul emerged as the extraordinary choice to lead the Academy," says Roche. "The future of arts education requires leaders who are willing to take risks and find new ways to bring additional voices into the studio. This is the only way the arts can continue to be a true reflection of our shared experience.
"Paul has a long history of successful collaborations, partnerships, and inclusive practices, and we are grateful that he will bring these talents to the Academy. We are confident it will ensure Cranbrook Academy of Art continues to operate as a radical experiment in arts education that produces today's most successful and prolific artists, architects, and designers."
Prior to his work at Haystack, Sacaridz served as professor and chair of the Department of Art at the University of Wisconsin-Madison, and earlier in his career, he was associate director of the Wonsook Kim School of Art at Illinois State University. He was a fellow with the National Council of Arts Administrators and has extensive experience serving on nonprofit boards including the National Council on Education for the Ceramic Arts and the Craft Emergency Relief Fund.
"Paul is not only a leader in the field of craft, but through his work at Haystack, has also proven to be a passionate leader in initiatives surrounding cultural equity," says Gilbert. "From launching new scholarships and programming to introducing new organizational partnerships and governance, all of this work was underscored by a commitment to diversity and inclusion. We have full confidence that he can chart a new course for the Academy as we reexamine the way we teach art, architecture, and design."
In 2021, Jennifer and Dan Gilbert provided a transformational gift of $30 million to the Academy to accelerate the school's efforts surrounding diversity, equity, and inclusion, and to drive long-term fiscal sustainability, work that Sacaridiz looks forward to continuing. Dan Gilbert is founder and chairman of Rocket Cos. in Detroit.
"Cranbrook is a singularly unique educational community and the legacy of the academy has been nothing short of extraordinary, says Sacaridiz. "I am thrilled to work alongside a remarkable group of graduate students, artists-in-residence, and staff, as we reimagine how the Academy can continue to shape the fields of art, architecture, and design.
"Together, we have the opportunity to make real structural change through programming, partnerships, and funding models that foster a space of radical exploration and create a more equitable and diverse community. This is truly the work of our time and it is an incredible honor to lead Cranbrook into this next chapter."
An accomplished sculptor and ceramicist, Sacaridiz holds an MFA from the School of the Art Institute of Chicago, and a BFA from the New York State College of Ceramics at Alfred University. He is also an alumnus of the School for American Crafts at the Rochester Institute of Technology. He has produced multiple large-scale projects for the Philadelphia Museum of Art, the Denver Art Museum, and the Houston Center for Contemporary Craft, among others.
Sacaridiz will be the Academy of Art's 12th director since Eliel Saarinen served as the academy's first director in 1932.
For more information about Sacaridiz, visit website.
Facebook Comments