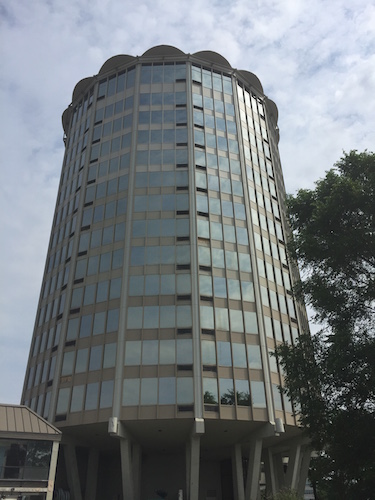 New Zealand-based Kiwi Hospitality Detroit, which acquired the former Holiday Inn of Southfield last year, will convert the 16-story circular tower along Telegraph Road into the 202-room Best Western Premier Southfield Detroit hotel along with an Epicurean Group restaurant called the Nomad Grill. A top brand in Europe, it will be the first Best Western Premier hotel in Michigan.
A 54-room Best Western Executive Residency Southfield Detroit and a 105-room La Quinta Inns and Suites also will open on the 7.3-acre site. The property, located just south of I-696, will include 40,000 square feet of banquet and meeting space, including a 700-seat grand ballroom set in a large atrium.
Replacing the former restaurant atop the main tower will be three executive boardrooms. Opened in the early 1980s, the original hotel property was a draw for hotel guests, business meetings, conferences, weddings, family celebrations, and charitable fundraisers. It closed in 2009.
Geared to business and leisure travelers, the hotel campus has been undergoing a multimillion-dollar renovation and is scheduled to open in the first quarter of next year, says J.C. Chaturvedi, director of group operations at New Zealand-based VR Group, which owns, operates, or manages a number of hotel and resort properties in New Zealand and Australia, and is a development and operational consultant to Kiwi Hospitality.
Kiwi Hospitality and its associates operate hotel properties in Denver, Cincinnati, Houston, Chicago, and Florence, Ky. "We are going to be creating quite a number of robust jobs in Southfield, and we look forward to making the property a premier destination," says Chaturvedi. "We also are looking at other opportunities in metro Detroit."
The Nomad Grill, which will offer refined comfort food, will be set on the first floor of the hotel tower and include a 70-seat breakfast room, a bar, and main dining room of 180 seats that will include such materials as wood and stone, a lounge, and two, 50-seat private dining rooms. A glass wine cabinet will be located in the center of the semicircular bar in the main dining room (dinner entrees will range from $25 to $35).
"The décor will be as if you are seated in a library at home with captain's chairs and a great deal of luxury appointments," says Eric Djordjevic, president of The Epicurean Group in Detroit. "It will have a grand entrance, a large kitchen that will serve diners, hotel guests, and catering, and a chef's table for eight people in the kitchen. We also will have a pastry shop, and we will be baking there for all of our restaurants and catering operations."
The Epicurean Group owns or manages Coach Insignia in Detroit, Novi Chophouse in Novi, Green Space Café in Ferndale, Plaza Deli in Southfield, and Soul Café in West Bloomfield Township. It also operates a large catering company.
The hotel lobby will be relaxed, and offer check-in stations, or pods. The banquet space will offer multiple options, including the grand ballroom with a mezzanine level along with bride and groom dressing suites, a junior ballroom, smaller banquet rooms, and other meeting areas.
The obstruction-free grand ballroom will include roll-up doors large enough to accommodate vehicles and other large displays. The property includes 600 parking spaces.
Facebook Comments