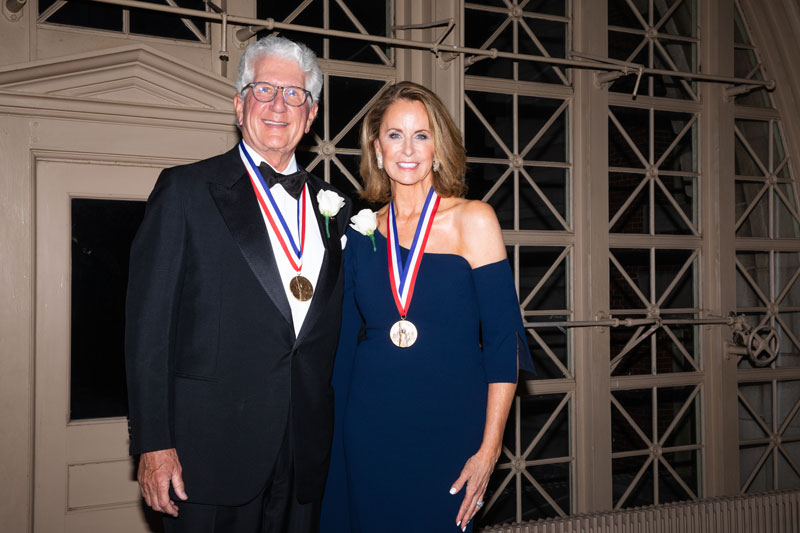 Our roundup of the latest news from metro Detroit and Michigan businesses as well as announcements from government agencies, including updates about the COVID-19 pandemic. To share a business or nonprofit story, please send us a message.
David T. and Jennifer Fischer Awarded Ellis Island Medal of Honor
Former U.S. Ambassador to Morocco David T. Fischer and Jennifer Fischer recently were awarded the Ellis Island Medal of Honor by the Ellis Island Honors Society (EIHS).
The Fischers were among nearly 100 Americans in business, government, medicine, art, education, and the military who were honored.
"Jennifer and I are incredibly humbled and honored to be in the company of so many distinguished honorees,' says David T. Fischer.
Jennifer Fischer adds: "The right history of Ellis Island and all who came here, sacrificed, and persevered to make this country a better place can never be understated nor forgotten."
While serving in Morocco, Fischer was instrumental in putting forth the Abraham Peace Accords, receiving in turn the National Security Medal and the Wissam Alaouite of the Order of Commander by His Majesty King Mohammed VI of Morocco.
Jennifer Fischer is a community activist for more than 35 years, serving on nonprofit boards in the arts, health care, education, hunger, and homelessness fields. She serves by presidential appointment on the Board of Trustees of the John F. Kennedy Center for the Performing Arts in Washington, D.C. She is also chairman of the National Symphony Orchestra Trustees and a member of the U.S. State Department Speaker Bureau.
To see the full list of 2022 recipients, visit here.
Study: Electric Vehicle Consideration Up but Skepticism Still Exists
Auto shoppers in America are more likely than ever before to consider buying a fully electric vehicle (EV), and new EV entries are responsible for much of the added consideration, according to the J.D. Power 2022 U.S. Electric Vehicle Consideration (EVC) Study.
The percentage of shoppers who say they are "very likely" to consider an EV for their next purchase or lease climbs to 24 percent, four percentage points higher than a year ago. Several factors are at work in prompting the increase, but the introduction of new electric models — some of which are in an important and largely untapped segment such as pickup trucks — is a primary reason for the increased consumer interest.
"The addition of new EV models has moved the needle on consumer consideration," says Stewart Stropp, senior director of automotive retail at J.D. Power. "In fact, several new models from perennial mass market brands are at the top of that consideration list. Even so, more remains to be done in terms of transitioning from early to mass adoption.
"Though the study findings show a shift in favor of EVs, about 76 percent of new-vehicle shoppers say they are not 'very likely' to consider buying one. With new EV model introductions coming at a rapid pace, automakers must continue their efforts to persuade more shoppers to give these vehicles a try."
Among the study's key findings:
EV consideration is stronger among premium buyers.
EV consideration by owners of mass-market vehicles is on the rise.
More information engenders more consideration.
Geographic location impacts EV consideration.
Traditional automakers entry into the EV market helps EV consideration.
For more information about the U.S. Electric Vehicle Consideration (EVC) Study, visit here.
J.D. Power Recognizes Blue Cross Blue Shield of Michigan for Member Satisfaction
Blue Cross Blue Shield of Michigan was recognized Thursday by J.D. Power for highest member satisfaction among commercial health plans in Michigan.
The J.D. Power Award is given to the Michigan health plan that ranks first overall in the J.D. Power 2022 U.S. Commercial Member Health Plan study. Blue Cross achieved the highest ranking in overall satisfaction, maintaining a consistent trend of improvement over the past several years. This includes its commercial PPO, HMO, and POS plan members.
"Understanding and responding to the needs of our members is ingrained in the way we run our business," says Daniel J. Loepp, president and CEO of Blue Cross Blue Shield of Michigan. "We're honored by this recognition from J.D. Power, especially because we know it's based on feedback from the members we serve and support every day."
Oakland County Companies Invited to Defense and Aerospace Program
The Oakland County Department of Economic Development is inviting companies in the county to participate in the Defense and Aerospace Conference from 8 a.m.-4 p.m. on June 6 at The Kingsley Bloomfield Hills.
More than 200 people are expected to explore strategies to optimize manufacturing and engineering initiatives in the Michigan aerospace and defense industry. The activities will include:
Identifying new industry opportunities and learn about locally available resources to help diversify your customer portfolio to include aerospace and defense.
Participating in matchmaking with local free resources and learning about qualifications to be an aerospace and defense subcontractor.
Hearing first-hand success stories from local federal contractors, with the goal of walking away with insights on how to develop and implement a successful diversification strategy in a dynamic market.
The cost of the event is $30 and visit here to register.
Ann Arbor's Strata Oncology Expands Strata PATH Trial with Two New Partners
Strata Oncology Inc., an Ann Arbor-based precision oncology company enabling smarter and earlier cancer treatment, announced that two new health system partners have joined the Strata Precision Indications for Approved THerapies (Strata PATH) trial.
The University of Wisconsin Carbone Cancer Center and the O'Neal Comprehensive Cancer Center at the University of Alabama at Birmingham will join Ohio-based Kettering Health Cancer Center in bringing this trial to both early-stage and late-stage patients with cancer.
Strata PATH is a prospective pan-tumor therapeutic trial designed to evaluate the efficacy and safety of multiple FDA-approved cancer therapies in new, biomarker-guided patient populations. A range of therapeutic classes will be evaluated, including targeted therapies, antibody-drug conjugates, immunotherapies, and angiogenesis inhibitors.
Patients interested in learning more about the Strata PATH trial can visit ClinicalTrials.gov and search for the Strata PATH Trial identifier: NCT05097599.
Detroit Opera Announces New Name, Season for its Children's Chorus
The Michigan Opera Theatre Children's Chorus, led by Chorus Director Suzanne Mallare Acton, is changing its name to Detroit Opera Youth Chorus with auditions for its 2022-23 season taking place from 10 a.m.-4 p.m. June 4 and 5-9 p.m. June 6 at the Detroit Opera House.
Students ages 8 to 16 are encouraged to participate. Also, registration is underway for Detroit Opera's annual Summer Programs — July 5-Aug. 5 at the Detroit Opera House for area youth ages 8 to 18.
This new name follows the company's name change announced in March, and reinforces the company's vision that emphasizes community, accessibility, artistic risk-taking, and collaboration.
The Detroit Opera Youth Chorus' 2022-23 season will run October through April with rehearsals primarily on Monday evenings at the Detroit Opera House. DOYC presents A Winter Fantasy, its annual December showcase concert, and produces its own fully staged opera every spring. On April 23, 2023, the ensemble will perform Seymour Barab's "The Maker of Illusions."
For more information and to register to audition, visit here.
Champion Foods Wants to Hire 50 Team Members in New Boston
Champion Foods says it is looking to hire more than 50 team members at its New Boston plant. Available positions include production, maintenance, and sanitation. The company says it offers competitive pay, a flexible schedule, and bonus opportunities.
For more information, visit here or email jobs@championfoods.com.
---