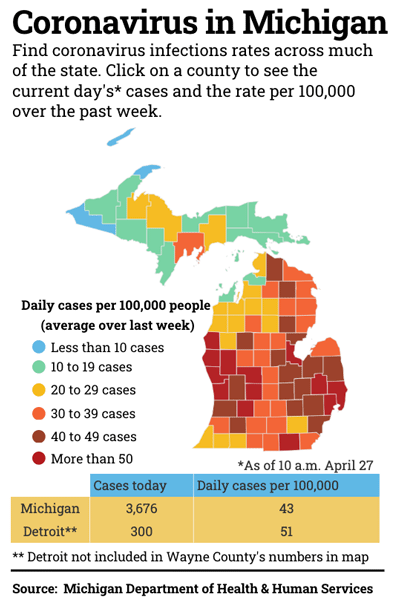 Our roundup of the latest news from metro Detroit and Michigan businesses as well as announcements from government agencies, including updates about the COVID-19 pandemic. To share a business or nonprofit story, please send us a message.
Comcast Awards $1M to 100 Area Minority Businesses
Comcast announced Tuesday it will award $1 million in grants to 100 Black-, indigenous-, and people of color-owned (BIPOC) small businesses in Detroit, Hamtramck, and Highland Park, as well as technology and marketing resources to 84 additional businesses across Michigan.
These recipients are part of nearly 2,500 entrepreneurs nationwide who have been selected as Comcast RISE awardees since November. Detroit was one of five cities, including Atlanta, Chicago, Houston, and Philadelphia, that was selected to award $10,000 grants to 100 local businesses from the Comcast RISE Investment Fund, for a total of $5 million across 500 businesses.
"Through Comcast RISE, we are helping BIPOC-owned businesses stabilize and bounce forward," says Tim Collins, senior vice president for Comcast in Michigan. "We've seen firsthand how business owners have benefited from this program, and we are committed to building on that momentum as Michigan's economic rebound depends greatly on the success of its small businesses."
In addition, Comcast RISE invests in ongoing mentorship and resources to help businesses succeed over the long term. The program has partnered with Ureeka, an online platform for entrepreneurs, to provide grant recipients with business coaching to help build skills in company foundation, growing customers, and financial stability.
All Comcast RISE recipients also will have a specialized online networking community within Ureeka with access to educational resources, sources of capital, and vetted experts such as U.S. Black Chambers, National Asian Pacific Islander Chamber of Commerce and Entrepreneurship, U.S. Hispanic Chamber of Commerce, Association for Enterprise Opportunity, Walker's Legacy, and Operation Hope.
"Comcast RISE represents a holistic program that can help advance BIPOC entrepreneurs," says Melissa Bradley, co-founder of Ureeka. "The commitment to coaching, capital, and connections is critical for historically overlooked communities in achieving economic prosperity. We are humbled and excited to partner on this program."
Comcast RISE, which stands for "Representation, Investment, Strength and Empowerment," is part of an expanded Diversity, Equity, and Inclusion commitment that Comcast announced last summer, as well as a coordinated cross-company effort to address digital inequities through sustainable programming and investments such as Internet Essentials and Lift Zones.
For more information, visit here.
PNC Announces $88B Community Benefits Plan
The PNC Financial Services Group Inc. announced a Community Benefits Plan to provide $88 billion in loans, investments, and other financial support to bolster economic opportunity for low- and moderate-income (LMI) individuals and communities, people and communities of color, and other under-served individuals and communities over a four-year period beginning Jan. 1, 2022.
The plan — developed in connection with the anticipated regulatory approval and closing of PNC's pending acquisition of BBVA USA Bancshares Inc., including its U.S. banking subsidiary, BBVA USA — covers the geographies currently served by PNC and the new geographies PNC will expand into through the BBVA USA acquisition.
It incorporates, builds on, and expands the pledges and plans previously announced by PNC and BBVA USA to help meet community needs, advance economic empowerment and address systemic racism.
Specifically, over the plan period, PNC expects to:
Originate at least $47 billion in residential mortgage and home equity loans to LMI and minority borrowers and in LMI and majority-minority census tracts.
Originate at least $26.5 billion in loans to small businesses in LMI communities, majority-minority census tracts, businesses with less than $1 million in revenue and small farms.
Provide at least $14.5 billion in community development loans and investments across all markets, including at least $400 million for Community Development Financial Institutions (CDFIs) that help meet the banking and financial service needs of traditionally underserved communities.
Increase to at least $500 million PNC's charitable giving, including sponsorships and philanthropic grants. This includes the continuation of BBVA USA's existing multi-year grant and charitable sponsorship commitments with nonprofit organizations, and a commitment to maintain or increase the current levels of philanthropic support provided to community groups in Birmingham in recognition of the history of the city as the headquarters city of BBVA USA and its predecessor bank.
"As a Main Street bank, we believe that our success will be proportional to the prosperity we help create for our stakeholders," says Bill Demchak chairman, president, and CEO of PNC. "This plan reflects that belief and builds on our longstanding commitment to provide economic opportunity for all individuals and communities we serve…"
For information, visit here.
Detroit Auto Dealers, Community Foundation Announce $500K in Grants to Nonprofits
The Detroit Auto Dealers Association Charitable Foundation Fund of the Community Foundation for Southeast Michigan awarded funds totaling $200,000 to seven nonprofits across the region that provide youth mental health services, disability services, and academic support.
This brings the total amount provided for local youth organizations to $500,000 since the onset of the COVID-19 pandemic.
"The DADA has long been a supporter of charities in southeast Michigan," says Rod Alberts, executive director of DADA. "The pandemic had a significant impact on charitable organizations everywhere during the past year and we take great pride in still being able to provide funding to these groups."
Since the DADA Charitable Foundation Fund was created at the Community Foundation in 1998, more than $7 million in grants ranging from $10,000-$50,000 has been distributed to more than 160 organizations. Grants support a wide range of programs including human services, arts and culture, youth development, education, and healthy living.
The 2021 grantees include:
CARE of Southeast Michigan Inc. ($50,000).
Dutton Farm ($25,500).
Gigi's Playhouse ($20,000).
LifeLab Kids Foundation ($40,000).
Neutral Zone Inc. ($20,000).
Racquet Up Detroit ($30,000).
South Oakland Shelter ($25,000).
In addition to this round of grants, the DADA and the Community Foundation announced $300,000 in grants in July 2020.
The Community Foundation is currently accepting applications for all nonprofit organizations in southeast Michigan that support children and youth. Grantmaking guidelines can be found here.
Plante Moran Supports California's Homeless Data Integration System
Plante Moran in Southfield supported the state of California in building and launching the Homeless Data Integration System, a resource that will provide access to the data the state needs to make policy decisions to prevent and end homelessness.
In just 15 weeks, California unveiled a first-of-its-kind Homeless Data Integration System, or HDIS, that offers a comprehensive picture of efforts to address homelessness. HDIS is a statewide initiative that brings a critical resource online that will support the state to provide permanent housing to almost 100,000 Californians experiencing homelessness each year.
California tapped the Plante Moran to lead the project, working with the state and its 44 regional continuums of care, or CoCs, to gather data into a single system. A priority program integral to the success of the state's overall economic action plan, the HDIS will enable all those focused on homelessness to answer key questions, such as:
What services are being provided?
Who is accessing those services?
What interventions are proving to be most effective?
Each CoC collects data about the people it serves and the services it offers according to common federal standards set by the U.S. Department of Housing and Urban Development, or HUD. Prior to the HDIS, data was siloed regionally. Neither CoCs nor the state had consistent access to comprehensive statewide data. Integration of data into HDIS establishes California's first statewide repository of common homelessness data and streamlines information and analysis by combining information from 44 separate systems into one single point of access.
"In partnership with Solari Crisis and Human Services, our technology partners and the state of California, Plante Moran is excited to release HDIS, which will help organizations better serve individuals with some of the greatest needs in our community," says Trevor Brown, management consulting partner at Plante Moran. "We believe this initiative will be nationally recognized for its concept and approach to driving data-informed responses that address so many challenges that exist not only in California, but across the United States.
Lawrence Tech Adds Data Science Bachelor's Degree
A new degree at Lawrence Technological University in Southfield — Bachelor of Science in Data Science — combines mathematics, physics, statistics, computer science, and data analysis.
The new LTU degree will be managed by the Department of Mathematics and Computer Science in the LTU College of Arts and Sciences, but is interdisciplinary in nature — and may include course work and research with faculty in other areas on campus, such as the LTU College of Engineering, the LTU College of Business and Information Technology, and the Marburger STEM Center.
"Data science is a field with a bright future, and employers are clamoring for people with these skills," says Tarek Sobh, provost at LTU. "This new program shows how Lawrence Technological University moves quickly to the needs of the marketplace with high-quality academic programs that prepare our students for job titles that haven't been invented yet."
The degree focuses on theory and practice in big data, data mining, machine learning, bioinformatics, mathematical modeling, and artificial intelligence, with students learning to study complex data sets and understand the patterns that each set can reveal.
For more information on this new program, visit here.
Oakland County Offers Economic Development Webinars
Oakland County is offering a pair of free economic development webinars today and Thursday.
Today's webinar, "Oakland Together: Bench to Bedside" takes place from 3-4 p.m. It focuses on moving medical devices and technology from concept to clinical applications that came about as a result of the pandemic and related challenges.
Presenters include Jaideep (Jai) Rajput, director of commercialization at Beaumont Health; Therese Jamison, director of nursing at Lawrence Technologicall University; Brianna (Brie) Riley, manager at Henry Ford Innovations; and Fred Molnar, vice president of entrepreneurship and innovation at MEDC. 
To register, visit here.
Thursday's webinar, "Plug and Play Detroit: Meet Batch One," takes place from noon-2 p.m. and introduces participants to 14 new startups using the networking platform Remo.
This webinar is intended for public and private companies and organizations interested in partnering with these mobility and electrification startups.
To register, visit here.
Motown's Spoken Word Grand Finale Airs Thursday
Motown Museum's Motown MIC: The Spoken Word will air its grand finale on Thursday, April 29 at 7 p.m. on the museum's social media channels.
The grand prize winner will be announced on Motown Museum's Instagram live the next day at 8 p.m.
Motown MIC offers poets and artists an opportunity to perform original, Motown-inspired spoken word pieces to win the title of the 2021 Motown MIC: The Spoken Word Artist of the Year. The chosen artist will win:
Professional studio session.
$2,500 cash prize.
Publication on a literary broadside.
Performance opportunities at various Motown Museum events throughout the year.
LIFT, Girl Scouts Offer Engineering Opportunities
LIFT, the Detroit-based, Department of Defense-supported national manufacturing innovation institute, and the Girl Scouts of Southeastern Michigan have launched a manufacturing initiative aimed at encouraging local Girl Scouts in grades 8-12 to explore careers in advanced manufacturing and engineering.
"Partnering with LIFT will provide our girls with a once-in-a-lifetime opportunity to learn from a national manufacturing innovation institute," says Tiffiny Griffin, deputy chief program officer at Girl Scouts of Southeastern Michigan.
The Girl Scouts' Think Like an Engineer Journey, an extended engagement experience, consists of three hands-on design and engineering challenges and a Take Action project — also called service learning — to address the root of a particular issue relating to engineering to create a lasting effect. Upon conclusion of the program, girls will receive a limited-edition LIFT patch for their uniforms.
The Girl Scouts will discuss advanced manufacturing career options with LIFT Staff and industry members; an important dialogue as women are underrepresented in STEM careers. According to a 2018 National Girls Collaborative Project, women make up 47 percent of the overall workforce, but 28 percent of the science and engineering workforce.
"The skills gap in advanced manufacturing is widening, but it is particularly out of balance when looking at the gender gap," says Nigel Francis, CEO and executive director at LIFT. "By encouraging Girl Scouts to explore science and math early in their lives, we hope more women will venture down these educational and career paths."
For more information, visit here.
New Online Detroit Regional Dashboard Provides Data for Nonprofit
The Detroit Regional Chamber and Detroit Regional Partnership have launched an online dashboard containing key economic and social metrics to help inform philanthropic efforts and decision-making to drive prosperity and equity throughout southeast Michigan.
"Creating a more prosperous and equitable region requires accurate assessments of where the region stands economically and socially," says Maureen Donohue Krauss, president and CEO of the Detroit Regional Partnership. "The dashboard tracks metrics that directly reflect the region's quality of life, business climate, and economic competitiveness. It is meant to help drive lasting change on key issues that are central to attracting more business and opportunity to the region."
The Detroit Regional Dashboard, available online, includes metrics that track changes in critical economic and social outcomes in the region, such as gross domestic product, unemployment, median household income, workforce participation, poverty, infrastructure, home ownership, and education attainment. It includes several statistics tracked specifically to inform efforts to increase equity.
"This partnership between the chamber and the partnership builds on our existing regional scorecard, but expands the scope beyond traditional economic metrics," says Sandy K. Baruah, president and CEO of the Detroit Regional Chamber. "While the chamber's State of the Region annual report has long covered social equity data, this new dashboard will make both economic and equity data widely and easily available to the entire region; empowering organizations to develop more comprehensive strategies and the ability to better track progress toward achieving those goals."
The dashboard provides data for the entire 11-county region, including: Genesee, Lapeer, Lenawee, Livingston, Macomb, Monroe, Oakland, St. Clair, Shiawassee, Washtenaw, and Wayne counties.
For more information, visit here.
MSU Establishes Mobility Advisory Council
Michigan State University in East Lansing has assembled the MSU Mobility Advisory Council to help guide the university's vision for the future of mobility.
With experts from eight respected mobility-oriented organizations taking part in the council, MSU is positioned to gain insight and perspectives of future industry and societal needs and the types of research and projects that MSU could support. Additional members may be invited to join the council in the future.
"This council will have a big role in helping us identify new projects as well as prioritize our mobility-related research and academic offerings, which is a core focus at Michigan State University," says Satish Udpa, interim director of MSU Mobility and a distinguished professor of electrical and computer engineering. "We are grateful to all council members who have committed to dedicating time to this group; this council will be a truly valuable asset and we look forward to the in-depth and thought-provoking conversations and insight that will be shared."
Participating council members, in addition to Udpa, include:
Dan Garrison and Clint Crook, Accenture.
Paul Thomas, Bosch.
Bethany Tabor and Jeff Myrom, CMS Energy.
Robert Hubbard, Cisco.
Bill Frykman, Ford Motor Co.
David Gorsich and Denise Rizzo, U.S. Army Ground Vehicle Systems Center.
Glenn Stevens Jr., Detroit Regional Chamber.
Frank Weith, Volkswagen Group of America.
The council's first meeting took place virtually on April 23.
Faurecia Brings New Jobs to Highland Park
Automotive technology company Faurecia is hiring for 140 openings at its new manufacturing facility in Highland Park. The open positions include operators, maintenance technicians, and other operations personnel.
The positions start in May and are available across three shifts. Team members will earn competitive pay and benefits and will be eligible to receive bonuses. The 210,000-square-foot facility manufactures complete vehicle seats.
"We look forward to being part of the community," says Collin Malcolm, president of Faurecia Automotive Seating North America. "The automotive industry is one of the most dynamic industries in the world and we are proud to provide exciting career opportunities in Highland Park."
To apply, interested candidates can contact the Michigan Works Highland Park Division at manufacturingjobs@mhrdi.org or visit here and search "Highland Park." The facility also will host a career fair on May 1 from 9 a.m.-3 p.m. at 13000 Oakland Parkway.
Commercial Real Estate Women Detroit Accepting Award Entries
Commercial Real Estate Women (CREW) Detroit is accepting entries for its 2021 Impact Awards, designed to recognize commercial real estate projects in metro Detroit that have impacted the surrounding community.
Three award categories include:
Renovation/Adaptive Reuse: A project which maintains at least 60 percent of the original building footprint.
New Construction: A ground-up project, or an addition to an existing building that exceeds the original building's square footage. Brownfield sites are acceptable.
Special Impact: Any project that has made a unique impact on its surrounding community, whether it be social, economic, or environmental.
The Special Impact winner is selected from projects entered into the two categories. This award is selected at the judge's discretion.
The annual Impact Awards Gala is anticipated to take place in December 2021. The event attracts hundreds of CRE professionals throughout the state of Michigan. To enter a project in the awards program, visit here.
Comerica Bank to Host Annual Women's Business Symposium
Comerica Bank will host its annual Women's Business Symposium from 12:30-3:30 p.m. on May 14. The virtual event, developed specifically for women, provides business owners, executives, and professionals an opportunity to learn, connect and grow professionally, personally and financially.
The keynote speaker will be Reshma Saujani, founder and CEO of Girls Who Code and author of the book "Brave, Not Perfect." Additional speakers include AmyK Hutchens, award-winning speaker, author and coach; and Jeanie Buss, co-owner and CEO of the Los Angeles Lakers.
Those interested in attending can register here. Registration costs $30, with all fees being donated to charitable organizations supporting women and girls.
---