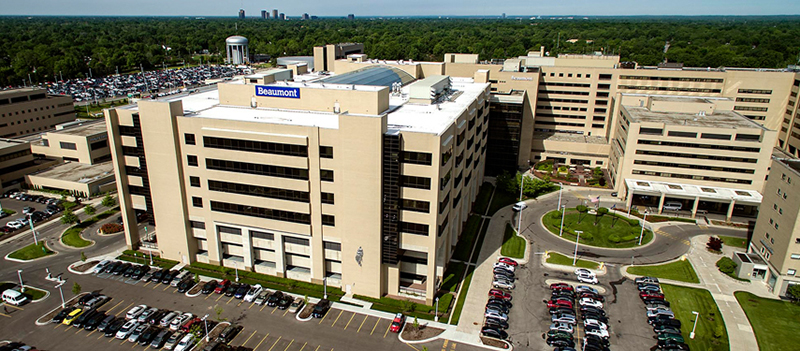 Beaumont Hospital in Royal Oak has announced the opening of its new Aortic Center, where specialists will treat complex aortic diseases with advanced medical, surgical, and minimally invasive options.
The new facility offers expert and immediate assistance 24/7 for rapid evaluation of patients and transfer requests. A team of cardiologists, cardiac and vascular surgeons, anesthesiologists, and specialists in imaging and genetics will provide support to patients needing long-term management of their aortic disease.
"Working with referring cardiologists and primary care doctors across the region, Beaumont has always led the way in treating aortic disease," says Dr. Alessandro Vivacqua, the leader of the new center and an expert surgeon in procedures involving aortic issues and disease.
"Now, an organized, dedicated and easy-to-reach team can provide coordinated care at the hospital U.S. News and World Report ranked number one in Michigan and one of the best in the nation for cardiology and heart surgery."
The aorta carries blood away from the heart and to the rest of the body. In some patients, the walls of the aorta can bulge, called and aneurysm, or split, called a dissection, due to trauma, genetic conditions, or other issues. Disruptions can be fatal if not treated.
Key in an aortic emergency is a coordinated, timely response before the patient bleeds out or the rupture causes damage to other organs, says Dr. O. William Brown, chairman of the section of vascular surgery at Beaumont Hospital, Royal Oak. The center offers 24/7 aortic response in emergencies, providing immediate assistance to patients as well as referring hospitals and physicians.
Jim North, 59, of Mount Clemens, had just finished lifting weights in his basement when he had a spontaneous aortic dissection. When he sat down at his desk upstairs to return to his IT work, something happened as he stretched his arm above his head.
"As soon as I straightened up, my heart started to feel funny," says North. "And, within 10 or 20 minutes, my back started hurting. So, I called my wife and said, 'I think something may have happened to my heart.' I was going to drive myself. Then, when I was changing, she called back and said 911 is showing up at the house."
He was taken to the nearest hospital in Mt. Clemens, and a CT scan spotted the dissection. The hospital, however, didn't have the capabilities to treat North, so they called Beaumont Royal Oak, where he was taken and treated by Vivacqua.
"The fact that Jim didn't wait when he experienced the sudden pain, as well as the coordinated response between the referring hospital and our team, saved his life," says Brown. "We're grateful to offer these advanced services to the community."
At the Beaumont Aortic Center, nationally recognized experts treat patients with:
Acute and chronic aortic dissections.
Aortic aneurysms.
Aortic trauma.
Aortic valve disease.
Genetically induced aortic conditions.
The on-site hybrid operating room — the Suzanne and Herbert Tyner Center for Cardiovascular Interventions — is equipped with the latest technology for both endovascular and open surgical procedures, as well as a conscious sedation option for some procedures to be performed without a breathing tube.
For more information, contact the Beaumont Aortic Center at (947) 551-0366 and choose option 1 for immediate assistance 24/7 for rapid evaluation of patients and transfer requests.
Physicians with stable outpatient referrals should choose option 2 to speak with a staff member during business hours. Calls outside of business hours will be returned within one business day.
Facebook Comments