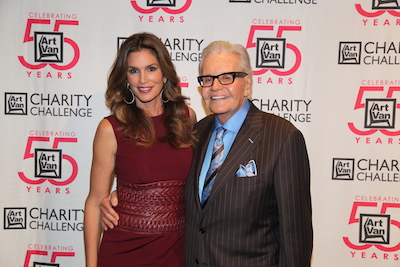 Art Van Elslander, founder of Art Van Furniture Inc. in Warren, says success often doesn't happen overnight. Rather, success comes from delivering a consistent marketing and public relations program that, in the case of the Art Van Charity Challenge, helped raise more than $22 million for nonprofit organizations.
1. DDN: What prompted the Art Van Charity Challenge?
We were looking for a unique and special way in 2009 to recognize the 50th anniversary of Art Van Furniture. A member of my Brain Trust came up with a simple idea to give $1 million to 50 charities in Michigan, focusing on children, health, and human services — and the Art Van Charity Challenge was born. The impact has been significant; the matching component of the program has been enthusiastically embraced, with contributions exceeding  $22 million to date.
2. DDN: How has the Charity Challenge evolved?
In 2014, Cindy Crawford graciously agreed to becoame the Art Van Charity Challenge Ambassador. We also took the program online with CrowdRise; this has resulted in a friendly competition among the charities, and allows them to spread the word on social media sites.  Now in its eighth year, the program has expanded beyond Michigan to become a regional initiative, and in 2014 and 2015 alone, the Art Van Charity Challenge raised over $3.4 million for participating charities.
3. DDN: How can people others get more involved in the Charity Challenge?
Everyone can give something — whether it's a donation, or sharing on social media and in conversations. It has been immensely rewarding to see the generosity of so many people, and it just keeps getting better every year.  I would encourage people to visit the Art Van Charity Challenge website to learn about the remarkable work being done by this year's charities.
4. DDN: Can you describe how charities have benefited from the challenge?
Many charities really got their foothold by becoming part of the Art Van Charity Challenge family – — not with grant money alone, but though exposure thatwhich resulted in new donors. The Art Van Charity Challenge has really been a game-changer for some wonderful grass roots charities throughout the Midwest, and we are delighted to be a part of that positive change.
5: DDN: What would you recommend for other organizations planning a similar challenge?
A challenge is an effective and engaging way to make the most of every donor dollar. Use every opportunity to spread the word.
Facebook Comments