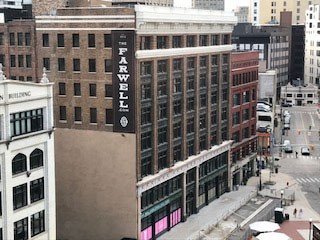 Troy-based Rehmann, a fully integrated financial services and advisory firm, today announced it will open a 6,000-square-foot office at 1249 Griswold St., Suite 201, in the historic Farwell Building in Detroit's Capitol Park district.
The eight-story Farwell Building, built in 1915 by Jesse Farwell, a shipping and real estate magnate, opened in July following a $40-million historic renovation by Capitol Park Partnership in Detroit. The offerings include 82 residential apartments on floors three through eight, 12,000 square feet of office space on the second floor, and ground and lower-level commercial space.
In the coming weeks, an 8,000-square-foot restaurant called Leila will open on the ground floor and the lower level. The restaurant is by Sameer and Samy Eid, the father-and-son team that operate Phoenicia and Forest in Birmingham. The Victor Saroki-designed restaurant, which will offer Lebanese dishes, is named after Sameer's wife. Two other retail spaces are available in the building.
Rehmann's office is a modern, open-concept office space and includes a staff of approximately 20 employees, who have relocated from other offices.
Overall, the Farwell Building offers 12,000 square feet of office space on the second floor (5,000 square feet remains to be leased). All of the tenants have access to a 3,100-square-foot rooftop deck — the largest in downtown Detroit save for the Detroit Opera House.
The Farwell Building was developed by Detroit native Richard Karp, with his partners Richard Hosey and Kevin Prater. Kraemer Design Group in Detroit served as the project architect.
"The historic Farwell Building in the heart of Capitol Park is the perfect addition to our current footprint, and a draw for current and future employees," says Randy Rupp, CEO of Rehmann. "As our firm continues to experience rapid growth across the country, we're excited about the opportunities for our firm and our employees right here at home."
The Farwell Building's history includes an interior glass-tiled ceiling and lobby designed by famed artist Louis Tiffany. The glass-tiled dome ceiling has been restored. While under construction, the structure was the setting for several scenes in such hit movies as "Batman vs. Superman" and "Transformers: The Last Night," along with an Eminem video. It's listed on both the State Register of Historic Sites and the National Register of Historic Places.
Capitol Park Partnership has been active in Capitol Park and other Detroit projects. The company renovated the Detroit Savings Bank building at the northeast corner of Griswold and State streets into 56 loft apartments and office space.
In turn, the partnership renovated Capitol Park Lofts at the southwest corner of Griswold and State streets into 63 apartments and 17,000 square feet of commercial space. The group also owns the 140-space Griswold Parking Garage at Griswold and Grand River Avenue.
Facebook Comments