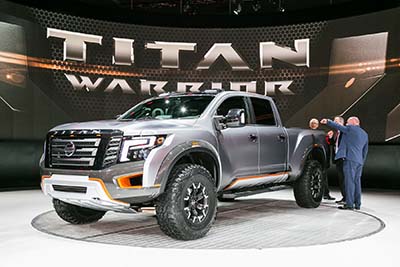 Nissan Motor Co. today introduced its Titan Warrior Concept full-size pickup truck, featuring carbon fiber fenders and a large front skid plate.
"We call this truck American Titan, designed in California and engineered in Ann Arbor," said Jose Munoz, executive vice president of Nissan at a press conference at the 2016 North American International Auto Show in Detroit. "It is our light entry in full size pickup market, an important building block in the long run for our success."
Munoz said the truck has "warrior-inspired styling" with a machine-like appearance. The exterior features include functional hood vents, a carbon fiber cabin and tailgate spoilers, and front, rear, and roof-mounted LED lights. The concept is painted a matte-gunmetal color with black accents. The truck has a 5-liter V8 engine. In the front,
The interior has seats covered with a carbon-colored high-strength seat fabric with orange accents, polished chrome finishes, and hot-and-cold drink containers integrated into the center console.
He said the standard suspension has been replaced with custom upper and lower control arm with performance ball joints, along with racing-style shocks. Modifications in the rear include custom internal shocks and custom reservoir mounts. Hydraulic pressurized bump stops were also added front and rear.
Munoz said sales were at an all-time high in the United States in 2015, an increase of more than 7 percent compared with 2014. He said there was growth in sales of the recently redesigned Murano and Rogue crossover SUVs.
Facebook Comments