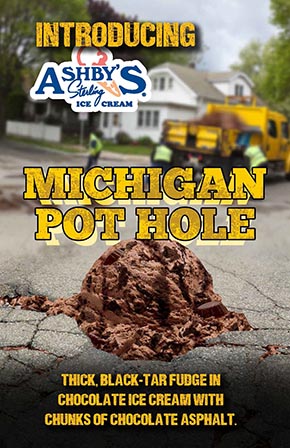 Ice cream and springtime go hand-in-hand, and in Michigan, the same can be said for spring and potholes — leading a Shelby Township creamery to help smooth out the state's rocky road problem.
"As you are probably aware (from) driving around Michigan, the roads (are filled with) pot holes," says Dianna Tunison, marketing manager for Ashby's Sterling Ice Cream. "So I (started with) chocolate ice cream and added a thick black-tar fudge, which has a ground cookie in a fudge swirl. I added chocolate fudge cups, which we call asphalt."
Although the Michigan Pot Hole flavor pokes fun at the state's ongoing road problem, Ashby's sees it as a real issue and has decided to give back — donating 1 percent of sales to the state for road repairs.
"We thought, if we are going to do this, let's have some fun with it and keep the conversation going about getting these roads fixed," Tunison says. Production for the ice cream has started and will be available in restaurants and ice cream shops across the state and around the country starting in April.
Founded in 1984, Ashby's offers more than 75 ice cream flavors, gelato, sherbet, sorbet, and yogurt. Ice cream flavors include raspberry chip cheesecake, amaretto cherry, ultimate peanut butter brownie, signature vanilla, vanilla bean, country apple pie, and spumoni.  
For more information, visit ashbysicecream.com