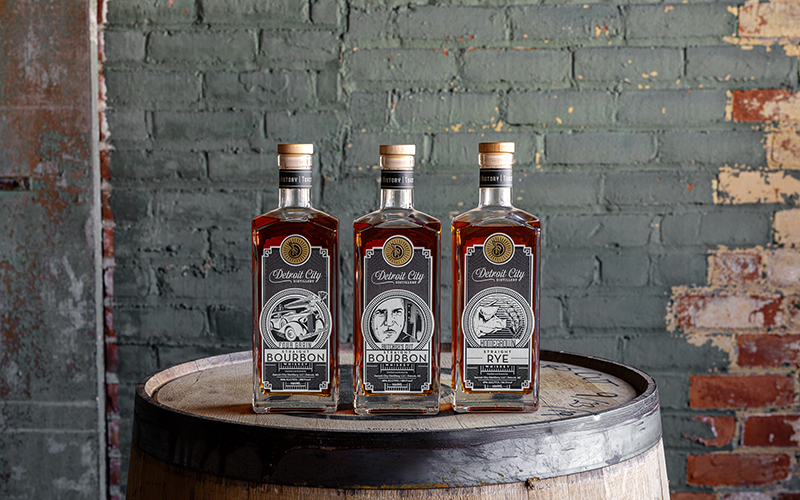 Detroit City Distillery (DCD) won three gold medals for its Michigan-made whiskies at the World Spirits Competition in San Francisco.
DCD's Butcher's Cut Bourbon and Homegrown Rye won Double-Gold Medals, the highest prize awarded at the competition, and its Four Grain Bourbon won a Gold Medal. It was the second Double Gold for Homegrown Rye, which also won in 2020.
"Bringing home three golds for our three whiskies is like sweeping the Olympics in the spirits business," says Michael Forsyth, co-owner of Detroit City Distillery. "We go against the top distilleries from across the globe, some of whom are much bigger and more well-known than we are. Many have been making whiskey for decades at the highest level.
"In Michigan, we have the freshest water in the world and some of the most diverse agricultural production in America. When you combine that with our Detroit work ethic, it's the right ingredients to make some of the best whiskey in the world."
The San Francisco World Spirits Competition (SFWSC) is one of the world's most prestigious spirits competitions. It's noted both for the quality of its judges, many of whom are renowned experts in their fields with decades of industry experience, and the scope of the different spirit categories that it judges.
The competition started in 2000, making it the second oldest spirits competition in the world and the oldest and largest spirits competition in the United States. Only the London-based International Wines and Spirits Competition (IWSC) is older.
DCD's Butcher's Cut Bourbon is a high-rye bourbon made from organic corn and rye from Washtenaw County and a blend of barley malts. The mash bill is 68 percent corn, 27 percent rye, with 5 percent specialty roasted barley malts. It has a smokey, sweet nose of oak, campfire and vanilla that leads to a rich body with notes of toasted pecan and caramel. A spicy high-rye finish ends with notes of toasted orange peel and white pepper. It's aged for a minimum of two years in new white American oak barrels and bottled at 100 proof.
The Homegrown Rye is a classic rye whiskey is made from organic rye from Washtenaw County. The mash bill is 97 percent rye with 3 percent specialty malted barley. It has a spicy, buttery body with hints of caramel and coffee on the nose. It's aged for a minimum of two years in new white American oak barrels and bottled at 94 proof.
The distiller's Four Grain Bourbon is made from four different Michigan grains with a mash bill of 57 percent corn, 19 percent rye, 12 percent red winter wheat, and 12 percent malted barley. This sipping bourbon has a sweet autumn nose of green apple, caramel, and wheat. The corn and big barley bill come together to produce a silky body with notes of browned butter, walnuts, and fig. It finishes with DCD's signature rye spice with notes of pistachio, burnt orange peel, and cinnamon. It's aged for a minimum of two years in new white American oak barrels and bottled at 100 proof.
For more information about Detroit City Distillery, visit here.
Facebook Comments