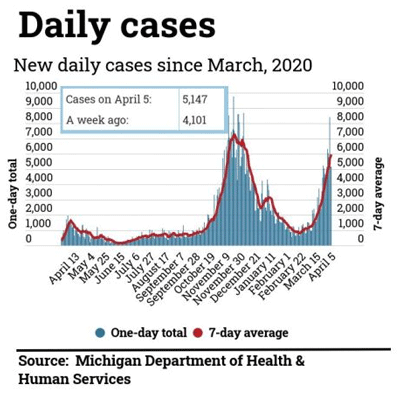 Our roundup of the latest news from metro Detroit and Michigan businesses as well as announcements from government agencies, including updates about the COVID-19 pandemic. To share a business or nonprofit story, please send us a message.
Rocket Mortgage Sponsors PGA Pro Bryson DeChambeau
Rocket Mortgage, the nation's largest mortgage lender, announced a new sponsorship of 2020 U.S Open golf champion Bryson DeChambeau.
DeChambeau, who won last year's Rocket Mortgage Classic in Detroit, is known for crushing drives and as part of the sponsorship his driver will now don a Rocket Mortgage-branded headcover and the company's logo will appear on the golfer's left sleeve.
"Golf fans are glued to their screens every time Bryson takes the tee," says Casey Hubris, chief marketing officer at Rocket Mortgage. "He is an innovator, changing the way people think about the great game of golf, just like we have shifted perceptions about how simple getting a mortgage can be with our digital solutions.
"At Rocket Mortgage, whether it is hosting the first-ever basketball game on a live aircraft carrier or creating the largest game of Super Bowl Squares in history, we love being on a big stage and finding opportunities and partners to establish truly epic activations that demonstrate how both Rocket Companies and athletes impact the outcome."
Aside from winning the Rocket Mortgage Classic, DeChambeau has seven additional victories, including his first major win at the 2020 U.S. Open, over the course of his five years playing professional golf.
"I am looking forward to working with, and learning from, Rocket Mortgage and Rocket Companies as one of my goals is to extend my impact on communities by creating sustainable, positive change among the younger generation," says DeChambeau. "As the champion of the Rocket Mortgage Classic, I got a chance to go deep and learn about who they are as a company and what they stood for. I realized there was a lot of alignment between my work helping kids achieve their educational goals and what they do to educate Detroit's homeowners."
OEM Selects Eaton Technology for New EV Platform
A global vehicle manufacturer has selected technology from Southfield-based power management company Eaton for a new battery electric light-duty commercial vehicle. Eaton made the announcement today.
The company's eMobility business will supply power distribution units (PDUs) and Bussmann series fuses to the manufacturer. The PDUs are scalable in design to be applied to a wide range of future vehicles within the portfolio.
PDUs, also known as junction boxes or fuse boxes, connect the main battery power to the rest of the vehicle, similar to how a home service panel connects the main power source to each of the branch circuits in the house. While distributing power through the vehicle, the PDUs deliver a safety function by providing circuit protection.
Eaton's eMobility business earned the business due to the ability to integrate the Bussmann series fuses into the PDUs for protection of four auxiliary circuits.
"Eaton's extensive experience and application of fuse and circuit protection technology allowed for PDU integration at levels others could not match," says Kevin Calzada, global product strategy manager for power distribution and protection for Eaton's eMobility business. "Eaton was able to secure this program through technical agility in the PDU feature design and assuring high reliability in the system.
"Fuse durability simulations are unique in the industry and help OEMs reduce risk," says Calzada. "If not specified correctly, auxiliary fuses can have issues with nuisance trips, but with our experts leading the fuse coordination, we were able to demonstrate high long-term reliability with our fuse sizing analysis."
The OEM also required the PDUs to offer multiple levels of safety. Eaton's PDUs have a unique design regarding access to the box to ensure safe repair and service, the company says. Additionally, Eaton units feature a test port that allows for an electrical meter to be used as a probe to contact miniature circuit boards that signal if the unit is still charged, preventing the technician from contacting high voltage.
Lansing's Liquid Web Offers Threat Stack Oversight Cybersecurity Solution
Lansing-based web hosting and managed application services company Liquid Web has launched Threat Stack Oversight, a fully managed intrusion detection system.
The new product is offered through a partnership with Boston's Threat Stack as an add-on or within bundled services, providing an elevated security and compliance solution.
Threat Stack provides cloud security and compliance for infrastructure and applications for Linux and Windows systems. Threat Stack uses AI and machine learning to proactively identify risks with real-time threat detection across cloud workloads. Any high-risk incidents detected are intercepted by Threat Stack and Liquid Web's security professionals. Threat Stack helps global enterprises securely leverage the business benefits of the cloud.
"This has been a solution our customers have been asking for and shows our commitment to delivering what matters most to them," says Melanie Purkis,  director of products for managed hosting at Liquid Web. "Threat Stack provides our clients insight into active threats to their servers in real-time. Liquid Web customers can take advantage of Threat Stack's 24/7 monitoring and remove the burden of intrusion detection from internal teams, allowing fast-growing businesses to focus on their products and services instead of day-to-day security. We are thrilled to have Threat Stack join our portfolio of partners."
Denver's VanWest Partners Acquires Five Michigan Properties
VanWest Partners, a Denver investment firm specializing in commercial real estate, has acquired two self-storage facilities in the greater Detroit market and three self-storage facilities in the Grand Rapids market. Terms of the deal were not disclosed.
VanWest plans to rebrand the five facilities under its ClearHome Self Storage management platform. By leveraging technology coupled with an active, hands on-management approach, ClearHome will drive net operating income by optimizing expense loads and managing revenue streams. With the addition of the Michigan portfolio, VanWest now owns and operates self-storage facilities in eight states and 12 metro areas nationwide.
"We're excited to add the Michigan portfolio to Fund II, and we look forward to acquiring additional facilities in the Grand Rapids and Detroit markets," says Jacob Vanderslice, managing partner of VanWest. "The geographic concentration of the portfolio compliments our other Midwest markets nicely and positions Fund II to further benefit from the economies of scale that a large, diverse portfolio offers."
HealthBar to Offer AditxtScore COVID-19 Testing in Michigan
Grand Rapids-based HealthBar, which provides on-demand, a la carte health care services in Detroit and five other Michigan markets, announced that it will be offering AditxtScore for COVID-19.
AditxtScore is a COVID-19 testing service provided by Aditx Therapeutics Inc. of California. It complements HealthBar's current offerings and provides key information regarding immunity status. Aditxt's CLIA-certified AditxtScore Center will process specimens collected by HealthBar.
HealthBar offers drive-thru and concierge COVID-19 testing, including rapid, PCR, antibody, and antigen tests. HealthBar also partners with organizations to provide at-location testing for employees as well as an expanding menu of medical services.
"It's crucial that we provide the best testing options available as businesses and schools begin to open across the state of Michigan," says Nathan Baar, founder and CEO of HealthBar. "Aditxt's unique immune monitoring technology backed by leading experts within the field provides unmatched information on protective immunity against COVID-19 and is a great addition to our roster of tests."
Amro Albanna, co-founder and CEO of Aditxt, says, "As we learn more about COVID-19,  monitoring the immune system will be key to understanding a person's level of immunity. We're excited to begin working with the HealthBar team and expanding our AditxtScore Channel Partner network."
Oakland County Hosting Two Virtual Job Fairs in April
Oakland County Michigan Works! is hosting two virtual job fairs this month, featuring a broad range of career opportunities in a variety of industries.  Participation is free, but job seekers must register in advance.
The first virtual job fair takes place on Wednesday, April 14, and features two sessions:
April 14, 2021, Morning Session from 9 a.m.-noon. Register here.
Current registered employers include: Amada Senior Care, Denso, American House, GABLETEK, Atlas Copco, Goodwill Industries, Beaumont Health, Helix Diagnostics, Capital Sales Co., Helping Hand Nursing Service, city of Farmington Hills, Kaltz Excavating/M.U.E., Korex, Oakland County, Lowes, Oakland County Michigan Works!, Lung and Sleep Center, PACE Southeast, Magna, Schwan's Home Delivery, Martin Technologies, Senior Helpers, Michigan Schools and Government Credit Union, Williams International, and MPD Welding.
April 14, 2021, Afternoon Session from 1-4 p.m. Register here.
Current registered employers, include: Aluminum Blanking Co., Magna, Casemer Tool & Machine, Oakland County Michigan Works!, Erickson Retirement Community, Orotex, Friedman Management Co., PDW, Goodwill Industries, Regency at Waterford, Homewatch CareGivers, Schwan's Home Delivery, J&B Medical, Stefanini, Logicalis, and The Westin.
The second virtual job fair, hosted by the Oakland County Michigan Works! service center in Novi in partnership with the Novi Chamber of Commerce and the Lakes Area Chamber of Commerce, takes place on Tuesday, April 27, from 1-4 p.m. Job seekers can register here.
Current registered employers include: College Nannies, Sitters, and Tutors; Edward Rose & Sons, Comfort Keepers, Famous Dave's Bar-B-Que, Community Financial, Hallite Seals America Inc., Henry Ford West Bloomfield Hospital, Sam's Club, J&B Medical, Staples, Kroger, The Goddard School, and Pace Industries.
"Both employers and job seekers are embracing the virtual job fairs, especially during COVID," says Jennifer Llewellyn, director of Oakland County Michigan Works!  "The overall feedback we're receiving from employers and job seekers alike is the virtual experience is an effective way to meet people, share important information and arrange follow-up interviews with a candidate."
The Lee Group Plans 7th Annual Small Business Workshop Virtual Series
The Lee Group will conduct its seventh annual Small Business Workshop, presented by Fifth Third, virtually throughout May with the theme "Re-emerging from the Abyss."
This year's virtual series will begin May 5, followed by one-hour sessions on May 12, May 19, and May 26, with a 10 a.m. start. This year's weekly event will be free and will focus on business recoverability and building a solid foundation.
For the May 5 event, Fifth Third economist Jeffrey Korzenik will provide an overview for the rest of 2021. He will discuss economic projections, overall prospects for the future and its impact on small businesses across the Detroit region and beyond as businesses prepare to emerge from COVID-19 challenges.
Mark S. Lee will have a "Fireside Chat with Kala Gibson," Fifth Third's executive vice president, head of business banking, and chief enterprise corporate responsibility officer. Panelists will include Ray Waters, president of Detroit Development Fund; and Alexis Dishman, chief lending officer at Michigan Women Forward, discussing what small businesses should be doing now.
To register, visit here.
EMU and Partners Launch Virtual Gaming/eSports Professional Development Event
Global esports organization Gen.G and its partners Eastern Michigan University in Ypsilanti and the University of Kentucky announced plans to launch its first Work from Home: The NetWORK, a conference designed to provide professional development in esports and gaming.
Scheduled for April 10-11, the two-day virtual event will offer panels, content, and tournaments led by esports professionals, content creators, esports front office executives, and collegiate players and coaches, and will be streamed live on twitch.tv/gengesports.
Panels will include topics on career paths and opportunities in esports, how to get hired in esports, collegiate conference panels, tips and tricks for content creation, how to run an esports organization at school, art and gaming, coaching in esports, and journalism in esports.
Fireside chats will include topics on working in an esports front office and building a path to becoming a pro esports athlete.
Guests include a broad cross section of the industry, including esports personalities OWL Pro Dustin "Dogman" Bowerman, MISSHARVEY of Counter Logic Gaming, gaming creators Jessica Kim & mrwootwoot, and industry professionals, including Riot Games Sr. Motion Graphics Artist Dave Felton, and Gen.G Marketing Manager Jourdan Kerl.  Panels will be moderated by students, including some 2020 winners of the Gen.G Scholarship Foundation.
The event also will feature collegiate esports tournaments across League of Legends, VALORANT, and Rocket League offering a $1,000 grand prize to each winner of the tournaments. Schools from across the country will be invited to participate.
"Our partnership with Gen.G continues to elevate to new heights as we bring together some of the best talent in the nation to offer professional development for students seeking a career in esports and gaming," says James Smith, president of Eastern Michigan University. "We'll also have some fun watching schools compete in our tournament to take home the grand prize."
Crystal Mountain to Invest in Snow Guns, Water Piping for Next Winter
The team at Crystal Mountain in Thompsonville (southwest of Traverse City) is looking ahead to next winter by investing in the addition of about 3,600 feet of pipe and the newest snow gun equipment, both of which will help make more snow more efficiently.
"The ability to expand our snowmaking infrastructure at Crystal Mountain will help us continuously deliver excellent conditions for skiers and snowboarders, especially in years where snow conditions are less favorable than we've seen across Michigan this season," says Jim MacInnes, CEO of Crystal Mountain. "We are always looking at ways to invest in top-of-the-line snowmaking equipment and technology upgrades, further positioning the resort as a premier winter destination."
This season saw 108 days of skiing and riding since the resort opened for winter on Dec. 18, 2020, with the snowmaking team making more than 21.5 million cubic feet of snow over the course of the season to cover its 58 trails and slopes.
The additional snow guns bring Crystal Mountain's total number of snow-making machines to 167, up from 153. And bigger pipe that leads from the holding ponds to the snow guns means carrying more water more efficiently, all leading to better quality snow.
These investments are focused on getting Crystal Mountain open sooner and with more terrain in the early season.
New Virtual Program to Help Metro Detroiters with Disabilities
Metro Detroiters living with intellectual and developmental disabilities now are able to reconnect with friends and the community with virtual programming offered by JVS Human Services in Southfield.
In-person attendance at Choices, a day program operated by JVS Human Services, was halted by the COVID-19 pandemic. As part of this new virtual Choices day program, an option called "JVS Frequency," was launched to allow participants to join in and out of the program at any point, like listening to music on a radio station.
It operates on Zoom every day from 9 a.m. to 3 p.m., offering a variety of interactive activities including music, quizzes, cooking, behavioral support exercises, caring for animals and plants, mindfulness exercises to encourage relaxation and positivity, word searches, and games. In addition, "Choices on the Go" is another option where participants gain a virtual experience of taking a trip to a favorite local destination such as the Detroit Zoo or Greenfield Village.
"One of the hardest things for the people we serve is adapting to change," says Nathan Volz, manager for the Choices Program. "What they are going through right now has been a real loss: not meeting with their friends, engaging in daily activities, or experiencing community outings. They face a lot of challenges under typical circumstances, but the isolation caused by the pandemic has just made it worse. JVS Frequency is a fabulous way to reach people and keep them engaged when it is convenient to them."
Participants in Choices are typically referred by their county supports coordinator at the age of 26 (or older), when they age out of the educational system in Michigan. For more information, contact Volz at nvolz@jvshumanservices.org or call 248-233-4335.
Facebook Comments