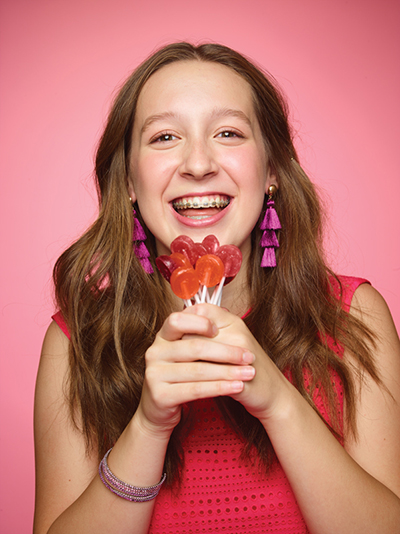 Alina Morse, the 14-year-old CEO of Walled Lake's Zolli Candy, landed a $1 million investment from Entrepreneur's Board of Investors on Wednesday's episode of "Elevator Pitch," which looks for incumbent breaking brands in which to invest.
The company creates and sells all-natural candy that cleans teeth by getting rid of acid in the mouth. It is available at more than 25,000 retailers.
"Landing such a massive deal on 'Elevator Pitch' is going to be huge for Zolli Candy," says Morse, who was on Entrepreneur's cover in September 2018 as its youngest-ever cover star. "I'm still in the middle of a capital raise, but to get the seal of approval from Entrepreneur that my company is a legitimate investment opportunity just shows we are really checking the boxes that investors look for as a sound investment."
"Elevator Pitch" invites entrepreneurs to step into the Entrepreneur Elevator and give a one-minute pitch to pique the judges' interest. Morse was given the $1 million in exchange for an equity stake in the business. The show airs on Entrepreneur.com, Cheddar, MSN Money, Apple TV, ROKU, Amazon, and YouTube.
Zolli Candy experienced 60 percent growth earlier this summer with the line's expansion into drug store chains CVS and Walgreens. The products are also available at Walmart, Kroger, Target, and Whole Foods and exported to China, Korea, France, and other countries. Morse is the No. 1 selling sugar-free candy sold on Amazon.
Morse first started experimenting with candy creation in her kitchen at 7 years old with the desire to make sweets that are good for teeth. She started manufacturing soon after. The company's flagship product, Zollipops, hit shelves in 2014 when Morse was 9 years old.
As part of the operation, Zolli Candy commits 10 percent of its profits to support oral health education in schools. It also runs 2 Million Smiles, a nonprofit organization, which brings Zolli Candy, the science behind it, oral health and hygiene information, and lessons in entrepreneurship to schools around the U.S.
The line offers Zollipops, Zolli Drops, Zaffi Taffy, Zolli Caramelz, Zolli Gumeez, Zolli Beanz, and Zolli Ball Pops.
Morse and Zolli Candy were featured in the July/August 2019 issue of DBusiness Magazine. The article is available here.
Entrepreneur Media is based in California.
Facebook Comments