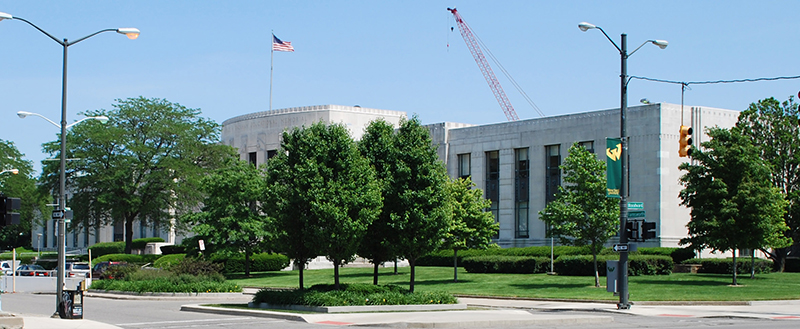 The University of Michigan in Ann Arbor announced it will begin a $40 million renovation of the Horace H. Rackham Educational Memorial in Detroit's Midtown to become home to many existing U-M initiatives and programs located in the city.
"This is an important project that will establish a new center of operations for the university's wide-ranging work in partnership with the city and its residents," says Mark Schlissel, president of U-M. "Our university was founded in Detroit in 1817, and I'm proud that our presence and work in the city continues to grow."
Plans for the 121,000-square-foot building, located at the northeast corner of Woodward and E. Warren avenues, include renovating approximately 70,000 square feet of space to address major infrastructure updates along with classroom space, multipurpose rooms, and maker spaces for nearly 500 students.
The Detroit Center and an office for undergraduate admissions, and programs within the A. Alfred Taubman College of Architecture and Urban Planning, College of Engineering, LSA, and the School for Environment and Sustainability will all be active in the building after the renovations.
Built in 1942, the building was a gift from Mary Rackham (her husband, Horace H. Rackham, was an original shareholder of Ford Motor Co.) and was jointly owned by U-M and the Engineering Society of Detroit. In 2018, the university acquired full ownership of the building. The structure has not received major updates since its original opening.
"The Rackham building is now more than 80 years old, has suffered from underinvestment in the building over the years, and needs a major renovation to address its deteriorating infrastructure and to meet modern teaching, learning, and programming needs," says Geoffrey Chatas, executive vice president and CFO at U-M.
The renovation is being driven by the expiration of two leases for facilities that currently house U-M programs in Detroit that have base rents of $500,000 per year and operating costs between $170,000 and $670,000 per year. The reduction of the lease expenses will provide a majority of the funding for the operating expenses after the project is complete.
Plans for the building call for energy-efficiency improvements, including energy-efficient lighting, and adding insulation to exterior walls and interior storm windows. Additional improvements include a roof replacement; mechanical, electrical, and plumbing infrastructure; and exterior masonry wall repairs.
The building is near the Detroit Institute of Arts, Charles H. Wright Museum of African American History, Wayne State University, and Detroit Public Library. Transportation and parking options are also available near the building, included the D2A2, which provides express bus service between Detroit and Ann Arbor, the QLine, and 300 parking spaces.
The architectural firm Integrated Design Solutions, in association with Quinn Evans, will design the project, which is expected to provide more than 30 on-site construction jobs. University officials expect to seek approval for schematic design bids in the spring of 2022.
Facebook Comments