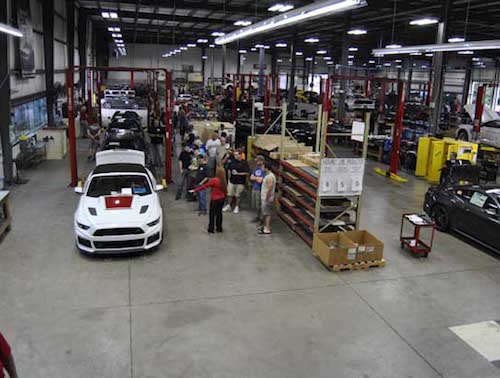 Livonia-based Roush Automotive Collection, a 30,000-square-foot private museum that displays artifacts, memorabilia, and Roush racing vehicles, will host an open house on June 9.
"We have just over 100 vehicles (at the museum)," says Lynn McClenaghan, office manager at Roush Automotive Collection, located at 11851 Market St. "We're not normally open to the public, so it's a chance to see the collection."
NASCAR Xfinity Series drivers Ryan Reed, Darrell "Bubba" Wallace Jr., and team owner Jack Roush will meet fans and sign autographs at the free event. Door prize giveaways include a pair of Michigan International Speedway Grandstand seat tickets for the Firekeepers Casino 400 on June 12, and a variety of Roush Fenway memorabilia.
The open house will also include a drag race simulator and an engine building competition where two teams from the Roush Engine Build Department will compete to see who can execute a complete engine build-up, including a live test run, in the quickest time.
Car cruisers are invited to bring their classic and special interest vehicles to be displayed outside of the museum along Market Street.
"It's a great family event, its free, and if you like cars, there's a lot to do," McClenaghan says.
Along with the Roush Automotive Collection open house, attendees can also sign up to tour the Roush Performance Facility, which is located nearby. Free shuttles will leave from the Roush Collection to transport guests to the Roush Performance Facility, where they can see how a Roush Mustang is produced.
For more information, visit roushcollection.com.
Facebook Comments