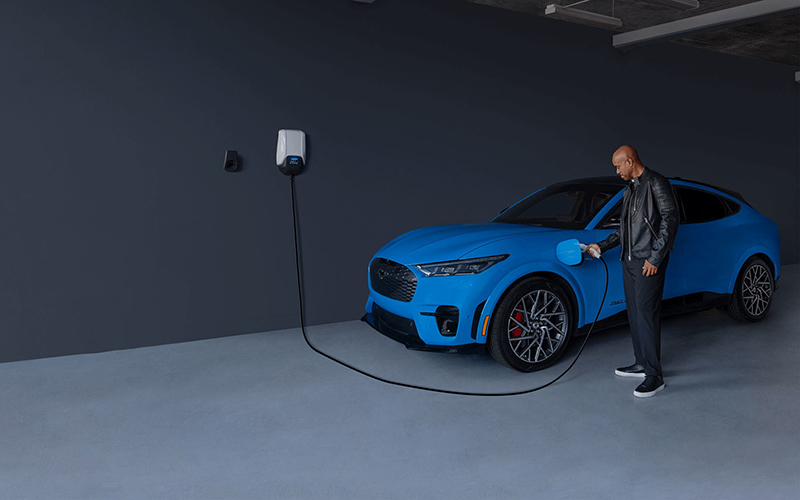 Ford Motor Co. in Dearborn and Qmerit, a leader in electrification and green energy transformation, will provide Mustang Mach-E customers with Charge@Home services for installing and supporting EV charger stations at individual homes and multi-family residences.
Qmerit's EV charger installation services make it easy to charge at home with either the Ford Mobile Charger of the Ford Connected Charge Station. Ford is investing more than $30 billion in fully electric vehicles globally through 2025 and expects up to 50 percent of its global vehicle volume to be fully electric.
"Ford is striving to make the transition to an all-electric lifestyle easy for our customers," says Matt Stover, director of charging, energy services, and business development at Ford. "With up to 80 percent of charging currently being done at home, a seamless installation process for all Mustang Mach-E at-home charging needs is critical."
The automaker is putting an emphasis on EV charging infrastructure through North America's largest public charging network, the Blue Oval Charge Network, and is providing customers with seamless solutions for at-home charging as well.
Qmerit operates the largest network of certified EV charger station installers in North America. It connects individual and fleet customers with licensed electrical contractors best suited for unique configurations, personal needs, and geography.
The company has performed more than 10,000 EV charger installations in homes and multi-family residences, making them a reliable Ford Preferred Partner for the EV Charging@Home solution.
Mustang Mach-E customers can choose to add a Ford Connected Charge Station to their orders and finance them alongside the vehicle or purchase them directly from a dealer. Afterward, they can visit Qmerit to find certified installers in the area. The service extends to Mustang Mach-E customers who want to upgrade to a 240-volt outlet.
"Qmerit is honored to support this historic and groundbreaking American institution in the electrification of some of the most iconic cars and trucks ever," says Tracy K. Price, founder and CEO of Qmerit.
"Coupling at-home charging with Henry Ford's foundational mass market vehicle production vision and innovation makes it all the more meaningful in driving mainstream adoption of EVs."
The companies say the partnership is a step forward in making at home EV charging an industry standard, bringing electrification directly into homes of light-duty vehicle owners, and pushing zero-carbon initiatives forward.
Facebook Comments