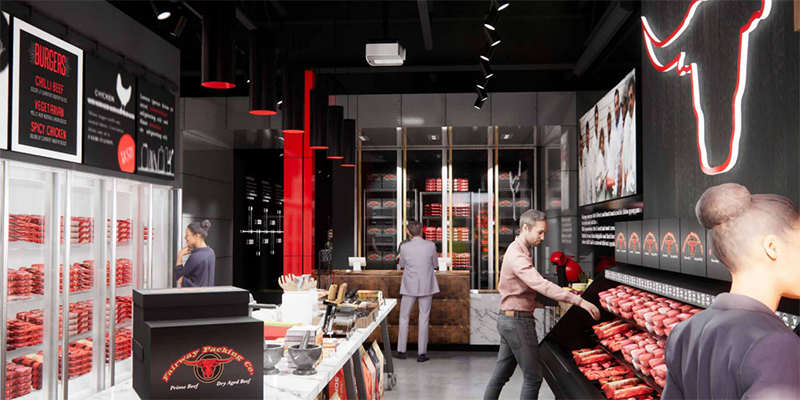 Fairway Packing Co. in Detroit, recognized by the National Meat Processors Association as one of the Top 50 Meat Purveyors in the United States, will on Saturday open The Steak Shop in Grosse Pointe Woods, a food retail experience designed to bring restaurant quality meats direct to customers.
As part of the grand opening, Fairway will offer grilling demos and a specially curated gift box designed especially for Father's Day (10 a.m. to 2 p.m. on Saturday), featuring some of the company's most popular cuts of meat and cookware. The store officially opens on Monday.
The sleek, nearly 1,300-square-foot store, is outfitted in a bold black and red color scheme, and features coolers stocked with packaged Grab and Go versions of all of Fairway's most popular cuts, including prime steaks, Wagyu, strips, filets, and Tomahawks that can be prepared at home.
In addition, The Steak Shop is stocked with locally produced utensils, seasonings, cutting boards, steak knives, cast-iron pans, and butcher blocks. Other items for sale include charcuterie boards and a line of truffles sourced from Michigan farms.
"We want our customers to know that when they come to The Steak Shop, they're going to feel what a special, premium experience it is," says Gino Baratta, co-proprietor of Fairway. "We're involved with every step of the process, from working with the finest farms in the Midwest until the meat comes to your table. There's a lot of love that goes into what we do."
To duplicate the experience of a Fairway-style burger at home, customers can also purchase buns and cheeses personally recommended by the Baratta family. Another offering borne out of the experience of the pandemic, will be monthly subscription boxes curated by local chefs, including a recipe card.
Chef proprietor Anthony Lombardo of SheWolf Detroit, who will contribute to the subscription boxes, says bringing that restaurant experience to the home cook was his inspiration for getting involved with this new venture.
"As a chef, you are always looking for new ideas to spur your creativity, and over the years, Fairway's innovative and collaborative approach coupled with its dedication to quality has continually given me new ways to think outside the box," says Lombardo. "I am thrilled to have the opportunity to be a part of this new retail space in order to provide home chefs with that same spark of inspiration for their own kitchens."
The Fairway retail experience will also feature local chefs hosting a variety of unique and memorable demos including steak flights, specialized cooking techniques such as how-to sous vide a steak, and Cuts 101, a quick guide to the different cuts of steak and how to prepare them at home. Customers can observe the in-store demos while sipping on a complimentary recommended wine or beer, which will also be available for purchase.
In turn, Ryder DelSignore, founder of Ken Knife Co. in Southfield, has partnered with Fairway on a line of co-branded custom steak knives that will be available exclusively at the retail space. DelSignore, whose history with the company dates back to the long-time relationship his father, legendary chef Luciano DelSignore, shares with Fairway, was honored to be involved with this new endeavor.
"It was exciting to have the chance to create this unique line of knives specifically for the Fairway customer in order to help them replicate the restaurant experience at home," says DelSignore. "It's fantastic that they are bringing this unparalleled concept to the market. I am proud and thrilled to have the opportunity to go along for the ride and be a part of this next evolution of Fairway as they continue to elevate what it means to be a meat purveyor both today and in the future."
The store, located at 20877 Mack Ave., includes a Himalayan Salt Wall, craft beers, wine, and other offerings. Store hours are Monday to Friday, 10 a.m. to 7 p.m.; Saturday 10 a.m. to 5 p.m.; and Sunday 10 a.m. to 3 p.m.
The new location complements Fairway's original location in Eastern Market (1313 Erskine St.), which offers numerous steak cuts, including Piedmonte beef.
Established in 1956 in Detroit by Emmet Baratta, Sr. and his two brothers, the initial company specialized in quickly and efficiently breaking down hanging beef as a dedicated service to local butcher shops.
Shortly after Emmet, Sr. retired in 1987, his son, Gene, re-launched the business as Fairway Packing Co., (inspired by Fairway Drive in Grosse Pointe Woods) with a mission to expand its focus on providing top-notch quality and service to Michigan's finest chefs and restaurants. In 1999, Fairway became the first meat purveyor in Michigan to source directly from farms specializing in sustainability and humane standards.
The company also offers online sales at https://www.fairwaypacking.com/website.
Facebook Comments