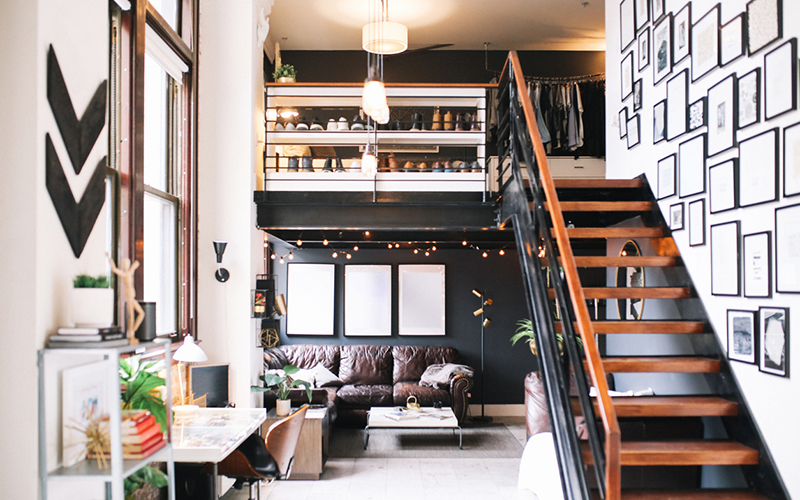 Our roundup of the latest news from metro Detroit and Michigan businesses as well as announcements from government agencies, including updates about the COVID-19 pandemic. To share a business or nonprofit story, please send us a message.
Michigan's Airbnb Hosts Earned $250M+ in 2021
Airbnb hosts in Michigan earned more than $250 million in 2021 with the typical host earning more than $14,000. Hosts in rural counties earned nearly $150 million last year.
In the first three months of 2022, Airbnb hosts across Michigan earned nearly $38 million, with the typical host earning more than $3,000, according to the company.
Overall rural travel saw exponential growth in 2021 with domestic nights booked by U.S. guests on Airbnb for stays in rural areas grew 110 percent compared to 2019.
Since March 2020, globally, more than 8,100 cities and towns have received their first Airbnb bookings — including more than 1,300 in the U.S. Thirty cities and towns in Michigan received their first-ever Airbnb guests since the pandemic started.
JARS Cannabis Named Sponsor of Movement Dance Music Festival
JARS Cannabis, the Troy-based cannabis company, is the first cannabis retailer to sponsor Movement, a dance music festival that is run annually during Memorial Day Weekend (May 28-30) in downtown Detroit at Hart Plaza.
Traditionally hosting five stages, Movement has expanded its festival footprint to demonstrate the new partnership by offering a sixth stage for electronic dance music fans and cannabis enthusiasts alike to enjoy this year, Detroit Stage presented by JARS. Featuring a roster of all Detroit-based artists, the new stage's lineup will include Movement veterans, newcomers, and rising talent.
"As a community-centered and culturally-inspired organization, JARS is committed to celebrating the intersection of cannabis with lifestyle and culture by creating shared experiences that touch upon personal passion points," explains Stefanie Michels, marketing director JARS Cannabis. "There is a longstanding, synergistic relationship that exists amongst cannabis and music, and we are eager to be presented with such an extraordinary opportunity to honor the two, as Movement's first-ever cannabis retail sponsor."
Located near the main entrance on Jefferson Avenue and directly across from the Food Court and Detroit Stage presented by JARS, the cannabis retailer will simultaneously debut its new 360-degree, immersive, pop-up experience, JARS Campus.
Open to all Movement ticket holders, the experiential, JARS Campus pop-up tent will immerse festival attendees in a variety of cannabis-themed art activities and installations, inspire them to capture and share post-worthy content, and offer limited-edition JARS Collection streetwear apparel and accessories that will be available for purchase while supplies last, only at Movement.
For more information, visit here.
Korotkin Insurance Group Adds Cincinnati Insurance Co. to Portfolio of Carrier Partners
Korotkin Insurance Group Inc. (KIG) in Southfield has added The Cincinnati Insurance Co. to its portfolio of insurance carrier partners.
In an effort to provide their clients with personalized plans, KIG works with multiple carriers to help select the right coverage with the best products and policies to fit each clients' individual needs. The Cincinnati partnership with KIG allows these entities to work directly with each client in their established communities, and to make sure the client's needs are met with personalized attention and promptness no matter the type of insurance they are requesting.
KIG, founded in 1913, offers commercial, personal, life, and health insurance products.
For more information on Korotkin Insurance Group Inc., visit here.
DTE Energy, IBEW Local 17 to Hosting Open House for Tree Trim Academy Today
DTE Energy, IBEW Local 17, Focus: HOPE, and Detroit at Work are hosting the second annual open house at the Tree Trim Academy at 7800 Pierson in Detroit from noon to 5 p.m. today.
The goal of the event is to connect metro Detroiters with opportunities to earn upwards of six figures after completing the paid program, the first of its kind in the nation.
The open house will offer onsite tours with graduates, instructors, tree trimming vendors, and recruiting partners from Focus: HOPE and Detroit at Work. It also will include a live DJ, food, and drinks, and climbing look-and-learns for interested job seekers, and their friends and family.
The DTE/IBEW Tree Trim Academy is a paid-to-learn training program that provides a high-paying job following a seven-week paid curriculum that sets trainees up for success by providing tree trimming safety best practices, a Class-B commercial driver's license, a Customer Service Excellence certification, career prep, and financial and digital literacy.
StartupNation Debuts New 'Inside Michigan Business' Podcast with Host Jeff Sloan
StartupNation, a Birmingham multimedia company that provides educational and inspirational resources to aspiring entrepreneurs and established small business owners, is launching "Inside Michigan Business," a podcast that offers a broader look at the issues affecting businesses and consumers throughout the state.
Through insightful conversations with Michigan's business newsmakers and movers and shakers, host Jeff Sloan and guest hosts will explore trending business topics impacting our state's business community, economy, and consumers.
Among the first guests on "Inside Michigan Business" is Howard Handler, president of 313 Presents; and Ned Staebler, the president and CEO of TechTown Detroit and vice president of economic development at Wayne State University.
Handler talks with Sloan about the resurgence of live events in Michigan and Detroit's importance in the entertainment and sports industry. Staebler shares entrepreneurial success stories as well as the challenges Michigan faces in recruiting a talented workforce.
Other "Inside Michigan Business" podcast topics include DEI (diversity, equity, and inclusion), venture capitalism, and development in Detroit with dozens more episodes planned.
Sloan, founder and CEO of StartupNation, has a history of entrepreneurial success building businesses in Michigan as well as decades in radio and podcasting. He is the host of the morning drive-time Business Beat segment as well as the revitalized Business Biography, both on WJR-AM (760), and hosted the station's "StartupNation Radio Show" from 2004 to 2021.
"Inside Michigan Business" is downloadable on major podcast platforms including Apple, Amazon, and Spotify. To subscribe to the podcast as well as to sign up to receive advanced updates, go to insidemichiganbusiness.com.
To appear on "Inside Michigan Business" or to suggest a topic or guest, visit here.
Construction Has Begun on New $6.68M Community Center at A.B. Ford Park in Detroit
Construction has begun on a new, $6.68-million, solar-powered community center at A.B. Ford Park in Jefferson Chalmers along the east Detroit riverfront.
Detroit Mayor Mike Duggan joined community leaders and representatives of Penske Corp. recently to break ground for the project, which will replace the Lenox Center that sat vacant for nearly a decade.
The new building will be an 8,116-square-foot, state-of-the art facility built outside the flood plain and will serve as a new community space as well as a sustainable resilience hub during emergencies. The new center will include a community hub space, flexible space for indoor youth sports and community events, classrooms, and a quiet learning space.
"For nearly a decade, the residents of Jefferson Chalmers have wanted a new community center," Duggan says. "Now, thanks to Roger Penske and his commitment to this neighborhood through the Strategic Neighborhood Fund, they soon will have one that will be available to them even through power outages.
"Neighborhood revitalization, guided by residents and supported by the city and our business partners, has been the key to the success we are having through the SNF. We believe this new center will be a template for future ones like it."
Land clearing for the new center has started and will continue next week along with work on the foundation of the new building, which is slated to open in 2023.
The $6.68 million building is being funded with $2.73 million of Penske Corp.'s $5 million Strategic Neighborhood Fund (SNF) donation and $3.95 million in city of Detroit funding.
Detroit Pistons Unveil New Pistons DRIP Bottled Water
The Detroit Pistons and Sports Water have launched Pistons DRIP bottled water, available in Kroger stores across the metro Detroit area, select Plum Market locations, and Pistons313Shop.com.
Pistons DRIP also will be distributed at all Detroit Pistons youth basketball camps and clinics this summer, as well as during the upcoming NBA Fit Week. The team says Pistons DRIP will give fans access to promotional giveaways and exclusive team engagements. Promotions include special ticket offerings, VIP meet and greets, and more.
"The Pistons organization is always looking to partner with innovative brands that provide unique opportunities to engage Pistons fans," says Mike Zavodsky, chief business officer for the Pistons. "We are thrilled to partner with Sports Water to create Pistons DRIP."
Sports Water, a division of WaterCo, has partnered with multiple sports and entertainment properties in the U.S. and throughout Europe.
"We're excited for Sports Water's first partnership with an NBA team," says Ike S. Franco, CEO of WaterCo. "The Pistons are a storied franchise in the league and we are now able to offer fans the highest quality branded water. Sports Water will continue its strategic partnerships with premiere sports teams."
Yatoomas Make $100K Donation to Support Easterseals' Miracle League
Easterseals Michigan in Auburn Hills announced a $100,000 donation from Greg and Chris Yatooma, supporting Easterseals Miracle League of Michigan North Oakland.
The North Oakland Miracle League field opened in 2019 and is Easterseals Michigan's second Miracle League field. The first field opened in Southfield in 2004 and is Michigan's first adaptive baseball field, providing children with behavioral and/or physical challenges an opportunity to play baseball as a team member in an organized league, boost self-esteem, make new friends, and become more than an individual with a disability.
The funds will directly benefit the construction of a new Home Plate Concession Stand, where kids and families will enjoy food, refreshments, and friendship. Through the donation, the brothers hope to inspire a community match, helping ESM reach its fundraising goal of $165,000 to complete the project.
"After visiting the Miracle League field in Orion Township and seeing joy on the children's faces, I immediately knew I wanted to get involved," says Greg Yatooma. "The addition of a concession stand is a way to improve the experience for players and families at the park, while raising funds to further support the league and its mission."
All proceeds from the concession stand will support Miracle League and its mission. Additionally, the concession stand will service all field and park activities at Friendship Park in Orion Township, where the Miracle League Field is located, along with an ADA-accessible playground and wheelchair-accessible playground.
"Our theme for this year's Easterseals Miracle League season is There's No Place Like Home, and this field encompasses our sentiment entirely," says Brent Wirth, CEO of Easterseals Michigan. "The smiles, crack of the bat, fresh air — it's inspiring for all involved, and we're incredibly thankful for the generous donation of Chris and Greg Yatooma, ongoing support from Orion Township and the community that allow us to bring this program to more than 400 children each year."
The custom-designed Miracle League fields incorporate a synthetic turf that accommodates walking assistance devices, handicapped accessible dugouts, restrooms, drinking fountains and gives children and adults the opportunity to play baseball like many of their peers.
A ribbon-cutting to celebrate the new concession stand and a donor wall unveiling will take place at 12:30 p.m. June 18. The day also will include a tripleheader of baseball games, beginning at 11 a.m., complimentary food, face painting, balloon art, an auction, and more. Donations to support the concession stand can be made here by selecting "Miracle League North Oakland" from the drop-down menu.
For more information about Easterseals Michigan's services, visit here. For more information on the Miracle League of Michigan, visit here.
Olga's Kitchen Distributes $20K to Women Entrepreneurs Through Olga Loizon Memorial Foundation
Livonia-based Olga's Kitchen, a brand owned and operated by TEAM Schostak Family Restaurants (TSFR), announced today it is distributing two business grants to female, Michigan-based entrepreneurs through the Olga Loizon Memorial Foundation.
Sticky Spoons Jam and U-Plant Landscape Designs each have been awarded $10,000 grants to continue to build their business.
"We're elated to honor the legacy of our founder by providing two women entrepreneurs with grants to take their Michigan-based businesses to the next level," says Loredana Gianino, president of the Olga Loizon Memorial Foundation. "Perseverance and innovation were central to Olga's spirit and her success as she left an impact on this community. The grant awardees embody the same qualities as women entrepreneurs who are trailblazing in their own fields. We look forward to seeing how these grants will fuel the growth and success of these businesses."
Sticky Spoons Jam, founded by Navy veteran Aiyenede Akhigbe, specializes in the production of jams, jellies, and syrup using locally sourced produce and packaging from Michigan farms and small businesses. In 2023, Sticky Spoons will open its licensed kitchen and storefront as well as an e-commerce website. The business also aims to continue to identify and enter into profitable partnerships with shops in Michigan and beyond, including creating an exclusive lineup at Meijer's Bridge Street Market.
U-Plant Landscape Designs, founded by Sandy Jonick in 2019, assists homeowners eager to create beautiful landscapes with the necessary elements to complete the project themselves. By providing digital landscape designs, a detailed plant list and labeled images, U-Plant Landscape Designs helps turn do-it-yourself homeowner's dreams into a blueprint reality. Sandy has designed more than 300 landscapes for west Michigan homeowners in the past three years.
Women entrepreneurs can apply for grants through the Olga Loizon Memorial Foundation here. For those interested in donating to the Olga Loizon Memorial Foundation, visit here.
Oakland Mediation Center Offers Behavioral Health Mediation Services
The Oakland Mediation Center in Troy offers Michigan Behavioral Health Mediation Services (MBHMS), a free, confidential, and impartial statewide program it administers with a grant from the Michigan Department of Health and Human Services.
Mediation through MBHMS is a streamlined process, with most cases resolved within 30 days or less. The average mediation session lasts just 90 minutes. MBHMS mediators are impartial volunteers that come from all walks of life. They are trained to consider all parties' perspectives and help them resolve their conflict.
MBHMS teaches participants to work together and problem solve by establishing root causes, identifying positions and recognizing solutions.
For more information, visit here.
National Startup Showcase for Military Affiliated Entrepreneurs Set for June 1
WeWork in Detroit is hosting one of 23 local Veterans in Residence national showcase from 6-8 p.m. June 1.
The program, run by Bunker Labs, a Chicago-based national nonprofit dedicated to helping military-affiliated entrepreneurs start and grow their business, will see some 400 entrepreneurs pitching their businesses in 23 cities in one night. The showcase is free and open to the public.
For more information, visit here.
Families Against Narcotics Launching New Oakland County Chapter
Families Against Narcotics (FAN), a grassroots nonprofit organization based in Macomb County, is launching a new chapter in Oakland County on May 24 at the Southfield Pavilion (26000 Evergreen Rd.) at 7 p.m.
FAN is a community-based program for those seeking recovery from substance use disorder, those in recovery, family members affected by addiction, and community supporters.
The launch will bring the community together for the Oakland County chapter's first monthly FAN Forum. These forums, which will occur on the fourth Tuesday of every month, are open to everyone as a resource for navigating substance use disorder, and are truly a place to learn, listen, grow, and share.
Speakers at this initial forum will include:
Retired Judge Linda Davis (FAN Executive Director)
Chief Elvin Barren (Southfield Police Department)
Chief Johnny Menifee (Southfield Fire Department)
Jake LaCroix (1 year in recovery)
Mavina Swan (30 years in recovery)
Sherry Nipper (family recovery and loss)
The Oakland County FAN chapter will be led by Executive Board President Melissa Medici, captain of the Southfield Fire Department; Vice President Jayme Gotts, a treatment placement specialist with Acadia Healthcare; Secretary Sarah Reinkensmeyer, a senior United States probation officer out of the Eastern District; and Treasurer Gwendolyn Bammel, clinical supervisor at Ascension Eastwood Recovery Center.
Oakland County FAN will work to educate the community about addiction and lessen the stigma associated with the disease. While addiction is frequently viewed as a moral failing, or something disgraceful, the Oakland FAN chapter will strive to change that mindset.
"The hope is that the community will come to appreciate the struggles that individuals and families affected by substance use disorder encounter, and the courage and support it takes for each person to change," Medici explains. "Growth will come with a complete understanding of the situation."
---