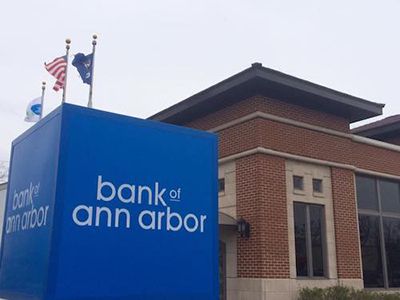 The Bank of Ann Arbor today announced it has entered into an agreement to acquire the Birmingham branch of Nicolet National Bank located at 260 E. Brown St., formerly an mBank location recently acquired by Nicolet.
As part of the agreement, the Bank of Ann Arbor will assume approximately $57 million in deposits and will purchase around $176 million in loans. A total of 13 loan officers and branch employees will become Arbor employees.
Based on its modeling assumptions, the Bank of Ann Arbor anticipates the transaction to  be accretive to earnings per share in excess of 10 percent.
"Today's agreement with Nicolet is a step forward for the Bank of Ann Arbor as we increase our presence in Birmingham and Oakland County, and we are excited to welcome our new customers and teammates to our bank," says Timothy Marshall, president and CEO of Bank of Ann Arbor in Ann Arbor.
Combined with an existing branch on Woodward Avenue, the two Bank of Ann Arbor branches in Birmingham will have loans exceeding $450 million and deposits of approximately $345 million.
The transaction between the Bank of Ann Arbor and Nicolet is expected to be completed during the first quarter of 2022, subject to customary closing conditions, including required regulatory approvals.
Founded in 1996, the Bank of Ann Arbor is a locally owned and operated bank with total assets of more than $2.5 billion and assets under management of greater than $2 billion. It serves consumers and businesses in Washtenaw, western Wayne, and Oakland counties.
In tandem with the announcement, Nicolet National Bank, which is based in Green Bay, Wisc., said it plans to consolidate or close eight branches in Wisconsin and seven in Michigan, including the Menominee, Alanson, Kaleva, Mio, West Ishpeming, Negaunee, and Marquette branches.
Nicolet has notified employees at the affected branches, and customer letters are expected to be issued this week. Branch closures are expected on Dec. 10, 2021.
"As we stated in the mBank merger announcement, customers continue to tell and show us that convenience no longer means a branch on every corner," says Mike Daniels, president and CEO of Nicolet. "Convenience is being redefined as a seamless, frictionless experience through all channels.
"While we still view the branch system as an effective way to serve our customers, we also recognize the need to continue our investments in digital channels. We intend to find the right balance of investing in traditional branch channels and non-branch channels. This announcement is a logical and thoughtful action to find that balance."
Also, on Aug. 9, 2021, Arbor Bancorp Inc., the parent company of Bank of Ann Arbor, and Howell-based FNBH Bancorp Inc., the parent company of First National Bank of Howell, announced they have entered into a definitive merger agreement whereby FNBH Bancorp Inc. will merge into Arbor Bancorp Inc., and the Bank of Ann Arbor.
Upon the completion of both transactions, total assets of the Bank of Ann Arbor will exceed $3.2 billion.
For more information about the Bank of Ann Arbor, visit www.boaa.com.
Facebook Comments