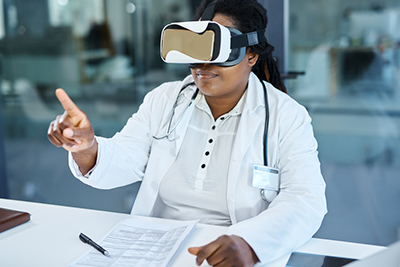 Vectorform, a producer of digital products in Royal Oak, and Avant Healthcare, a medical marketing and education company in Indiana, have come together to offer XR, an umbrella term for virtual, augmented, and mixed reality. The companies will offer XR for medical education.
This collaboration uses Avant's 25 years of experience in medical education, and Vectorform's technology-based solutions.
"The time to evolve health care professional educational experiences is now," says Deborah Wood, CEO and founder of Avant's parent company DWA Healthcare Communications Group. "That's why this partnership is so important. Together, we'll create deeper learning experiences that can effectively influence and ultimately change medical education for the better."
This new XR option brings virtual experiences for customers and sales reps. Among its other abilities, it teaches health care professionals how to provide potential treatment options and effective drug plans for patients.
"Our world-class team has developed cross-platform experiences for Microsoft HoloLens, HTC Vive, and a host of other experiential platforms," says Kurt Steckling, co-founder and CEO of Vectorform. "As standing members of the Microsoft Mixed Reality Partner Program, we strongly believe that we are in a very unique position to further true innovation as it pertains to health care education, by marrying groundbreaking technology with our relentless focus on providing the best end user experience in the industry."
Avant Healthcare was founded in 1994. It partners with pharmaceutical, biotechnology, diagnostic, and medical device clients to educate health care professionals. Along with its Indiana headquarters, it has teams in Chicago, New Jersey, and New York.
Founded in 1999, Vectorform works with Immersive Technologies, Mobile Experiences, Internet of Things, Smart Homes, Connected Vehicles, and Wearable Technologies. They have global offices in Royal Oak, Seattle, and India.
Facebook Comments