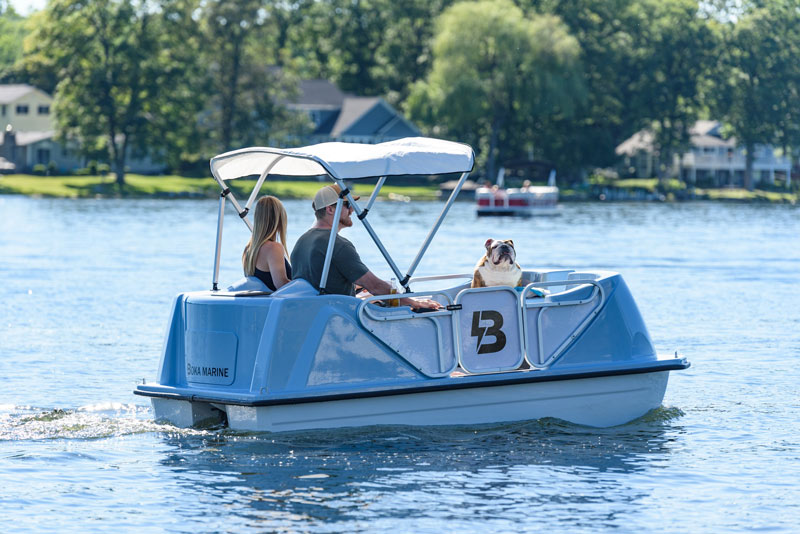 Boka Marine in Troy, a division of Fenton's American Recreational Products (ARP), is launching its new four-person pontoon product line this summer with a direct-to-consumer business model.
Boka e-boats utilize the same fiberglass frame technology as its cousin, Paddle Wheeler. Instead of pedal power, however, Boka e-boats are powered by a Torqeedo Ultralight motor. The Ultralight 1103 motor is a rechargeable battery powered, 3 horsepower motor that weighs less than 20 pounds.
Each fully charged battery can provide up to four hours of on-the-water enjoyment and reach speeds of up to 6 mph. Additional batteries are easily swapped out on the fly, says Boka, which adds that its e-boats also can be customized with a solar-powered electronics package that includes blue tooth speakers, navigation lights, and LED interior and exterior accent lights.
Additional options include such a built-in cooler, canopy, table, and storage cover.
Boka e-boats are designed to accommodate up to four people and nearly 700 pounds. A customized trailer is available to move the e-boat from point A to point B.
New orders, which are initiated online, are delivered directly to the consumer.
ARP is building a manufacturing facility in Fenton to produce the Boka Marine e-boats. When completed, the company plans to add 59 new jobs. In the meantime, the e-boats are being manufactured in Joplin, Mo. at Able Manufacturing. Paddle Wheeler boats will continue to be built in Owosso at Great Lakes Composites.
"National Composites is very excited to expand into the great city of Fenton," says Adam Fenton, CEO of National Composites, which owns APR and Boka Marine. "The opening of American Recreational Products will be a great new step for our company. It allows us to have a more-targeted focus on the production of our proprietary boat lines, Paddle Wheeler, and BOKA Marine, as well as open up more capacity and job creation opportunities at our other Michigan facilities."
Facebook Comments