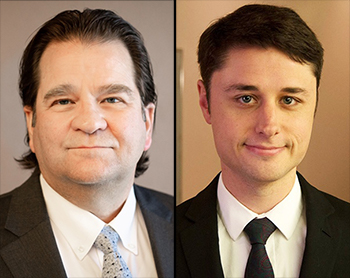 The intellectual property law firm of Reising Ethington in Troy announced the election of Randy Shoemaker and James Stevens Jr. as shareholders of the firm.
Shoemaker has more than 25 years' experience, specializing in chemical and biotechnology technologies. He prepares and prosecutes patent and trademark applications worldwide covering a wide variety of technologies including chemical inventions, especially polymer chemistry, biochemical applications, materials coating technology and processes, biotechnological applications, surgical and medical devices, food processing equipment, and technology, and a wide variety of basic mechanical technologies.
He received a Ph.D. in pharmacology from the Wayne State University School of Medicine, a J.D. from the University of Michigan Law School, and a bachelor's degree from Calvin College.
Stevens' expertise includes a wide range of computer science and information technologies, including database management systems, cryptography, network security, and application development. Prior to joining the firm, he worked with a global supplier to the automotive industry where he developed servers for many different applications, such as a mobile application and numerous web-applications for automotive OEMs.
He also designed and implemented many interfaces for these applications as well, primarily focusing on integrating automotive data into maps, such as Google Maps. He received a J.D. from the University of Detroit Mercy School of Law, and a bachelor's degree from the University of Michigan.
Facebook Comments