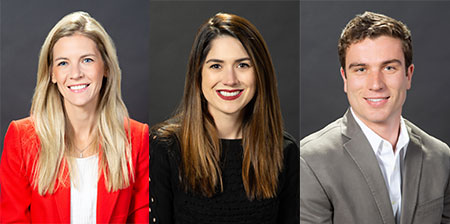 The Community House in Birmingham, a nonprofit that offers classes, camps, and social and charitable events, has named three new members to its board of directors.
Sarah Ford, Dr. Whitney Weiner, and Matthew McCormick have joined 10 other directors.
Ford is a former employee of St. Jude Children's Research Hospital and continues to serve with the organization as a national spokesperson and fundraiser. She is also a longtime supporter of Operation Smile, traveling internationally on missions with the medical service organization, which provides children with life-saving reconstructive cleft surgeries. Ford graduated from Princeton University in 2004 and was awarded the university's community service fund scholarship.
Weiner is a periodontist with Whole Dental Wellness in the St. Clair Shores and Roseville area. Weiner attended The Colorado College and University of Iowa College of Dentistry. She trained in the post-graduate periodontics program at the University of Illinois at Chicago, where she received her specialty certification and a master's degree in Craniofacial Genetics.
McCormick is director of business development at Metalbuilt LLC, a supplier of metal fabricated products to the automotive and other industries. He graduated from Cranbrook Kingswood School and the University of Notre Dame's Mendoza College of Business. Prior to his board election, McCormick served on the community service committee of The Community House's president's advisory council. He is a member of the Birmingham Athletic Club and Detroit Yacht Club.
"We couldn't be more thrilled with our new slate of talented, gifted, and dedicated board members, and we're honored and humbled that they all have chosen to give of their time and talents to serve The Community House and our constituents," says William D. Seklar, The Community House president and CEO.  "We welcome Sarah, Whitney, and Matt's guidance, counsel and contributions with open arms . . . we know they will help shepherd this organization to new heights."
The Community House was founded in 1923 and works to serve as a resource for those seeking continuity among personal, professional, philanthropic, and recreational pursuits.
Facebook Comments