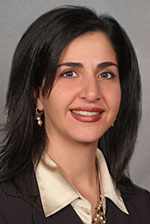 TROY — Ronia Kruse, founder of the Troy-based OpTech Co., has been named among the 35 highest-achieving female business leaders in southeast Michigan at the recent Women's History Month Awards.
Kruse, was honored with the event's spotlight award, Career Mastered: Women's Leadership in Action, reminisced upon womens' professional ventures and reiterated the importance of female comradery in the workforce.
Prior to starting OpTech, Kruse served as an international tax consultant for Deloitte & Touche LLC, where she specialized in international tax planning, business process improvement and efficiencies, and developing financial applications. She has also worked as an auditor for Fortune 500 firms at Coopers & Lybrand. In addition, she has served as an adjunct professor in the Master of Science Taxation program at Wayne State University.
Kruse has been involved as a member of a number of boards of directors, including TechServe Alliance, the Girl Scouts of Southeastern Michigan, BELLE Michigan Investment Committee, St. Dominic's Outreach Center, Detroit Housing Commission, Women Impacting Public Policy, and the Arab-American and Chaldean Council.
Kruse holds both a Bachelor of Science in accounting and a Master of Science in taxation from Wayne State University. She is also a Certified Public Accountant.
The event was sponsored by Linwick & Associates LLC to celebrate the 35th year anniversary of Women's History Month.
Facebook Comments