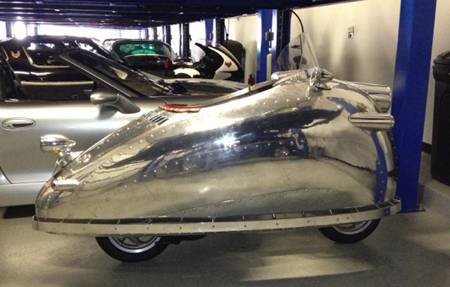 SOUTHFIELD — Kevin Adell CEO of WADL TV 38 owns the only Decopod Tripod Art Deco Scooter in the world and it will be on display at the Concours d'Elegance to he held in Northville at the Inn at St. John's on Sunday, July 28. Valued at nearly $50,000, the scooter was conceived and designed by world famous hot rod expert Randy Grubb.
The only other scooter similar to it is owned by Jay Leno, host of The Tonight Show. The scooter, which has won Grubb international acclaim and awards, utilizes a Plaggio MP3 in its construction.
The scooter has appeared in episodes of "Storage Wars" and has been driven by millionaire and well-known eccentric Barry Weiss also known as "The Collector." Weiss has become a media icon and is a rabid collector of cars, scooters, and antiques.
Facebook Comments