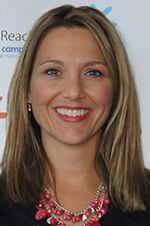 Heather Adams, M.D., has joined North Star Reach as a medical director for the Ann Arbor-based nonprofit.
Dr. Adams will be responsible for overseeing all medical aspects of the camp, including the formation of medical policies and procedures, maintaining partnerships with 14 hospitals within Michigan and Illinois, monitoring the health and well-being of the campers, in addition to the creation and oversight of its Medical Advisory Board.
Dr. Adams, of DeWitt, will also continue to serve as a clinical professor at the MSU Department of Pediatrics and Human Development, and practice medicine part-time at a few local area hospitals.
Previously, she worked as a pediatric hospitalist at a community hospital, then for nearly 10 years at Sparrow Hospital Children's Center in Lansing, where she was medical director of the pediatric hospitalist group.
Adams earned her Bachelor of Science in biology at Lyman Briggs College at Michigan State University and her medical degree from Michigan State.
 
Facebook Comments