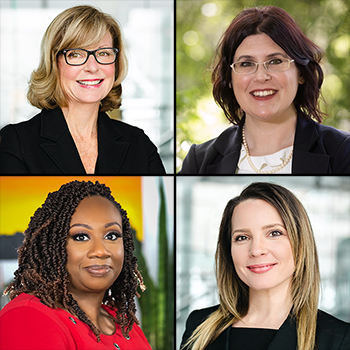 The Michigan Science Center (MiSci) in Detroit announced it has added Nancy Maier, Lucy Hale, Andrea Harp, and Jennifer Oprisiu to its leadership, development, and operations teams.
"The 'new normal' brings a considerable amount of dynamism and uncertainty," says Christian Greer, president and CEO of the Michigan Science Center. "Experienced leaders like Nancy, Lucy, Andrea, and Jennifer have the talents and skills to help us reach our full potential to put people and communities at the center of science in Detroit, in the region, and across the state."
Maier has been brought on to be the chief development officer. In this role, she has the goal of growing and challenging a team of fundraising professionals to cultivate a culture of philanthropy. This includes growing individual, member, corporation, foundation, government, and event fundraising, coupled with the necessary data analysis to determine new and alternative funding sources designed to build MiSci into a premier STEM-hub and a mid-town tourist destination.
Hale joins the team as the chief business officer, a newly created role. She will be responsible for crafting the vision and strategy for all earned revenue products, programs, and events; create and implement audience engagement and audience discovery strategies; oversee marketing and public relations; and advance new business development initiatives for the organization.
Harp is MiSci's new chief of staff and director of culture and community. In this newly created role, she will execute the president and CEO's goals across the organization to improve our team's strategic collaboration, reduce risks, close gaps, and oversee organizational initiatives from conception to completion. In addition, Harp will develop and implement MiSci's diversity, equity, inclusion, and accessibility framework in this dual role and strengthen its workplace culture and community connections.
Oprisiu has been brought on as the director of corporate and foundation relations. In her new role, she will fill an open position at MiSci with the goal of working closely with the education and program teams to focus on growing MiSci's grant and foundation fundraising, while reporting to Maier.
Facebook Comments