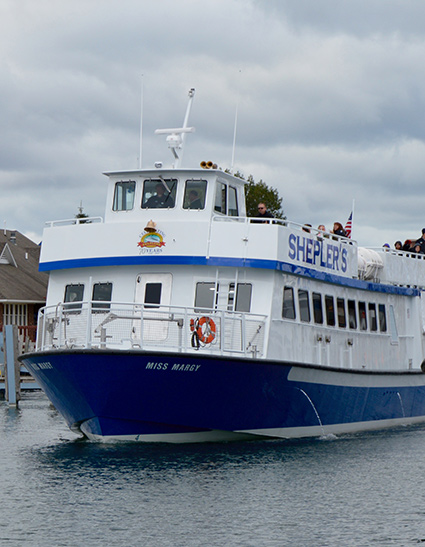 The first ferry ever built in Northern Michigan and the newest addition to the Shepler's Mackinac Island Ferry fleet – the $3.8 million, 85-foot "Miss Margy" – carried its first passengers to Michigan's premier tourist destination today.
More than 100 people were on the maiden voyage to Mackinac Island, on a partly-cloudy morning with temperatures in the high-40s.
Miss Margy was christened by Gov. Rick Snyder in July and underwent final detailing in the weeks leading up to U.S. Coast Guard testing, which started in late August. Shepler's just received word Tuesday afternoon that she had passed.
The 281-passenger ferry, Shepler's largest, was built at Moran Iron Works in Onaway, where construction kept a crew of 13 working for more than four months. Products and services of 20 companies in Michigan were used in the construction of Miss Margy.
"This beautiful, state-of-the-art ferry is a tribute to my mother, Margaret, Miss Margy's namesake, who started this business with my father 70 years ago," Bill Shepler, CEO of Shepler's. "But Miss Margy is also a tribute to the workers, companies and leaders of this great state who have worked with us to make this spectacular vessel a reality."
The new ferry features an air-conditioned cabin, as well as a ventilation system to remove interior condensation from windows during inclement weather. It has a top speed of about 40 mph.
"Putting Miss Margy into service for our guests is the most gratifying achievement my brother, Billy, my sister, Patty, and I have experienced as the third generation to lead this business," says Chris Shepler, president. "It's our pleasure to work hard every day to honor what our father, and his parents before him, created – Shepler's Mackinac Island Ferry."
Ferries are usually constructed in ship-building centers such as Louisiana and Wisconsin, and Moran Iron Works faced challenges along the way. Among them was getting the 135,000-pound ferry from the shop in Onaway to Moran's Port Calcite Collaborative, a deep-water port in Rogers City.
The ferry was loaded onto a semi-trailer for the 21-mile journey along "high-wire corridor" back roads in late May. Miss Margy was then lifted by crane into the water and piloted by Bill Shepler and his son, Billy, Shepler's fleet captain, the 50 miles to Mackinaw City for final detailing.
Facebook Comments