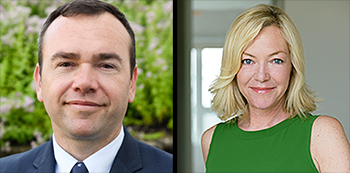 The Michigan Restaurant and Lodging Association (MRLA) in Detroit honored brother and sister duo Mark and Liz Ware from Mission Point Resort on Mackinac Island with the 2021 Hospitality Star of the Year Award.
Mark serves as the CEO of the resort, while Liz is the vice president of sales and marketing. It is the first time the award — which was presented at the MotorCity Casino Hotel — has been given to a brother and sister.
"We are honored to bestow this prestigious award to Mark and Liz. Their passion for hospitality, their family's resort, and their team are the epitome of the Spirit of Hospitality," says Justin Winslow, president of MRLA. "I know we are going to see much more from this dynamic duo who represent our industry with excellence."
The Hospitality Star of the Year Award acknowledges visionaries who have maintained the highest standards of hospitality and who have continually sought to surpass expectations by mentoring rising peer stars and developing new practices.
"We are thrilled to have earned the Hospitality Star of the Year award from the Michigan Restaurant & Lodging Association," says Mark. "As a family-owned business, we are passionate about our core values, working hard together to go the extra mile and do the right thing with Michigan pride. We are incredibly proud of our team at Mission Point who exemplify the meaning of hospitality both externally with guests and internally among colleagues."
In late 2014, Dennert and Suzanne Ware purchased Mission Point. The siblings joined the company then with the goal to reimagine the 18-acre property with maintenance and necessary improvements.
"Mission Point has continued to pivot and adapt to the ever-changing travel landscape. This award is a direct reflection of our commitment to creating extraordinary Mackinac Island experiences both for our guests and our internal team," says Liz. "While this award was given to members of the Ware family, our achievements are made possible by our entire Mission Point family who so passionately deliver on our brand promise."