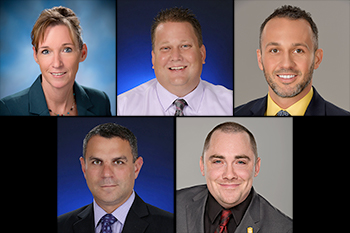 Team Schostak Family Restaurants (TSFR) in Livonia announced the promotion of Barb Pasciak, Jeremy Braswell, Brent Keyes, Jeff Pittel, and Brian Thompson to leadership roles.
"We are thrilled to recognize these five team members for their incredible commitment, work ethic and exceptional results," says Bill Angott, president and CEO of TSFR. "Each has demonstrated an uncanny ability to inspire our teams and delight our guests across the portfolio. The growth of our team showcases how we continue to live out our Core Purpose: Create opportunities that make lives better."
Pasciak's role has expanded to vice president of operations, QSR, including Wendy's and Del Taco brands. A team member since 2000, she formerly served as TSFR's director of marketing for Applebee's, MOD Pizza, and Del Taco, and as director of operations for TSFR's Detroit market Burger King and Del Taco restaurants. Under her leadership, TSFR's Del Taco restaurants broke system-wide sales records.
With more than 25 years of experience in the restaurant industry, Braswell has taken on his new role as vice president of operations for TSFR Applebee's restaurants. He started his time with TSFR in 2000 as a kitchen manager at an Applebee's in Holland. He climbed the ladder and was the senior director of operations for all TSFR Applebee's restaurants as well as the director of operations for TSFR West Michigan responsible for sales growth and profitability before this promotion.
Keyes has almost 20 years of restaurant industry leadership experience that he is bringing to his new role as senior director of operations for TSFR Applebee's. Previously, he spent time as the director of operations and as an area director when he joined the team in 2015. He also works on internal company efforts such as TSFR's LEAD development session "Time Management and Organization."
Pittel's role has expanded from director of operational services for TSFR Applebee's to include brand leader for MOD Pizza. Serving in the Applebee's role for nearly three years, he assisted with the development of the world's first combination Applebee's IHOP for TSFR. Before joining the TSFR team in 2013, he spent over 15 years in the restaurant industry, where he started working as a server.
Thompson's new role as senior director of facilities comes after more than 20 years of experience in the retail facility repair, service, and construction industry. Before joining the team in 2018, he managed facilities, budgets, and projects up to $20 million and departments with between five and more than 140 people. He recently managed maintenance and construction for 72 McDonald's franchise locations.
---