NORTHVILLE — IAV Automotive Engineering, an engineering and technical consultancy firm servicing the global automotive industry, has announced several promotions and additions within the company, stemming from internal company growth and business development activities. Recent company changes include:
Chris Hennessy, now vice president of Powertrain Systems, is responsible for all powertrain-related business units and associated business development activities. Previously, Hennessy was vice president of Engineering at IAV where he managed business development and program execution for the North American market. Prior to joining IAV in 2011, Hennessy held various positions at AVL Powertrain Engineering, Inc. including chief technologist, skill area manager and skill team leader, following engineering roles at Quantum Technologies, Inc. and Ford Motor Co.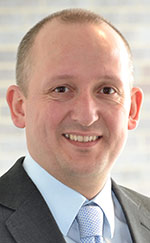 Martin Richter, of South Lyon, joined the team as vice president of Vehicle Systems and is responsible for growth, development and performance of vehicle-related business. This new role follows his previous position as senior vice president of Electronic Development for IAV GmbH. Richter has  serviced IAV in various company roles throughout Germany, France, and the U.S. Before joining the IAV team, Richter held a position at ACTIA I+ME GmbH, a German-based automotive systems supplier.
Jens Breitinger rejoined IAV's team as business unit director of Transmission and Driveline. In this
role he is responsible for business development, project execution and employee management in relation to controls development, calibration of transmission and driveline projects at IAV. He began his professional career with IAV Inc. in 2000, and last worked for the company as senior project manager of Transmission and Hybrid Systems from 2009-2010 in Germany. Between roles at IAV, he founded Breitinger Innovative International Consulting  in Johannesburg, South Africa and worked for Eskom Holdings Limited. Breitinger earned a degree in engineering from the Ostfalia University of Applied Sciences in Wolfenbüttel, Germany.
Kathleen Rafalko, of Britton, human resource manager, is expanding on her role at IAV and is now responsible for recruitment and employee development. Rafalko has been with IAV her entire career. Before becoming HR manager, she held several positions within the company, including HR coordinator, executive assistant to the president of IAV and administrative assistant. She originally joined the company as a part-time receptionist.
Kim Cybart, of Howell, was hired to the IAV team as human resource director, bringing more than 20 years of experience from senior leadership positions in the automotive and service industries. Most recently, Cybart served as executive director of employee services at Glacier Hills Inc., where she managed two locations employing over 600 total employees. She is on the board of directors of the Michigan Healthcare Human Resources Association. Cybart earned a bachelor's  in human resource development from Oakland University.
---