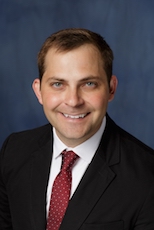 Detroit-based Henry Ford Health System has recently appointed U.S. Army veteran Spencer C. Hoover to vice president and executive director of the health system's Henry Ford Cancer Institute and cancer care services.
Previously, Hoover served as vice president of planning and business development for the health system. Since joining Henry Ford, he has played an integral role in the development and operational design of the institute's precision medicine program. This effort, in collaboration with a multidisciplinary team of Henry Ford specialists, resulted in the institute joining Vice President Joe Biden's Cancer Moonshot Initiative last summer. Hoover and Dr. Steven N. Kalkanis, the medical director at Henry Ford Cancer Institute, are also planning to develop an infrastructure that supports the development of strategic and tactical plans established by the health system's executive leadership team.
During four years of service as an infantry soldier in the Army's 82nd Airborne Division, Hoover was awarded six medals, four special qualification badges, and three combat patches. He served combat missions in Iraq and Afghanistan.
Hoover received a bachelor's degree in business management from Troy University's Sorrell College of Business, and his Master of Business Administration degree from Pennsylvania State University's Smeal College of Business. Hoover also holds a Master of Finance degree from Pennsylvania State University.
Facebook Comments