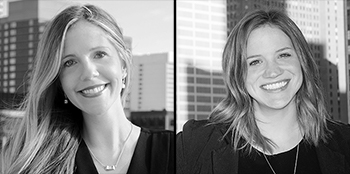 Franco, a Detroit-based integrated communications agency, announced the promotion of Nikki Little to senior vice president and Ashley DuPuy Mancuso to associate creative director.
In addition to her responsibilities leading client strategies and teams, Little will build partnerships across the community to strengthen the talent pipeline and prepare young professionals for careers in integrated communications.
In her elevated role, Little will also join CEO Tina Kozak, president and COO Tina Sullivan and Chairman Dan Ponder as a shareholder in the agency. She holds a bachelor's degree from Central Michigan University.
DuPuy Mancuso is the agency's first-ever associate creative director. She will oversee design across the agency — transforming concepts into creative solutions — as well as lead the creative team to ensure client objectives are achieved.
Since joining the agency in 2016, DuPuy Mancuso has elevated Franco's design capabilities and offerings to its clients. In this new role, she will also join the agency's leadership team. She holds a bachelor's degree from College of Creative Studies in Detroit.
---