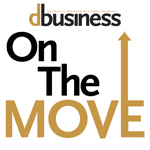 DEARBORN — Ford Land has appointed Doug Van Noord as director of sales, leasing, and development. Van Noord replaces Rob Cory who was promoted to director of Global Real Estate Services.
Van Noord, far left, leads a team of real estate professionals in the development and leasing of Ford Land's 5 million square foot portfolio of commercial office properties in Dearborn and Allen Park. Van Noord, of Troy, comes to Ford Land with more than 30 years of experience in commercial real estate.
Most recently he served as regional leasing manager for REIT Management & Research LLC where he was responsible for properties throughout the Midwest. Previously, he was responsible for leasing several properties in Dearborn.
Van Noord received a bachelor's in business administration and finance from Western Michigan University.
After seven years leading the commercial sales and leasing team, Cory now provides real estate services for Ford Motor Co.'s extensive global real estate portfolio. The portfolio includes manufacturing plants, warehouses, office space, labs, and dealerships. Working with Ford's global business units to support expansion and contraction of owned and leased space, his team negotiates the acquisition and/or disposition of properties.
Cory, of Livonia, earned his Bachelor of Arts in engineering from Kettering University and received his MBA from the University of Michigan.
---