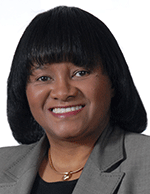 BLOOMFIELD HILLS — Dykema attorney Bonnie Mayfield has received the Women of Color Achievement Award from the 100 Black Men of Greater Detroit, in partnership with the Women Presidents' Organization.
Mayfield was one of a select group of honorees who received the award last month. The recipients are a small group of  women from a variety of industries who have made a significant impact and are exceptional role models. Each was recognized for her distinguished success as an accomplished leader and exemplary service to the community.
Based in the firm's Bloomfield Hills office, Mayfield is a member of the Litigation and Labor & Employment Law practice groups. Mayfield is also one of 28 lawyers on Dykema's National Trial Team. Mayfield is the vice chair of diversity initiatives for the International Association of Defense Counsel's Diversity Committee.
The 100 Black Men of Greater Detroit Inc. is dedicated to improving the quality of life within the community and enhancing educational and economic opportunities for all African-Americans. The WPO is a nonprofit membership organization for women owners and leaders of multimillion-dollar companies.
Mayfield received her BA from Dillard University and her JD from New York University School of Law where she was a member of the NYU Law Review.